Technology
Meta Threads: The new Twitter challenger - A timeline
The long-awaited Twitter alternative by Meta, skyrocketed with over 100 million signups in just four days after its launch on July 6th. Here is a timeline of events.
On the evening of July 5th, my phone buzzed, alerting me to a notification. It was an announcement that Threads, the long-awaited Twitter alternative by Meta, finally become available for download. I had heard rumours about Meta working on this project a few months ago, but back then, the release date remained a mystery. 
However, app launched on July 6th and quickly crossed 100 million signups in the first four days of its existence. 
So where did it all start? It wouldn't be wrong to say - when Elon Musk took over Twitter! But let's keep Twitter aside and talk about Zuckerberg's latest platform – Threads. 
According to the description on the app store, the application promises to provide a platform "where communities unite to engage in discussions spanning from current interests to upcoming trends."
"Whatever it is you're interested in, you can follow and connect directly with your favourite creators and others who love the same things -- or build a loyal following of your own to share your ideas, opinions and creativity with the world," the app store description added. 
Within the platform, users can compose posts with a maximum length of 500 characters, which can encompass links, photos, and videos lasting up to 5 minutes.
What was Musk's response to Thread?
In a sarcastic response to the news about the app, Musk took to Twitter to criticise Meta, saying, "Thank goodness they're so sanely run." This comment alluded to alleged derogatory remarks made by Meta executives about Musk's leadership at Twitter.
Last month, the rivalry between the two companies intensified, leading to a visible hostility between Musk and Zuckerberg. When a post mentioned a Twitter-like platform owned by Meta, Musk tweeted that he was ready to fight Zuckerberg in a "cage match." Zuckerberg, on Instagram, shared a screenshot of Musk's tweet and wrote "Send Me Location" in the caption.
Are there any other alternatives to Twitter?
Over the past few months, various alternatives to Twitter, both new and established, gained traction among users seeking to explore different text-based social networks. Platforms such as Mastodon, Bluesky, Spill, and T2 have attracted attention. However, the current buzz revolves around Threads, which has caught the interest of almost all.
What sets Threads apart from Twitter?
Threads currently do not have any paid tiers or advertisements. Nevertheless, your Instagram verification badge is transferred to Threads, even if you have previously paid for Meta Verified. Users have the opportunity to leverage their Instagram network to discover and follow other individuals. 
Although the app has recently been launched, it does not include features commonly found on Twitter, such as extended video capabilities, direct messaging, and live audio rooms.
Instagram CEO: Threads won't replace Twitter
Adam Mosseri, the CEO of Instagram, stated that Threads, the recently launched text-based app from Meta, is not designed to replace Twitter. Instead, it aims to cater to communities that didn't find a suitable environment on Twitter.
During a Threads interaction with The Verge's editor Alex Heath on Sunday, Mosseri expressed that the objective of the new platform was to create a "public square" for Instagram communities that did not find Twitter appealing or for communities seeking a more positive and less confrontational space for interactions.
Meta's app sparks legal dispute with Twitter
The fast-growing app caught the attention of Twitter, leading the social media giant to contemplate taking legal action against Meta. Elon Musk stated that while competition is acceptable, any form of cheating is not. In response, Meta has denied allegations made in a legal letter that former Twitter employees were involved in the creation of Threads.
BBC News tech reporter James Clayton said that Threads bears a striking resemblance to Twitter in terms of its overall appearance and user experience. He highlighted the familiarity of the news feed and reposting features. However, under US copyright law, ideas are not protected, which means that for Twitter to succeed in a legal battle, it would need to demonstrate that its own intellectual property, such as programming code, was infringed upon.
Threads: Fastest growing app, to generate $8 Bn revenue by 2025
Threads, Meta's competitor to Twitter, achieved over 100 million user sign-ups within a week of its launch, surpassing the speed at which even OpenAI's ChatGPT reached that milestone (within two months). Meanwhile, Twitter is facing a decline in traffic. This information was reported by The Verge.
A Bloomberg report revealed that Meta's Threads is expected to make a significant contribution of USD 8 billion in annual revenue for the company by 2025, as projected by analysts. This growth estimation coincides with predictions that Threads will achieve a remarkable milestone of 200 million daily active users within the next two years.
Twitter traffic plummets: A steep decline in user engagement
Twitter seems to have experienced a setback as indicated by Matthew Prince, CEO of Cloudflare, who shared a screenshot on Twitter Sunday revealing a significant decline in platform traffic.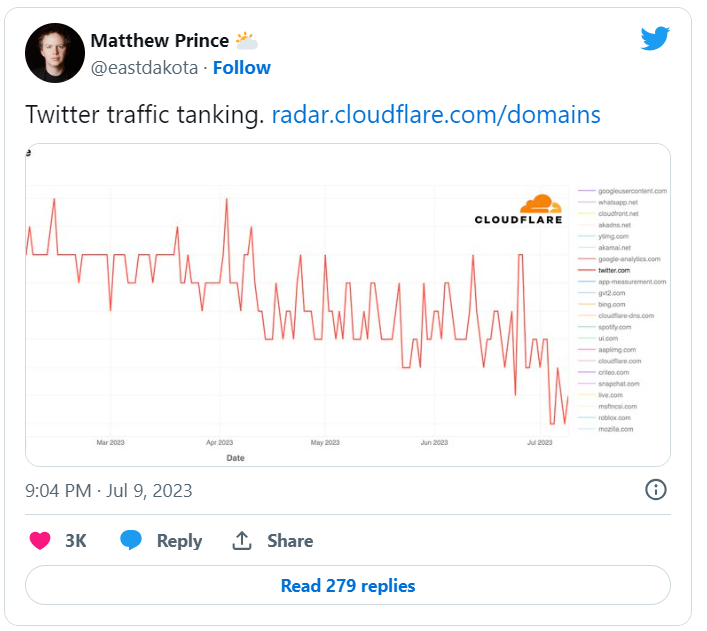 Similarweb, a web analytics data company, reported that web traffic to Twitter witnessed a decline of 5% during the initial two days following the general availability of Threads, in comparison to the previous week. Furthermore, the company stated that Twitter's web traffic has dropped by 11% compared to the corresponding days in 2022.
Meta's Threads privacy backlash
Prior to the official announcement, Meta's Threads, a micro-blogging platform, found itself embroiled in a privacy controversy due to its privacy policy. The unveiling of Meta's Threads on the Apple App Store disclosed that the platform might gather an extensive range of personal data, including but not limited to health and fitness information, financial data, contact details, browsing history, usage patterns, location data, search history, unique identifiers, and other sensitive information.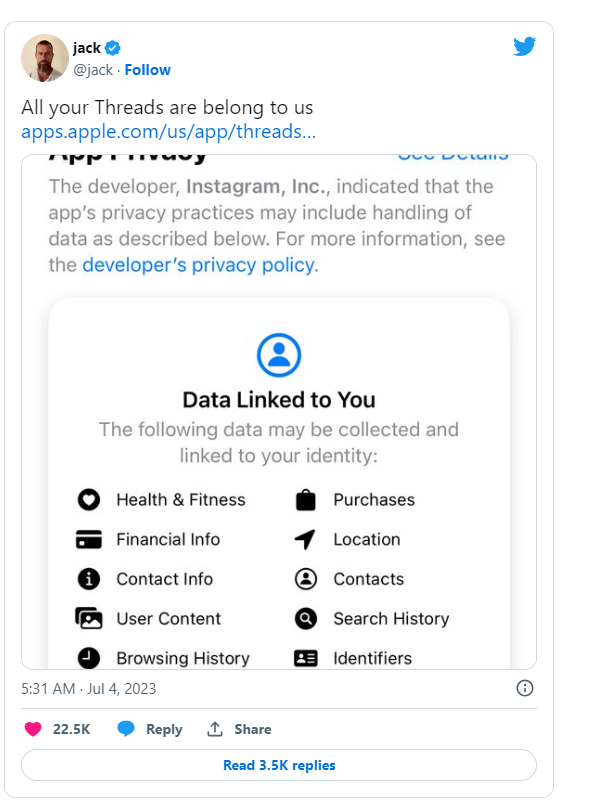 Although it is not uncommon for social media applications to collect personal data, it is worth noting that even Twitter gathers a similar quantity of user data as Threads, with the exception of health and fitness-related information.
Influencers, celebrities, and more: Who joined the platform?
In a post, Zuckerberg revealed that Threads attracted several renowned celebrities, such as Microsoft founder Bill Gates and former tennis star Roger Federer. Zuckerberg also expressed his gratitude to the users, as Threads achieved 100 million sign-ups within just five days of its launch. "Thanks to all of you who are making this fun and friendly!" Zuckerberg wrote.
For more updates on Meta's Threads, stay tuned to People Matters!