Technology
Technology and Innovation drives future of work: Study
50% of Indian employees rate access to cutting-edge technology at the workplace above all other office perks, 75% say it ensures 24*7 availability, reveals a recent study by Adobe.
As per a recent study by Adobe, employees of successful businesses are over two times more likely to rate their organization as 'extremely focused' on technology, when compared to those who rate their companies as below-average performing businesses. The survey showed that 89 percent of employees who rate their companies as above-average business performers also believe their companies are technology-focused as compared to 64 percent of employees who say their company is a below-average performer.
The study titled "The Future of Work: APAC Study", surveyed office workers in the region to know more about the trends that the future of work holds.
Today we are at the center of digital disruptions and rapid innovation. These disruptions have altered the work culture and attitude of the workforce. Or you may also that the attitude of the new workforce has caused this disruption.
The Adobe study has made some interesting revelations about the "future of work" for both India and whole APAC region. Let's take a look at them from both perspectives: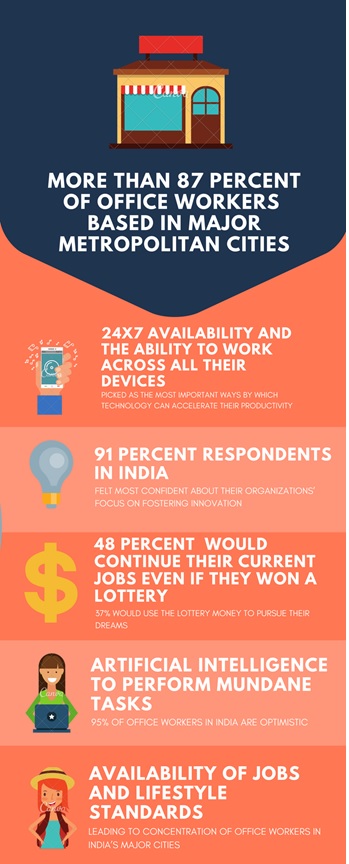 Technology: Employees' Best Friend
Today's workforce depends majorly on Technology and the findings of the survey validate it. When employees based in major cities were asked that how does technology support them, this is how they responded:

Another key highlight was that "State of the art technology for my workstation" was the top factor creating ideal physical space at work.

The other two popular factors were:

According to the Indian office workers better efficiency, improved productivity and enhanced quality of work are key technology enablers.
Work equals passion
Nearly 95 percent of respondents across APAC would continue to work even if they won a lottery, and almost 55 percent would continue in the same job. 48 percent office workers in India would continue their current jobs even if they won a lottery (versus 28 percent in APAC), and 37 percent of Indian respondents said they would use the lottery money to pursue their dream careers.
Availability of jobs takes office workers to Major Cities
More than 87 percent of office workers surveyed from India were based in major metropolitan cities, with a population of more than 2 million. While for Indian workforce 60 percent of the respondents chose availability of jobs as the major reason the percentage for APAC was 66 percent.

The other top two reasons were Infrastructure and Lifestyle Standards.

Innovation: Driven by Millennials
It's the young millennial workers who are said to be driving the positive transformation across organizations. And the good news is that 91 percent respondents in India felt most confident about their organizations' focus on fostering innovation.
If we talk about APAC then the results of the survey indicate that only 30 percent of the respondents think that their organization is focused on fostering new ideas and innovative projects. In fact 15 percent respondents suggest their organizations be not at all focused on innovation
What are the top ways through which these younger workers are driving change?
India respondents stated the following ways (in order of their rank):
Increased focus on creative thinking and innovative projects
Open minded and diverse work environment
Extensive use of social media


Artificial Intelligence: A boon not a threat
Another interesting insight of the survey is the outlook of office workers towards Artificial intelligence and machine learning.
While anxious about the impact of these new technologies on their jobs, 95 percent of office workers in India are optimistic about using Artificial Intelligence to perform mundane tasks.
The survey asked the respondents if they were concerned about the impact of artificial intelligence and they had an interesting response.

"Home to the world's youngest population, millennials comprise a significant proportion of the total workforce in India, and are driving transformational changes at workplaces across the country. These discerning new age workers are not only leading the innovation charter at companies, but most importantly, becoming the torchbearers of diversity and use of technology at work," said Abdul Jaleel, Vice President, Employee Experience – India.
The survey engaged more than 4,700 APAC office workers who use a computer daily for work was conducted across 10 countries - Australia, New Zealand, India, Singapore, Thailand, Malaysia, Korea, China, Hong Kong and Taiwan.
The survey included working professionals from various sectors (healthcare, manufacturing, banking/finance, technology/telecom, media & entertainment etc.) and was conducted from October 17 to November 13, 2017.