Technology
The New Normal: Making office cafeterias COVID-19 safe through digital management
Once the hub of all office interactions and buzz, the office cafeteria is undergoing a huge change where sharing snacks and food is out, and adoption of staggered lunch hours in.
The lockdowns in many countries have now given way to unlock initiatives. As businesses over the world open up offices and start bringing employees in, those employees will find they have entered an office that was not the one they left behind. Masks, thermal screening, social distancing marking all over the office, sanitization tunnels, open windows to allow the circulation of fresh air, an office layout which helps ensure a separation of six feet between employees at all time, are some of the new normal rules welcoming them in the office.
To add to it, traffic flows in office spaces are being designed to go in one direction to reduce "pinch points"— those crossover points where people may collide, as per Cushman & Wakefield, the global real estate development company, that helped 10,000 organizations in China move nearly one million people back to office spaces. 
Rohit Raj Puniani, Senior Director, Business Operations, of leading multinational workplace design consultancy firm Space Matrix headquartered in Singapore with a specialization in design and build, shares that to ensure business continuity and help clients navigate these uncertain times, Space Matrix developed the Workplace Reboot Programme— a tool kit of 5 key service offerings to craft bespoke solutions for their clients. Critically, the solutions address Workplace Readiness — how organizations return to the office safely; and Workplace Redefinition— how they transition to a 'new normal' regardless of existing or new build workplaces. For instance, employees will regularly come into contact with common surfaces such as doors, switches, buttons, tabletops, etc. Leveraging smart workplace technology and systems is a modern, logical way to address this. IoT-driven solutions and measures such as motion sensors for doors, creating more partitions and installing sensor-based switches and taps in the common areas can be safer alternatives to touchpoints.
And similar dramatic changes are brewing in that company hotpot of all action-the cafeteria. Once the hub of all office interactions and buzz, sharing snacks and food may now be passé with the adoption of staggered lunch hours. While some organizations are on one extreme of the spectrum and have asked employees to bring their own lunch and eat at their desks or have closed cafeterias in favor of vending machines, there are others that are leveraging technology to make their cafeterias COVID-19 safe. 
Rohit adds, "We can issue directives like restricting entry to the cafeteria during lunch hours, but what if a delay on the part of the pantry staff leads to a crowd build-up in the waiting area? Smart crowd management systems and token-based digital ordering from one's desk would help in eliminating such scenarios."
One such solution is powered by HungerBox, leading institutional food-tech company that has unveiled a robust solution based on FSSAI (Food Safety & Standards Authority of India)  and WHO guidelines and the GOI's AarogyaSetu App to make cafeteria operations 'COVID-19 safe.' 
The risks of transmission inside cafeterias broadly fall into four areas: 
1. Transmission due to overcrowding & lack of social distancing, especially during peak hours
2. Transmission due to handling of currency notes used for placing orders inside cafeterias 
3. Transmission due to food or staff involved in kitchen operations 
4. Transmission due to food or staff involved in cafeteria operations.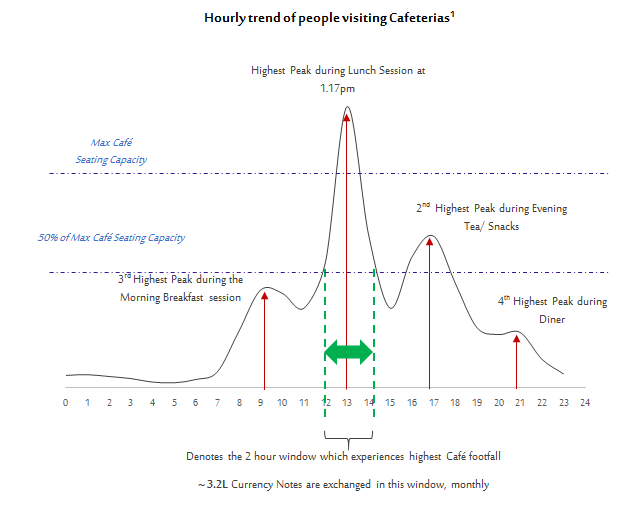 Image source: HungerBox
While cafés receive a constant flow of users through the day, HungerBox data shows that cafeterias in an institutional setting experience a peak flow at 1:17 pm. Apart from the crowding, cash transactions can also result in an increased risk of transmission of the virus. To mitigate these risks due to overcrowding and handling and decongest cafes, HungerBox employs a combination of technology, clear and consistent communication to prompt adherence, tech-enabled training of personnel, tech-led monitoring of cafeteria and kitchen operations. 
Office cafeteria in the new normal
Before we delve deep into the technology, one thing we need to understand is that office cafeterias are not going to be the same again for a long time to come. 
Sandipan Mitra, Co-founder and CEO, HungerBox says, "Besides the obvious function of being a place where staff had their food, cafeterias were also used to hangout and have a conversation and catch up. Digital management of cafes will be an absolute imperative and not a 'vanity' metric anymore as cafés will be prime real estate and will need to be regulated carefully."
Sandipan further adds that food preferences will shift to contactless options like food vending machines.  Food safety and hygiene will take center stage as a vendor's success will depend solely on that metric alone and 100% of payments will be made, digitally. In the current scenario, people's entry and exit, seating arrangements, temperature checks, constant sanitization of food counters, all of these will have to be closely monitored.   
 Tech on the deck- HungerBox 'COVID-19 Safe' solution
The HungerBox 'COVID-19 Safe' solution follows a five-pronged approach that envelops aspects such as technology, user connect and communication, WHO-prescribed supervisor training, and enhanced protocols for kitchen and cafeteria operations including rigorous checks on operations personnel and a tech-led monitoring system that encompasses a 360-degree view of cafeteria operations.
"Using AI/ ML, the HungerBox platform regulates user flow into cafeterias and enables decongestion and enables enhanced crowd management. This ensures that users visit the café only when it is safe and social distancing can be maintained."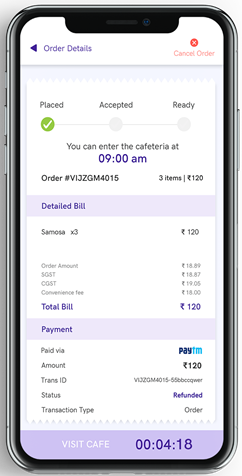 HungerBox has also implemented improved safety protocols inside the kitchen as well as in the cafeterias. Only those 'fit to work' and handle food will be allowed to operate as Café Experience Managers. Regular temperature screening of staff and monitoring of compliance with food safety standards at the kitchen, food counters, and cafeteria are executed with the help of HungerBox's tech. In addition to this, all leading contactless payment options are provided to eliminate the risk of virus transmission due to cash handling.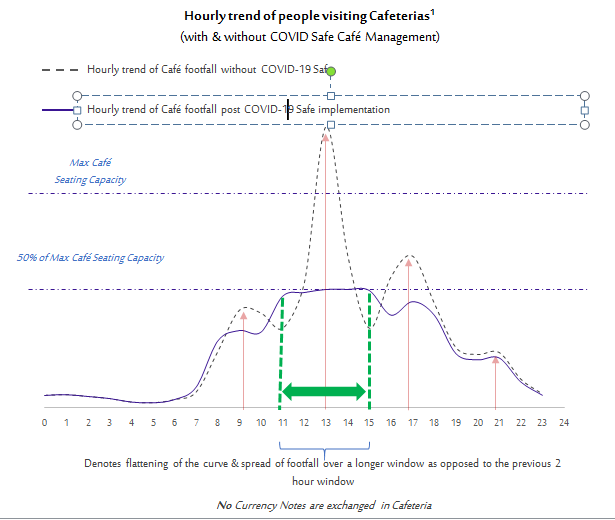 "Clients are empowered with a data dashboard that helps track the real-time status of the cafe operations."
As part of the solution, kitchen operations based on prescribed FSSAI standards envelop raw material handling, food preparation, kitchen hygiene standards, and food transportation with 11 different records being maintained at HungerBox partner kitchens. These include several logs for sanitization, cooking temperature, cleaning checklists for premises, transport, etc. Once the food reaches clients' cafeteria, the focus on stringent standards is maintained across areas such as food service & ordering, counter hygiene, café hygiene, and café monitoring. 
Lunch with technology
But have office lunches been changed forever? Or will people go back to the status quo when things are settled?
Sandipan believes that humans crave social interaction and will adapt their behavior in line with what is required.
The same thoughts are echoed by Rohit, who believes that unlike the past, employees will collaborate more by using digital technology and the past practice of huddles and coffee table interactions will no longer be preferred.
For now, social distancing and de-congested, COVID-19 safe corporate cafeterias powered with digital are here to stay.