Watercooler
A tribute to the first manager of our lives - Our Moms
Calling her a manager is not trivializing her role in our lives, but probably giving her that crown she deserves to wear every single day! Because without them, we cannot imagine what life is!
Words are not enough to describe the feelings you have for your mothers. Even when you think you have written the most thoughtful and warmest of messages, send her the most valuable gift you could afford, surprise her with a Mothers' Day party – you still feel these are not enough. So what is it that makes them so utterly special that even dictionary falls short for that perfect word? Honestly, I do not have the answer to that. I don't think anybody does. But what every one of us know is that the tug of emotional string that's attached with our mothers is special, incomprehensible with unconditional love.
And you don't need any special day to celebrate your love for your mother, because every day is Mother's Day. She is the first contact when you are born. From her, you learn the first words and the first wobbly walk. She is your first playmate, your first teacher, your first doctor, your first 'Resource' to get you everything that you wanted and also which you didn't want! The first time you went to school, she must have cried buckets thinking how will her little munchkin survive without her. But you never realised the tears since she always had a smile on her face. The first time you fell off your tricycle, she nursed your wounds and cried with you. But you didn't see those behind those concerned eyes. The first time she saw you win a race at school, she cheered loudly yet didn't tell you how proud she was but she was! She prepared the most delicious of meals you can ever taste – and that's why you still miss it when you are thousands of miles away from her. She did all the financial calculations for the family – so that you could get that big toy car or a doll you desired. She was the one who convinced everyone about the career choice you have made – when detractors were ready to pull you down. She fought for you and with you. She managed you, the family, and everything that was needed to be so that you can be who you are today! She is in you, wherever you are, whatever you do.
You have realised her worth from day one – otherwise you wouldn't have stopped crying when she took you in your arms for the first time. When you could only babble a few words, she would understand what you wanted – and leave your dad amused how did she do it! You know how important she is to you, but sometimes so it happens, it's difficult to express how you feel about her. Because she doesn't have any expectations. That's the biggest thing about mothers. They don't expect a single thing from her children – the only wish is to see him/her happy. And this is for all the moms in your lives -- your mother, your aunts, your teachers, your mentors -- who love you unconditionally and are proud to see you succeed!
Calling her a manager is not trivializing her role in our lives, but probably giving her that crown she deserves to wear every single day! Because without them, we cannot imagine what life is!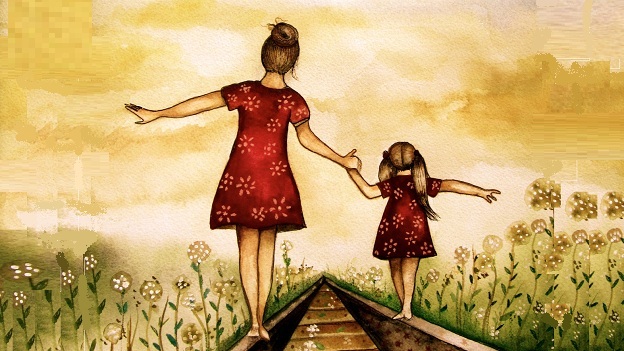 The Message Board: To Mom…With Love
"When I could crawl, you cheered me on so that I learn to walk. When I could walk, you encouraged me to run. When I would fall, you taught me to dust myself and stand again. When I'd want to call it a day, you'd say you will sit with me for just one more school exercise for the day. When the red ink on my exam papers made me feel blue, you assured me the next time I will sail through. When I struggled with the world just to fit in, you made me believe I'm wonderful in my own skin…Dear Mom, I now realise, every time I said enough, you pushed me to do more because you believed in me, more than I ever could. Thanks for helping me discover myself, thanks for making me – ME. Happy Mother's Day – Love, Aanchal"
Aanchal Bhugra Kothari, Sr. Manager - Reliance Industries Limited
"My mom Usharani is my first teacher, mentor, friend, confidante, role-model and super-woman. She acts as my moral compass and steers me in the right direction. She taught me to be strong but sensitive, modern but respectful of roots, persevere but take time to smell the roses. Never-say-die spirit, resilience, openness to learn and optimism are few qualities of her that I hope to emulate. I salute her for all the sacrifices and trials that I have put her through. If I am 10% of what she is, I would be a great mother someday. Love, Hema"
Hema Rengaswamy, Associate Vice President, HR BP, Standard Chartered Scope International, Chennai
"Dear Mom and Mausi,
You inspire me everyday! Thanks for all the loving selfless care, tireless efforts that you generously shower on our family & the world. You inspire me and make me proud EVERY day! Love you Mausi and Mom, yours Neha"
Neha Saxena Shenoy, HR Business Manager, Microsoft India
"Thanks Mom for helping me become a better human being day after day; because that is the most important prerequisite to becoming a good leader in life. Love, Bhrigu"
Bhrigu Joshi, Head- Talent Management and Development, Makemytrip
"It is very difficult to talk of just one great quality about my mom. But one thing I really admire about her is the fact that she is so very good at looking at positives in anyone and appreciating and recognising them that in my case I always start feeling better and more confident about myself after talking to her. I think this is one quality which makes up any true leader and I'm so happy to say that my mom is the first leader in my life. – Happy Mother's Day, Ammi! Love, Ali"
Ali Imran Sayed, Global L&OD Manager, Avery Dennison
"Dear Mumma,
I grew up beliveing you had some special power called "Mumma Magic" with which you could solve the most difficult of problems with so much ease...with which you always had a way of finding out how the day at school has been, with which you could manage such multitude of tasks with such perfection... You know Mumma ... I still believe in Mumma Magic and endevour that my daughter believes in it too... . Love Shaily"
Shaily Rampal Misra, Deputy General Manager, HCL Technologies Ltd
"Mum, Mama, Mommy, (You are) Beautiful, (You give) unconditional love, You are creative, unselfish, believes in life, Patient, Gentle, compassionate, nurturing strength, devoted. I love You, Mom. Happy Mothers' Day. Love Deepa"
Deepa, Senior Manager, Leadership Development, Capgemini India
"You were the first one to teach me the value of empathy. You always said, 'It is nice to be important, but it is important to be nice' – And this has translated to how I manage and mentor others, how I interact with clients and colleagues throughout my career. No leadership development program can do what you have done for me!! For all this and more, THANK YOU! Love, Aarti"
Aarti Shyamsunder, PhD, Organisational Psychologist and Independent Consultant
"When the world is full of people teaching their kids to be assertive/aggressive, Mom, I leant from you empathy. To care without asking back, to be large hearted not only towards loved ones but people we may not know. I also learnt from you that cooking is not only about putting in the right ingredients but also about doing it with love and thought, which is what brings the best from the ingredients. To not stick to the recipe but also to experiment and play around even if sometimes someone even if the salt was a bit off and to take things in lighter vein. Unknowingly you gave lessons in management that have helped me what I have become and be valued for what I am. Love, Girish"
Girish Kohli, Director Organization Development and Rewards, PropTiger.com
"We fight, we disagree, we support, we care, we ignore, we avoid, we again start over every day. We share so many emotions that anyone would share -- with a parent, a friend or a colleague…you are all of that Mom, Wish you a Happy Mothers' Day. Lots of love, Ashissh"
Ashissh Kapoor, Senior Manager, EY
"Dear Mom,
I can never thank you for everything you have given me in life. But the best thing I have got from you is "A Positive Attitude". I always have seen you happily facing everything in life tough situation, illness, financial crisis etc. I have learned this from you and it has given me so much strength in all aspect of my Life too- Work, home, tough situations and problems which I face happily. It teaches me that there is a solution for everything in this world and you can achieve anything. As a saying says Impossible itself says I M POSSIBLE :) Thanks for everything in life and Love you a lot :) - Akanksha"
Akanksha Mishra, Senior Manager- Special Initiatives & HR Lead, People Matters Media
People Matters wishes all the Moms in the world a very Happy Mother's Day!