HR Technology
Experts speak on "Transitioning to a digital business and workforce"
People Matters conducted a tweet chat on transitioning to a digital business and workforce as a part of Talent Tech Evolve. Read on to see what the experts had to share
From focusing on technology-leveraged HR to business outcomes, the human resources function is rapidly evolving but how companies are moving beyond technology supporting HR processes and focusing on delivering business value.
People Matters Talent Tech Evolve Tweetchat brought a global coterie of experts including Pam Boiros, Principal, Bridge Marketing Advisors, Greater Boston; Sriram Rajan, Head - OD & Talent, SIG Combibloc, Dubai UAE; Emmanuel Michael, Head of Human Resources, Letshego MFB, Nigeria; Yuvaraj Srivastava, CHRO, MakeMyTrip, India and Jason Averbook, CEO & Co-Founder, Leapgen, California to present real-life examples and practical solutions on leveraging digital.
In case you missed the Tweetchat, we have compiled some expert comments for you.
Q1: What is the role of HR function in helping businesses and workforce ride through the wave of digital disruption? #TalentTechEvolve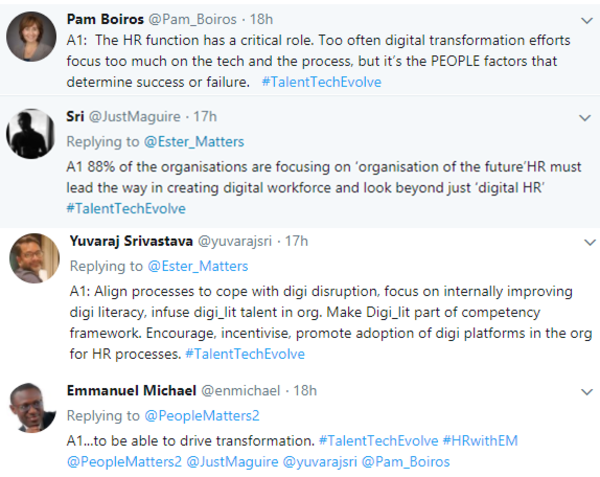 Q2: How is technology revolutionizing the way HR functions today when compared to 2-3 years back? #TalentTechEvolve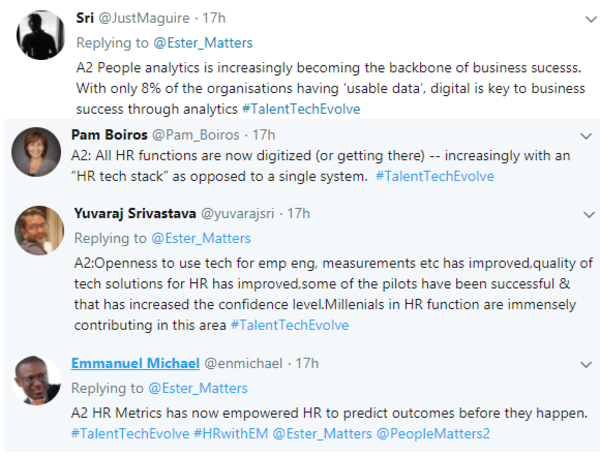 Q3: What are some of the biggest challenges that HR faces in leveraging technology? #TalentTechEvolve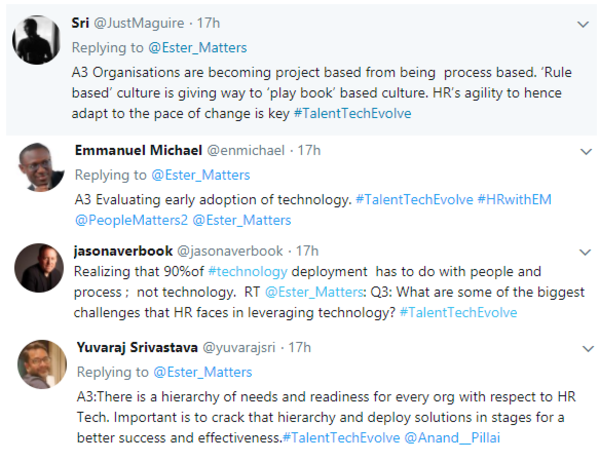 Q4. As a part of talent community, what are some of the examples where you are using technology to go beyond process automation and focus on business value? #TalentTechEvolve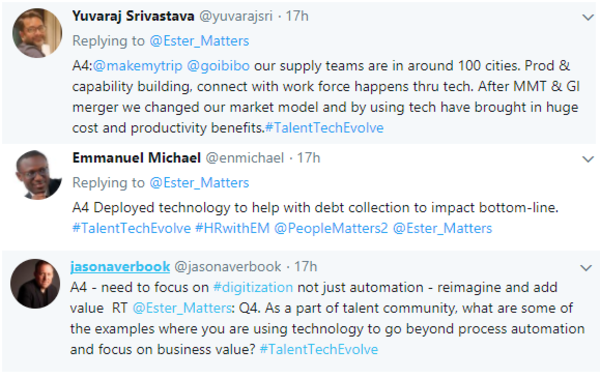 Q5: What is the one thing HR should start, stop and continue doing to support the transition of businesses and workforce to the digital version? #TalentTechEvolve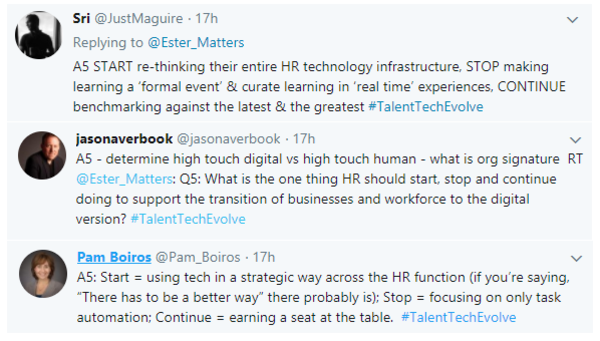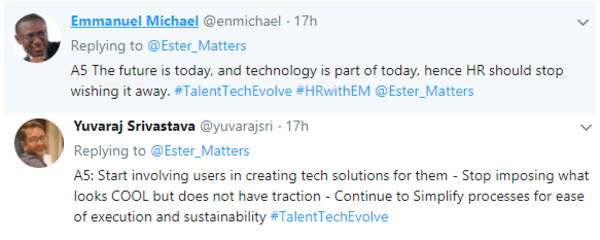 Continue this and start many more conversations on the digital transformation stories from across the world at People Matters Talent Tech Evolve. Click here to register today for free! Do not forget to share this with your teams and in your network.