Life @ Work
COVID-19 is innovation fuel
COVID-19 is innovation fuel for Starbuck. This Market Shaper created the 'third workplace' and is leading their own 'transformation phase.' Using the crisis to change the business model.
Wake up and smell the coffee
Starbucks outlets were based on the number of steps a customer would take to find a coffee shop. There were stores everywhere. Much like the dreaded bell curve of performance management, they closed 100 stores every year. This year they closed 400 of them – many of them fairly profitable. They were preparing the business for the (digital) "transformational phase". Their transformation journey has been picking up pace over the past 2 years.
From designing pre-purchase ads, they have moved to designing experiences. Well, it is certainly possible to buy a coffee at a cheaper price anywhere but the experience that they design is what they charge a premium for. The Starbucks store is the "third place" where people would work beyond the office and home, they said. To turn a coffee shop into a remote workplace, they offered free wi-fi. The sign of a Market Shaper is that they change the way we live and work. Starbucks did just that. 
Online and offline presence linked by mobile
Starbucks initially launched the Starbucks Card Mobile application along with the MyStarbucks application, which offers a store locator, nutrition information and an interactive drink builder, in the App Store on September 23, 2009. The virtual card soon started to be the default norm by which the customer would track their loyalty reward points. The customer would add money to their mobile app and order ahead for pickup. Some customers chose to get their order delivered by Uber Eats.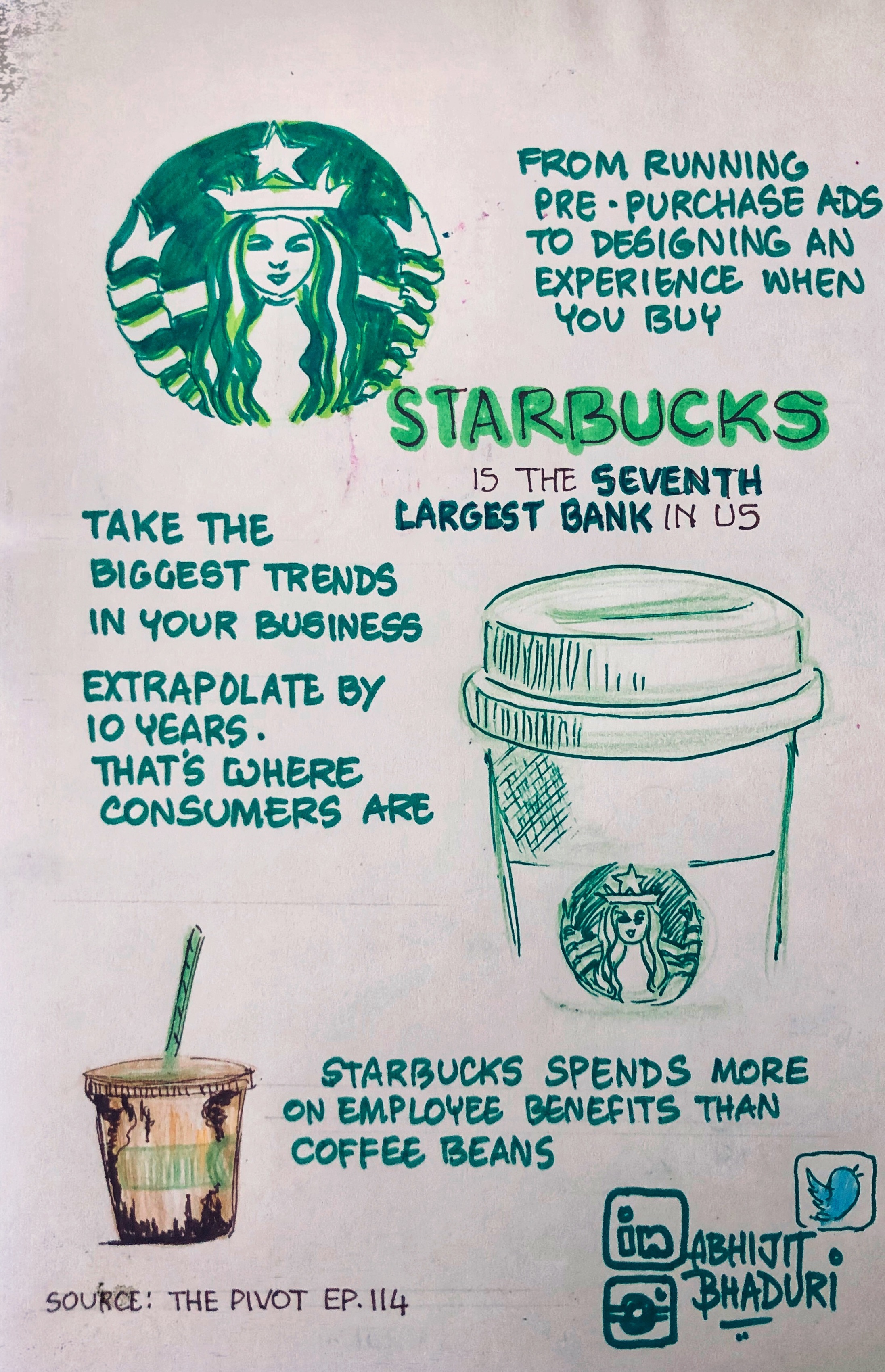 The mobile allowed Starbucks to track minute shifts in consumer behavior. The customer was already using the phone to pay for the coffee and also use the money pre-loaded on their card at some partnering stores like Target. In a time-starved world, 80 percent of customers were not using the store to drink the coffee. That enabled them to optimize the space needed for each individual store. It enables them to get out of expensive leases of store space. That's why they closed 400 stores, some of them profitable.
The "third place" for keeping money
Some people keep their money in banks. Some keep cash beneath a mattress. Now there's another place that people are depositing their money: their Starbucks accounts. It has made them the seventh largest bank by deposits.
Starbucks has its heart in the right place. It spends more money on employee benefits than on coffee beans. They are able to seamlessly blur the distinction between online and offline. The customers can order anywhere and drink their beverages anywhere they wish. 
With more than 80,000 drink combinations, hyper-customization is another way for them to delight the consumer. "The third-place experience begins from the moment the customer and visions their daily Starbucks experience available day enjoy that Starbucks beverage." They have truly turned the experience to be boundaryless.
What does it mean for your business?
Learn about the customer: This is not the customer you had before the lockdown. Is the customer going to be more frugal or more hedonistic depends on the amount of liquidity that they have and whether they're optimistic or pessimistic? Until you know how the customer has changed it is not possible to create new business models to respond to the opportunity and their pain-points.
Speed, simplicity and flexibility, not perfection: In times of crisis the solutions offered must be simple, adaptable to the local situation and get deployed with no waiting time. Turning the idling railway coaches into isolation wards to supplement hospital wards changed the response time. The Arogya Setu app was off the ground faster than what Google and Apple could create. Shops in small villages marked the spots to make it visually simple for people to maintain social distance. facial recognition-based time and attendance system (RamcoGEEK) which includes temperature recording via thermal imaging technology embedded into an access control screen and an IoT door. The latter can restrict access to staff or visitors with a high temperature. Overall, the system can also monitor the movement of high-temperature staff within the office and send alerts to management and HR.
Crowdsource ideas: Crowdsourced platforms like BreakCorona received 1,300 ideas and 180 product solutions within two days of launch. With WFH being an acceptable option, this may be the right time to involve the employees to brainstorm on what HR policies would have to be redesigned. Each pain point is an opportunity for innovation. If the employee's housing allowance is based on a high cost city like Mumbai, would the allowance change if the person operates from a Tier III city? Inviting employees to weigh-in and find creative solutions is the best engagement program. the Singapore Monetary Authority has kick-started a $1.75 million competition to bring innovative fintech solutions to solve COVID-19 issues. Competition runners have said that over 107 different problem statements were received in 2020 alone.
Innovation Fuel is called COVID-19
Using technology to improve operations as well as everything in the workplace is an opportunity. With employees rethinking what career really means, it is also possible to craft new roles. Some people with disabilities stay at home mothers and neuro-diverse talent may be far more productive in work from home scenarios than office spaces.
Market Shapers stay in shape by continuously transforming their business – even when it is profitable. That is the best time to innovate.