Certifications
Things you need to know about CMA certified talent
Through a Mutual Recognition Act between the IMA (US) and ICWA (India), the CMA qualification is considered to be the equivalent of the ICWA qualification of India. Read more to know how CMA certified talent is different
I would like to begin by introducing you to an important statistic which will help set the stage for the article to follow - according to a salary survey conducted by the IMA (Institute of Management Accountants) in March 2016, "globally CMAs earn 61 percent more than in median base salary and total compensation than their non CMA peers." The reason this statistic sets the stage is because it not only highlights the obvious value of the CMA credential for the certification holder, but also interestingly, for you- the hiring manager. Why? Because it validates that companies are willing to pay employees with a CMA certification a lot more than those without - a whopping 61 percent more.
Why did you need to know this? Well, in an APQCsurvey* of 119 finance organizations, almost half said that they plan to hire F&A staff in the next 12-18 months, and 70% said that they anticipate it will be 'very' or 'somewhat' challenging' to do so. If you're planning to hire (and you will at some point), you'll want to read on.
What exactly is CMA certification?
The CMA or the Certified Management Accountant is a globally recognized, advanced-level credential appropriate for accountants and financial professionals in business. Leading employers seek to hire and promote CMAs. Companies such as 3M, Alcoa, AT&T, Bank of America, Boeing, Cargill, Caterpillar, ConAgra, Hewlett-Packard, Johnson & Johnson, Microsoft, Procter & Gamble, and Verizon have CMAs in key management roles
The CMA program is designed to validate mastery of the advanced skills required to manage financial functions and is in line with on-the-job practice.
Why is it relevant for hiring and L&D managers?
For Hiring Managers, it is a good competency to look for in a candidate's CV, and for Learning & Development Managers, the CMA certification is a great program to enhance the skills of existing employees, and meet the training and development goals of your organization.
According to the APQC Survey,* the more training its F&A staff, the lower its total finance department cost. Companies that skimp on training—those in the lowest quartile, reporting the fewest hours of external training provided per F&A employee in the APQC survey—are also more likely to have the most expensive finance functions.
Source: 'Unearthing the Hidden Value of External Training & Certification,' APQC, 2012

And here are some of the reasons why CMA certification stands out from the rest:
Referencing the APQC Survey again, 46% of survey respondents cite 'lack of career advancement' as the key reason F&A talent leaves the organization. The CMA certification is ideal to train staff for future promotions. The skills set offered by the CMA certification is key for employees seeking to assume senior roles in the F&A domain, including the CFO role. According to APQC, 'senior leadership roles require mastery of both finance and accounting, and as management accounting needs evolve, the customary CPA credential is becoming less relevant.'


The CMA certification can be attained without having to send your employees on study leave to any external location.


CMA training centers are now available in India, and the exam is also conducted here


Achieving the CMA demonstrates professional expertise in financial planning, analysis, control, decision support, and professional ethics – skills that are in demand by organizations around the world. This credential assures employers of on-the-job competency and of a candidate's ability to improve organizational performance.


Helps establish credibility towards clients and stakeholders


Helps stay financially safe by applying the latest financial and accounting techniques and modelling


Helps achieve a competitive edge in the corporate world


Demonstrates a commitment to stay abreast of newer techniques, standards and best practices in management accounting. This is because after passing parts 1 & 2 (the CMA is a 2-part exam), fulfilling the education and experience requirement, and receiving certification, all CMAs must complete 30 hours of continuing education annually, including a minimum of 2 hours in the area of ethics.

What impact does it have?
According to an APQC survey* of finance and accounting leaders, 'organizations with higher percentages of externally certified finance and accounting staff tend to release quarterly earnings reports faster.'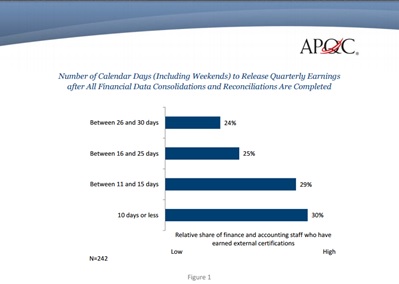 Source: 'Unearthing the Hidden Value of External Training & Certification,' APQC, 2012

As illustrated above, 'in organizations where less than 25% of the F&A staff hold certifications such as the CMA, it typically takes between 26 and 30 days to release quarterly earnings after all financial data consolidations and reconciliations are completed. That level of inefficiency ranks these organizations in the bottom quartile, as benchmarked by APQC.'
'In contrast, organizations with a more significant share of F&A staff holding external certifications typically release quarterly earnings in no more than 10 days—the most efficient quartile in APQC's global benchmark of F&A departments.'
Is it relevant in India?
Through a Mutual Recognition Act between the IMA (US) and ICWA (India), the CMA qualification is considered to be the equivalent of the ICWA qualification of India. This means that the theories and concepts that are a part of this program are regardless of geographical boundaries or laws and are universally applicable- whether you are an Indian company or an MNC.According to the IMA's International Salary Survey, 2014, the (Mean) Annual Compensation of CMAs in India is US$39,330- that's a lot of money that companies are willing to pay to CMAs, highlighting the value of the certification specifically in India.
*Sources:
'Unearthing the Hidden Value of External Training & Certification,' APQC, 2012
IMA Global Salary Survey, March 2016
IMA International Salary Survey, 2014
http://www.imanet.org/cma-certification/cma-certification-overview