Learning & Development
Demystifying Learning ROI
It is crucial for the learning managers to understand the training need and document these as the learning ROI metrics
One of the crucial components of the learning function, which proves its importance to the business, justifies learning spends and helps managers measure progress is Learning ROI. This tool may either be viewed as an enabler or a constraint by stakeholders. At times, measuring ROI may be a creative process (behavioural programs may produce fuzzy outcomes); other times, the metrics may be clearly defined and the measurement is straightforward (tracking usage of a specific tool after training participants on its features). Whatever be the desired outcome, it is essential for everyone involved to agree on the relevant metrics early on, during the planning phase, to leverage on ROI as an enabler, rather than as a constraint. Without exception, the starting point for any learning intervention must be business metrics.
A Series of 'Whys'
Asking a series of 'whys' proves to be useful here: let's assume that the Training Need Analysis (TNA) process has thrown up the following requirement – a particular set of employees need to be trained on 'Taking Initiative'. The learning expert, along with the business manager, could now go backwards through the TNA process with a series of whys.
Why does this set of employees need to take more initiative? Because they have the 'It's not my job' mentality.
Why do they exhibit the 'It's not my job' syndrome? Because they haven't built internal capabilities.
Why have they not built internal capabilities? Because there's dependency on an external vendor, who consistently overshoots the timeline, because of which the project gets delayed.
Clearly, the business manager is in a Catch-22 situation: she cannot let go of the external vendor until her team takes more initiative, and develops internal capabilities. Thus, this function has an identified business metric – eliminate delay in project timelines. The business manager believes that by taking more initiative (a behavioural metric), her team would be able to overcome the 'It's not my job' syndrome (another behaviourial metric), develop internal capabilities (a project-specific metric), and ensure timely completion of the project every time (business metric). Another outcome would be to gradually reduce dependency on the external consultant (a project-specific metric). Every so often, the link between the behavioural and business metric gets lost in translation – which needs to be kept in focus by the learning manager. Through the course of the intervention, if the participants end up taking more initiative, and this leads to gradual improvement in project submission timelines, this is evidence of Learning ROI that can be documented and presented to relevant stakeholders. The intent of taking initiative is a positive one, and if implemented well it may also result in outcomes beyond what was initially forecasted by the Training Need Analysis (TNA). However, all of this needs to be documented clearly as evidence of Learning ROI by the business and learning managers.
The Strategic Learning Process
The Strategic Learning Process has a total of six simple, iterative steps. From defining outcomes in terms of business requirements to documenting results, one can plan out the complete process in an iterative loop. Because learning is a journey and not a destination in itself, it is important to build on all that was learnt in Step 6 (Documenting Results), which feeds back into Step 1 (Defining Business Outcomes) of the next learning cycle.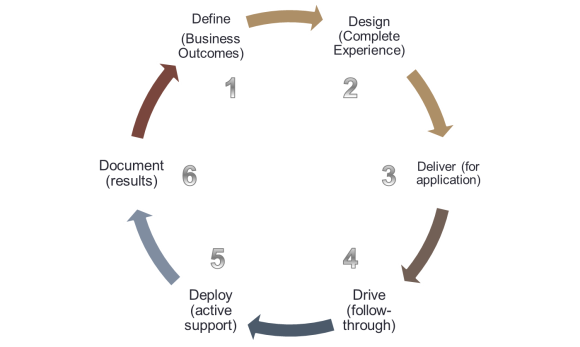 Learning for the Sales Function
A critical business function which may require learning interventions is Sales. This vertical has a clearly defined variable to measure progress – revenues. It is tempting to create an all-encompassing sales learning program which tries to improve many things all at once: cold-calls, Key Account Management, negotiation skills etc. However, one needs to thoroughly analyze all aspects of the sales cycle to understand pain-points and opportunities. The sales cycle may be broken down into stages like: Suspecting, Prospecting, Pipeline, Decision Pending and Closing the Deal. At each stage, there are clearly defined business and behavioural metrics.
For example, at the 'Decision Pending Stage', a business metric may be defined as 'Likelihood of Deal Conversion', which can be expressed as a certain percentage by the sales rep. A relevant behavioural metric may be 'Negotiation Skills'. If a particular sales team generates a strong pipeline, but is unable to close out on deals (low deal-conversion ratio), an intervention which focuses on their negotiating and relationship abilities may be useful.
Application of the Strategic Learning Process
If applied to this particular example, the six-stage Strategic Learning Process may look something like this:
Define Business Outcome – Improve likelihood of Deal Conversion.
Design Complete Experience – Focus on behavioural metrics like negotiation and relationship – building skills.
Deliver for application – in the language that the sales team recognizes, with clearly defined action plans.
Drive follow through – Create learning reinforcements through e-learning, coaching etc.
Deploy active support – Create sales learning communities that learn from and support each other.
Document results – Measure deal conversion ratio at pre-defined stages through the course of the intervention to see improvements.
The last stage is critical for measurement of Learning ROI. If the deal conversion ratio improves by a certain (at times pre-defined) percentage after the intervention, leading to more deals won in the process, this clearly shows the success of the learning program.
In summary:
Clearly define business metrics and relevant learning/behavioural metrics (series of Whys)
Ensure that the link between the two is constantly kept in focus through the course of the learning program
Use an iterative process for managing the learning journey
Measure the pre-defined metrics through the course of the intervention: document successes and revisit areas of improvement
References
Wick, Calhoun W., Roy VH Pollock, and Andy Jefferson. The six disciplines of breakthrough learning: How to turn training and development into business results. John Wiley & Sons, 2010.
Morrison, Carol and Dearborn, Jenny. Big Data, Better Learning? How Big Data is Affecting Organizational Learning., ASTD Webcast, June 17 2014.