Employee Relations
No longer confined to kitchen stereotypes, women move their way up the workforce
Jobs and professional networking platform apna.co witnessed a massive 430% increase in female users in 2021 with a rise in women applying for various non-traditional roles, including delivery partners, security guards, lab technicians, fitness trainers and drivers.
Despite the challenges faced during the Covid-19 pandemic, women representation in the workforce has improved significantly across roles and hierarchies.
With around 5 million female users, jobs and professional networking platform apna.co has recorded trends that are encouraging and highlight the shifting dynamics of India's rising workforce.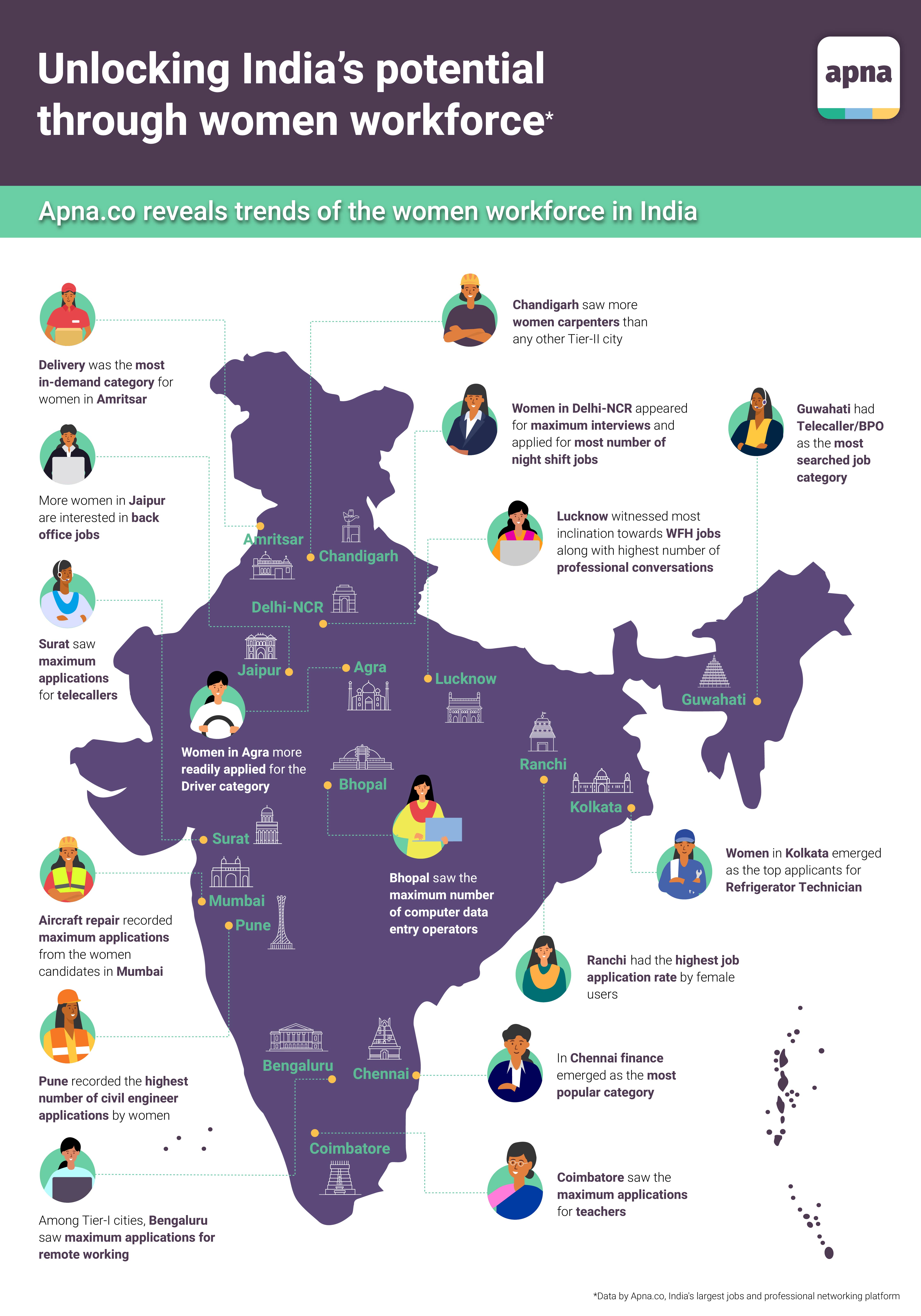 There was a massive 430% increase in female users in 2021 and this will continue to grow in 2022, says a apna.co report, signifying the closing gender gap and increasing gender diversity in India's rising workforce.
"Cities such as Pune, Hyderabad, and Ahmedabad noted a significant rise in women users on the platform. Maximum female content creators on apna communities hail from metros such as Delhi-NCR, Mumbai and Bengaluru," says the report.
The pandemic and its subsequent work-from-home regime created avenues for women to join the workforce. Female users also showed an inclination towards building professional networks and invested their time towards the same.
Women have been actively engaging in apna communities on government, business, learning languages, tele-caller, back-office jobs, teacher, computer/data entry, beauticians, lab technician and cooking.
There was a 12X increase in women interviewing on its platform in comparison to last year. On an average, women are interviewing at least 8 times a month – 33% more than men.
Interestingly, 39% of the female users on apna.co are 12th pass or lower and rely on apna to find jobs and build their professional network.
They are not only joining the workforce but also taking up unconventional jobs and breaking barriers created centuries ago. Unlike last year, apna also recorded a rise in women applying for various non-traditional roles, including delivery partners, security guards, lab technicians, fitness trainers and drivers.
"According to a recent report from IMF, reaching gender parity would boost India's GDP by as much as 27%. Similarly, the World Bank reports that India's GDP growth rate will climb above 9% if women have an equitable share of jobs and the nation can boost its growth by 1.5 percentage points per year if just 50% of women join the workforce. While we still have a long way to go, the 2021 Women Workforce data by apna is encouraging and signifies an upward graph in their participation," says Manas Singh, Chief Business Officer, apna.co.
The report says that women engaged in 48 million professional conversations during this year and 56% of these conversations were by those from Tier-I cities, with the remainder being from those in Tier-II markets. In Tier-II cities, the most professional conversations happened in Lucknow.
The professional networking platform for blue- and grey-collar workers claims to have clocked an 8x growth in new users in Tier II markets and 3.3x in Tier I cities.
Most women-only jobs were posted in Mumbai, Hyderabad, Bengaluru, Delhi and Kolkata and the top companies posting the highest number of women-only jobs include Urban Company, Lakme, Zomato, Motherhood India Hospitals, and Fortis.
While Tele-caller and BPO jobs are most popular in all the major cities, there has been an 11x increase in healthcare jobs for women.
Women in Delhi-NCR gave the maximum interviews and also applied for the most night shifts in India. In Tier-II cities, women users in Lucknow were more inclined towards WFH jobs while Bengaluru saw most applications for remote working.
Pune witnessed the highest number of civil engineer applications by women and delivery partner is among the most in-demand roles in Amritsar, where one can expect an order to be delivered by a woman.
Aircraft repair, a field traditionally less explored by women, saw the most applications from women in Mumbai. Chandigarh saw more women carpenters than any other Tier-II city whereas more women in Jaipur are interested in back-office jobs.
Maximum women applied for the role of tele-callers in Surat and women in Kolkata applied for the role of Refrigerator Technician. Coimbatore saw the most applications for teachers while users in Agra are more open to applying for the role of a driver. Bhopal recorded the maximum number of computer data-entry operators and for Chennai women, finance is a popular sector.
Interestingly, an average user in Ranchi applies for 9 jobs in a month – the highest among all cities.
Present in 45-plus cities across India with 22 million users, apna.co has secured more than $190 million funding from marquee investors such as Tiger Global, Owl Ventures, Insight Partners, Lightspeed India, Sequoia Capital India, Maverick Ventures, GSV Ventures, Greenoaks Capital, and Rocketship.vc.
In September this year, the company raised $100 million in a new financing round, led by existing investor Tiger Global, and became the fastest Indian startup to enter the coveted unicorn club (in just 21 months). After the latest funding round, Apna.co's valuation has doubled from its previous round in June to $1.1 billion.