C-Suite
International Media mogul Arianna Huffington joins Uber board
Travis Kalanick, Founder and CEO of Uber, recently wrote a warm post welcoming Arianna Huffington on board, which arose many mixed sentiments.
Uber Founder-CEO Travis Kalanick recently wrote a blog post announcing that media mogul Arianna Huffington, who is the Founder and Editor-in-Chief of The Huffington Post and a bestselling author, will be joining Uber's board.  
Arianna recently caught our attention with the buzz around The Sleep Revolution, her scientifically rigorous and a deeply personal exploration of sleep, in which she advocates for sleep as the gateway to a healthier and more fulfilling living.
Referring to her incredible story telling prowess, Kalanick praised Arianna as a "successful entrepreneur" who build a vibrant, world class media platform "from scratch" and commended her "emotional intelligence" that he said he was most excited to learn from.  
With an acknowledgement to Huffington's Greek heritage, he feel confident that "she will bring some ethos and pathos to our Uber logos". The words were accompanied by a short video that made a cherishing reference to their friendship. 
Arianna has also expressed her great enthusiasm for this venture.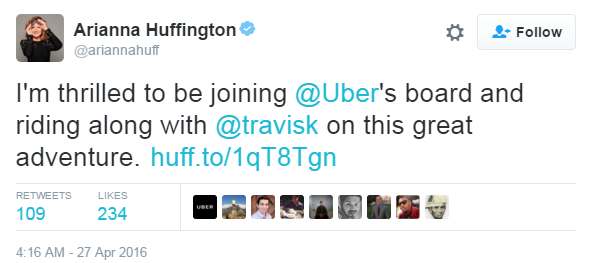 We are yet to find out what Arianna's great powerhouse means for Uber. But powerful journalist-writers mixing with big companies understandably unsettles some people and raises inevitable questions about journalistic ethics. The Huffington Post heretofore has covered each and every move of Uber — one of the biggest and most controversial newsmaking companies today. It has indeed led many citizens and Huff Post readers to wonder how much they can rely on any future Huff coverage of Uber, knowing that the editor-in-chief has a personal stake in the company's success. 
The Huffington Post, however has been quick to get across in this article that the editorial decisions of the company will continue to serve the audience and not Arianna Huffington or Uber. Arianna was quoted to cement the same idea in her own words: "Today might be my first day on the Uber board, but I'm in year 11 as Editor-in-Chief of The Huffington Post", said she. "And throughout all of those years HuffPost's editorial independence has been a paramount concern, whether we're covering people that I or other staffers know personally, or stories involving the interests of our parent companies or involving our advertisers.", she added.
On Wednesday, Huffington reportedly told editors at the site that she was to recuse from news coverage of Uber. Jo Confino, an executive editor at Huff Post who spent 22 years at the Guardian previously, is now designated to be the editor-in-charge for Uber related watchdog coverage.