Technology
Over 75% of Indian desk workers embrace AI tools:  Slack Report
The research, focusing on the impact of AI adoption and automation on productivity, work arrangements, employee well-being, and work culture, uncovers the evolving landscape of work globally.
About 53% of surveyed employees who adopted AI tools and automation reported higher productivity and saving an average of 3.6 hours per week. The research survey, State of Work Report 2023 conducted by Slack Technologies between February and March 2023 unveiled a dynamic landscape of workplace trends. Over 2,000 desk workers in India and around 18,000 desk workers globally, participated in the survey focused on the transformative impact of AI and automation. 
Derek Laney, Slack Technology Evangelist, "The findings in the State of Work report reaffirm the transformative impact of AI and automation on employee productivity. The Indian market is enthusiastic about adopting new technologies to work smarter, more efficiently, and pleasantly. Through the strategic utilisation of intelligent tools and the optimisation of processes, we can create an environment where employees thrive and make meaningful contributions. By equipping managers and employees with the right tools to work more efficiently, organisations have the potential to drive productivity and unleash the true potential of desk workers in India."
According to the report findings, at present three trends define modern work and productivity: 
India emerges global leader in AI adoption
The report shows that organisations that have embraced AI tools and automation experience enhanced productivity within their organisations: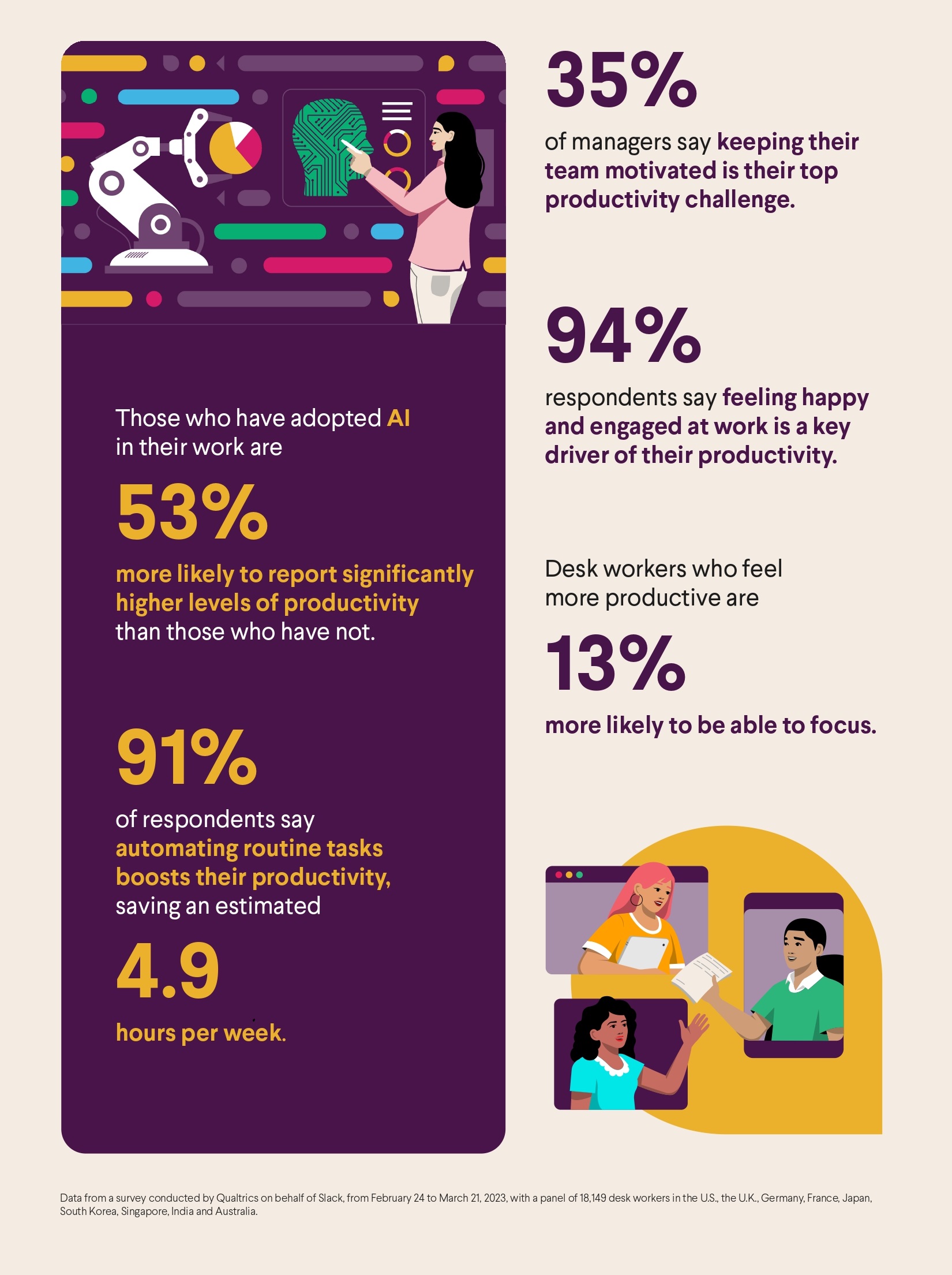 53% of those who have adopted AI for work reported higher productivity as compared to those still contemplating AI automation and tools. 
77% of surveyed employees expressed that automating routine tasks like expense report approvals would enhance their productivity.
Globally, work automation saves an average of 3.6 hours per week, approximately equivalent to one productive month a year, enabling employees to concentrate on more meaningful tasks.
Beyond AI and automation: Insights 
According to the report, the Indian workforce in hybrid work arrangements seeks flexibility and an environment that fosters inclusivity and collaboration. Work arrangements where employees feel empowered in maintaining a better work-life balance are in high demand.
Employees in India, as revealed by the survey, shared that flexible work schedules are one of the significant factors that support productivity. 
Whereas, a global survey revealed that: 
36% of employees consider flexible work location a significant factor in enhancing productivity
32% of employees consider unique workplace benefits like providing lunch or recreational activities, as a significant factor in enhancing productivity 
Nevertheless, only a few of the surveyed employees reported adopting modern strategies to improve team collaboration regardless of their work location:
Only 19% of employees encourage asynchronous work, for example when sharing status updates, as per the global survey report.
Over 35% of global employees consider spending excessive time in meetings as a primary productivity challenge
Interestingly, the majority of employees globally believed that 43% of their meetings could be eliminated with any adverse consequences.
Focus on employee well-being and productivity:
The report highlights the close connection between productivity and wellness, emphasizing that organizations need to focus on job satisfaction, employee engagement, and mental well-being to enhance productivity. When redefining and driving productivity, leaders must consider these aspects as crucial
The survey conducted in India revealed that 94% of the surveyed employees reported 'feeling happy and engaged' at work as a key driver of their productivity. 
Additionally, Indian employees who experience higher productivity demonstrate a 13% boost in their work concentration. 
Globally, 53% of employees admit to feeling pressured to respond to messages promptly, even if the emails or messages are received outside standard working hours. Therefore, employers need to prioritise employees' well-being. 
Role of managers in shaping work culture 
According to the Slack Survey report, Managers hold a crucial position in shaping work culture and require the appropriate skills, tools, and team wellness support to enhance efficiency and productivity. Nevertheless, they encounter challenges in establishing a healthy and productive environment.
Indian managers highlight that the primary barrier to productivity they face is assisting their teams in achieving a good work-life balance.
Excessive time spent in meetings and email has been identified as the top barrier to productivity by Knowledge workers in India 
43% of managers in the global survey reported they struggle in keeping their team motivated.
Organisations must address these challenges on priority to remove barriers and enhance productivity amidst increasing business demands. Additionally, employees, however, eager to streamline processes and boost productivity, still require assistance in finding the most effective approaches.