Technology
Elon Musk announces TruthGPT: The AI platform to rival Google and Microsoft
Musk made critical remarks about OpenAI, which is supported by Microsoft and responsible for the famous ChatGPT chatbot, accusing them of teaching AI to deceive. He also declared that he plans to introduce a new AI platform called TruthGPT.
The billionaire entrepreneur, Elon Musk, has announced the launch of an AI platform named TruthGPT which will compete against the AI offerings from Microsoft and Google.
He accused OpenAI, the company responsible for the popular chatbot ChatGPT and backed by Microsoft, of training the AI to be deceitful. Furthermore, he claimed that OpenAI has transformed into a "for-profit" organisation that has become "closed source" and is now closely associated with Microsoft.
In an interview with Tucker Carlson on Fox News Channel, he further revealed his plans to create an AI system called "TruthGPT" that will strive to discover the fundamental truths about the universe.
He expressed his belief that "TruthGPT" could be a viable solution for ensuring safety in the field of AI, as it would be less prone to causing human destruction. "It's simply starting late. But I will try to create a third option," Musk said.
According to a recent report by Reuters, Musk has been hiring AI researchers from Google's parent company, Alphabet Inc, to establish his startup, which will compete with OpenAI.
A recent state filing indicated that Musk registered a new corporation, X.AI Corp, in Nevada. The filing lists Musk as the only director and Jared Birchall, the managing director of Musk's family office, as the secretary.
Despite Musk and a consortium of AI experts and industry executives advocating for a six-month moratorium on the development of systems with greater capabilities than OpenAI's recently released GPT-4, the establishment of X.AI Corp proceeded as planned. The group cited the possible hazards to society as the reason for the pause.
Excerpts from the interview with Carlson indicate that Musk reaffirmed his concerns about the hazards of AI, stating that it poses a greater danger than issues such as poorly executed aircraft design or production, as well as substandard vehicle production maintenance.
"It has the potential of civilizational destruction," he said.
He highlighted the ability of a super-intelligent AI to write exceptionally well and potentially exert influence over public opinions. Additionally, he revealed in a weekend tweet that he had met with former US President Barack Obama during his tenure and had recommended that the government initiate policies to regulate AI.
In 2015, Musk was one of the co-founders of OpenAI, but he resigned from his position on the company's board in 2018. In a tweet made in 2019, he stated that he left OpenAI to prioritise his attention on his other ventures, namely Tesla and SpaceX.
During the same time, he mentioned in a tweet that his decision to leave OpenAI was also influenced by the fact that Tesla and OpenAI were vying for the same talent pool and that he had disagreements with some of the objectives pursued by the OpenAI team.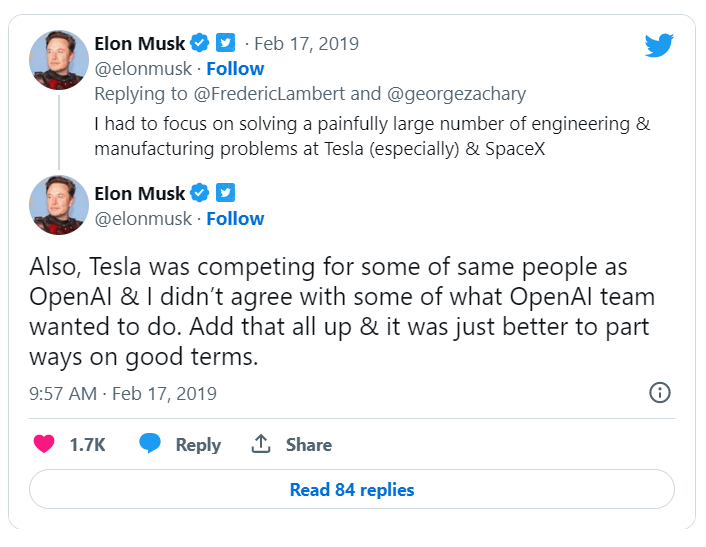 Last year, Musk purchased Twitter for $44 billion and subsequently assumed the position of CEO. During an interview with Fox News, he disclosed that he now appraises the social media platform at less than half of its purchase value.
At the start of the year, Microsoft Corp declared a multi-billion dollar investment in OpenAI, further escalating the rivalry with Google and augmenting the competition to draw AI funding in Silicon Valley.