Diversity
How Genpact achieved a "Gender-Balanced" workplace
Know how Genpact conceptualized and executed a social media employer brand campaign to hire women in mid-senior roles.
"If you exclude 50 percent of the talent pool, it's no wonder that you find yourself in a war for talent."
This is certainly the most powerful quote by Theresa J. Whitmarsh, Executive Director of the Washington State Investment Board, which sums up the gender imbalance at the workplace.
As earlier reported in People Matters, Genpact in 2016 launched their very first talent brand marketing employer campaign christened Career 2.0, as an effort towards creating a gender-balanced workplace. We reached out to Lavanya Shrinagesh, VP-CSR and Diversity Leader and Sunanda K. Malikumar, Global Talent Marketing & Communications Leader to understand more about the campaign and how it helped them create an impact.
Challenge:
While Genpact had an overall 37% representation of women in the workforce, when it came to leadership positions, there were only 17% women at the top level. Sunanda recalls that while they were conceptualizing the program "Career 2.0", they learned that in India, over 15 lakh women who were seasoned professionals were on a career break.
Gender diversity is a business-critical mission at Genpact, and therefore the organization required a robust employer brand strategy to increase the total women in their workforce across all levels of the enterprise to an ideal goal of 50 percent.
Lavanya mentioned, "We decided to keep our goal at having 50 percent women at mid-senior level roles. Undoubtedly, it was aspirational, but anything less than 50 percent doesn't make any sense. The priority was to create a gender-balanced workplace."
Solution:
The team at Genpact created the R.A.C.E (Research, Articulate, Create, Execute) framework to craft their employer brand go-to-market strategy.
Research: The organization reached out to their internal women employees, interacted with women working in other organizations, women on a career break and associations like Sheeros. Their research methodology included internal means like surveys, FGDs and external approaches such as brand perception surveys, social media conversations.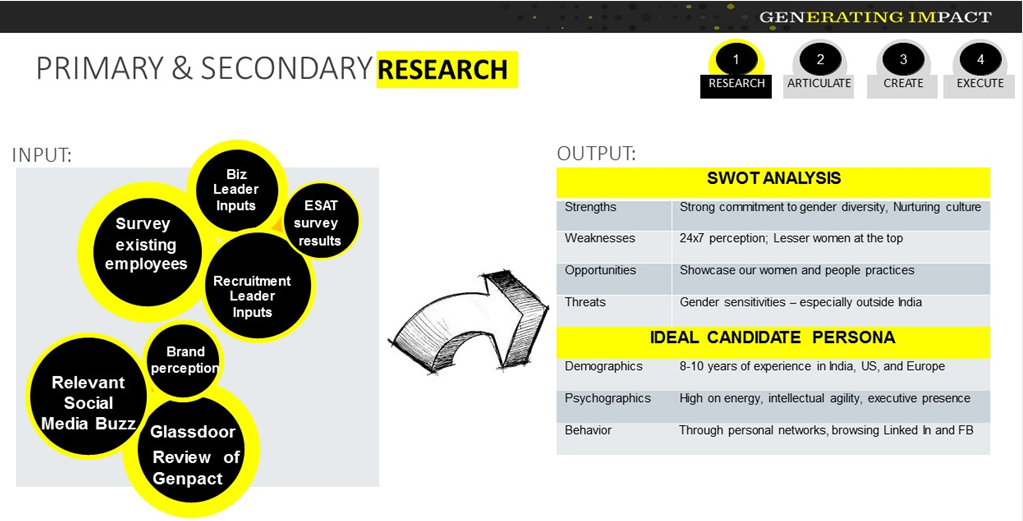 Articulate: Based on the research, they did a SWOT analysis where they found that one of the key challenges in attracting women is the perception of working 24*7 as Genpact was associated as a call-center, which was far from it's the reality of being a global tech company.
Sunanda shares that while interacting with women who were on sabbaticals and career breaks we found that most of these women were afraid to join because of the suffering from the Fear of Missing out (FOMO), defined as a pervasive apprehension that others might be having rewarding experiences from which one is absent. In the case of these women, they were worried that they had worked hard to build their careers and for reasons sometimes in their control and sometimes not, they had given it all up. There was a sense of wastage. At the same time, while they were keen on getting back to the corporate world, they were fraught with concerns around their ability to keep pace with a world that had moved beyond what they knew of it last.
Based on the SWOT analysis of this research, the organization team identified key themes and articulated their Value Proposition for the campaign:
The pain of losing out on a fruitful career
Make the target audience feel wanted
Show them that the work-life balance is possible.
Once the value proposition was in place, the team created exciting content and collaterals for external communication. They adopted relevant channels and platforms and measured what matters: Awareness, Engagement, Number of applications, Number of hires.
Create:
Career 2.0, a pilot campaign around gender diversity, was rolled out in mid-2016 with a goal of hiring 30 women in mid to senior profiles. Potential hires were engaged in various channels and content formats including Infographic job posts, networking events, employee testimonials, leaders showcasing the organization's culture, and media around how the organization supported and promoted diversity.
Sunanda shares, "We are believers in the power of content. Real credibility comes when you give audiences value-add and meaningful content and deliver it in a non-intrusive way right to their screens. LinkedIn makes this possible."
Genpact augmented their content reach to the right candidates via Sponsored Updates, and then leveraged their LinkedIn Career Page to showcase their employer brand and engage these senior candidates.


Impact:
The company received overwhelming 5000+ applications. The Career 2.0 campaign received over 17M views, 700k acts of engagement, 3k+ applications and 62 more than 2X the original target of hires at AVP and above level. Additionally, it brought in cost savings of 70-83% compared to the total cost of hiring the same number of women previously. The success increased the faith in social media for Genpact and resulted in a three times growth in employer brand investment across social channels.
Road Ahead
Hiring and recruiting women is not the only agenda but retaining the talent is one of the key priorities. Genpact runs a number of programs to attract and retain their female talent. To promote the culture of diversity and make people more sensitive, the organization conducts workshops to mitigate unconscious bias. Other programs like iLead, Sponsorship and Mentoring for women allowed them to develop and stay current to their jobs. Not only these programs are aimed at skill development but are an opportunity to understand and solve the real issues like work-life balance, and health.
Lavanya shares, "Diversity is absolutely core to our organization's agenda. Creating a gender-balanced workplace is not a tick box activity but a business imperative. It is critical for an organization to get the best and experienced talent on board."