Employee Engagement
Meeting employees where they are digitally on their journey with the organization
In his session at People Matters TechHR 2020, Alex Margarit, APJ Senior Director of Employee Workflows, ServiceNow, shared how COVID-19 has ramped up the importance of life-cycles.
"Before COVID-19, employee life cycles were very important," Alex Margarit, APJ Senior Director of Employee Workflows, ServiceNow shared, "but we're seeing that really ramp up with the onset of the pandemic." Alex was speaking at TechHR 2020 to share his insights on employee life cycles, empathy, cross-functional services and how digital resources can be used to keep employees engaged, happy and safe during a time of uncertainty and stress.
The data shows the number of professionals with 'employee experience' in their title has grown exponentially. Now more than ever, under the pandemic, these experts are getting to put this learning to use. How, exactly, is this knowledge being applied? 
Why is employee experience important? 
According to ServiceNow data gathered in August 2019, over half (52%) of employees said that "employers are not invested in improving the employee experience for their workers."
Organizations were failing to sufficiently invest in the employee experience. As we know, employee experience and happiness have a direct correlation to productivity and performance. The stakes, therefore, are high for making improvements in this area. 
"The employee experience before COVID-19 wasn't a great picture," Alex says. How have things changed now? Are they shifting for the better?
Here are a few points employers should consider now: 
Deliver your employees the right digital experience from anywhere 
The pandemic has brought about some incredible digital transformations in the customer experience in areas such as telehealth and retail. The question is "how do we deliver a consumer-like experience to employees?" Across the world, employers are rushing to address the many ways working life has changed: longer hours, erosion of a home-work divide and remote working. "The risk is we're going to see a spike in productivity, but that's not going to be sustainable," Alex says. 
Addressing common employee service needs - how have they changed? 
"Before it was things like booking a conference room. Obviously that's not the case anymore, but [employees] are still going to need a laptop. They may have problems with Wifi. They may need to work out a way for them to connect. They may need mobile services." 
The trick lies in recognizing what has changed, what has remained, and building services around those areas. 
While technology may have come to the forefront, issues and service requirements will still arise in areas like legal, finance, ergonomics, and human resources. "How do we deliver those in the best possible way to help overwhelmed employees?" Alex asks.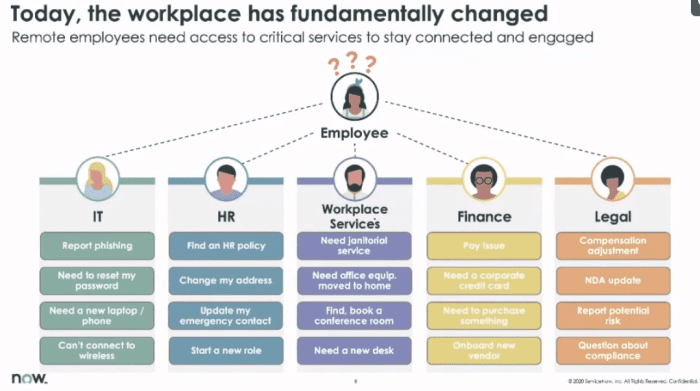 "Before we could walk over physically to somebody in the office and ask them for some support, and we need to provide those same levels of support in a remote fashion. And we need to do that fairly quickly," Alex says. That's where employee services really start to shine. 
Employee-focused services and empathy 
Better employee services have always meant better engagement and happiness, which in turn leads to increased productivity and performance. These are now more important than ever. 
We must also strive to meet employees at whatever point they're at in the company: from returning workers to those hired for the first time. "It's about understanding their journey, being empathetic and being employee-centric, then meeting their needs with digital, cross-functional services," Alex says. 
Cross-functional services 
Alex cites Josh Bersin's research into HR Technology Architecture. 
"Josh Bersin talks about employee experience platforms sitting across the top of these, essentially being a cross-functional layer that sits above these services," Alex says. This is important because "cross-functional journeys need different pieces of those functional services brought into a package journey or package service portfolio for that journey to meet employees' needs." 
This allows us to "grab bits and pieces of those functional services and roll them into a menu of services: we can provide sub-service, we can provide programs to improve certain aspects and most importantly we can align with employees." 
Agile or continuous delivery modes allow for quick wins: "we can layer over the top these cross-functional processes and actually provide very agile, adaptive service delivery. We can leverage mobility and create mobile experiences that connect into the organizational tissue quickly." 
In these new circumstances, employees must feel their employers care about their health and wellbeing. In the pandemic, this is particularly pertinent. In contact-tracing for offices, for example, ServiceNow has leveraged technology to "aggregate contact tracing information from multiple data sources to quickly identify potentially impacted employees and limit the spread of COVID-19."
Overall, Alex left us with what he calls "a snapshot of some of the ways you can link employees digitally where they are and provide still an agile way to manage the ever-changing environment in a flexible, consumer-driven fashion back out to employees in a time where it really, really matters."