Leadership
Here's why you should be in the list of People Matters Are You In The List Awards 2020?
People Matters Are You In The List Awards, which is in its ninth year of running, has been the beacon to recognizing emerging future HR leaders.
"If your actions inspire others to dream more, learn more, do more and become more, you are a leader."  -John Quincy Adams
As we enter into 2020, the beginning of a new decade, a lot is expected to change. Business models will change, the way we work will change, and technological shifts will transform every facet of how we work. Organizations will have to equip themselves to deal with the rapid rate of change and all sorts of crises. And one major factor which will determine who will come on top of all the shifts is leadership. More than ever now, organizations need leaders who can be agile, lead the change, and be the answer to everything related to People and Work. The Covid-19 pandemic has clearly shown us one thing-the importance of leaders who can lead through a crisis with a balanced head and balance the talent experience with that of business continuity has never been so much as it is right now.
People Matters Are You In The List Awards in association with DDI India aims to identify these very emerging HR leaders who can become the answer to the challenges in the people and workspace. The Awards, which is in its ninth year of running, has been the beacon helping to identify young emerging HR leaders to build the future pipeline of HR leaders.
17,500+ applications, over 137 Emerging HR Leaders
In the last eight years, we have received more than 17,500+ applications, out of which more than 137 emerging HR leaders have been recognized until now. What makes this initiative stand out is the fact that participants have to go through a 7-stage rigorous process that separates the wheat from the chaff. Starting from the online application to online assessments to business case study method to cognitive ability testing to being evaluated by a jury on the skills required to be a successful HR Leader in the final stages, candidates are screened extensively to determine if they have the required competencies to be that trailblazing leader. This year will also see a virtual face-off with the jury which will lead to the identification of the Emerging Future HR Leaders.
This rigorous process of selection has ensured that the awards spot those courageous HR professionals who are anticipators of workforce and talent trends relevant to the business. But this legacy just does not end at spotting these future leaders. The fact that many of these HR professionals have now made their way to the top rung of management as HR Heads/Function Heads is a testimony to the fact that the awards are not just merely corporate awards but recognition par excellence. 
People Matters has been presenting these most awaited awards every year since 2012. The award journey was conceptualized in 2012 in collaboration with Development Dimensions International (DDI) which is the Presenting Partner for this year as well. Meanwhile, Harappa Education is the Behavioural Learning Partner for this year. 
Last year, in August, the 8th Edition of People Matters Are You In The List 2018 saw 17 finalists being crowned as the future 'Emerging HR Leaders'.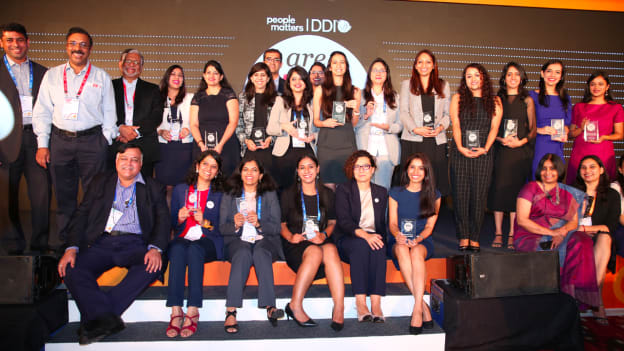 This year too, the awards will endeavor to identify a handful of such talent powerhouses who have it in them to successfully chart the course of future for their organizations. The jury for this year consists of eminent leaders such as Dr. Santrupt Misra, CEO, Birla Carbon; Director, Chemicals; and Director, Group Human Resources for the Aditya Birla Group, Amar Nagaram, CEO, Myntra & Jabong, Alok Ohrie, President & MD, Dell Technologies, India, Rohit Kapoor, CEO - India & South Asia, OYO, Kamal Bali, President and MD, Volvo Group India, and Venkataraman S. V., Managing Director, ANZ, among others.
Do you think you are one of those torch bearers who can go through the grind and emerge victorious as the leader of tomorrow? Do you think you are the answer to this quest of a future leader who can lead the change in 2020 and beyond?
Then here's your chance to make it to the coveted list of People Matters Are You In The List Awards 2020. Apply here to find whether you have it in you to make it to the list.
Check out the winners of Are You In The List Awards 2019.