Leadership
Management or Leadership – Two sides of the same coin
Management is climbing the ladder efficiently; leadership is ensuring said ladder is leaning against the right wall.
Given a choice, would you be a good manager or a good leader? A good manager may not necessarily be a good leader and similarly, a good leader may not be a good manager. So why do most corporate organizations look for both traits in their employees? 
When an organization invests in an employee, they look to help the employee integrate themselves into an effectively functional system. And it is under the realm of this system, that an employee will prove whether they are good leaders or good managers. The leaders will focus on harmonizing the workplace environment and align strategic goals with operations. The managers will work closer to the ground - focusing on improving efficiency. In a nutshell, the management associates with how quickly the task is performed successfully, whereas leadership refers to how much of a task is completed.
If we were to ask what professional traits make leaders and managers differ from each other? 
James Kotterman has distinguished them on the basis of vision, development, execution and outcome in "Leadership vs Management: What's the difference?", Journal for Quality & Participation.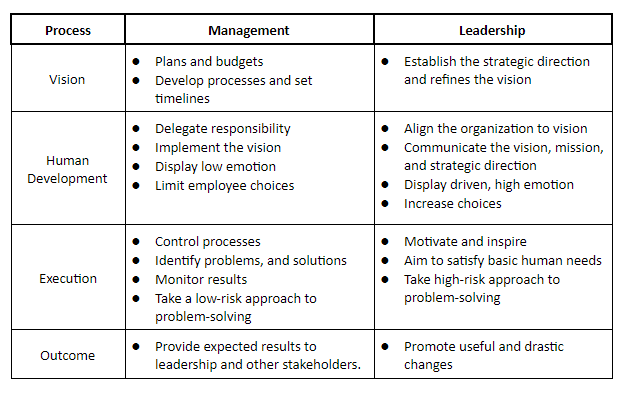 Now that you know the perceived difference between a leader and a manager, we must ask the question once again. If a leader and a manager are different, why does an organization seek both traits in a single employee? 
An organization functions on a holistic level - its success is derived from the vision and the execution of both leaders and managers. So, when it recruits a manager, it is also looking for leadership qualities in that manager. Similarly, a leader is expected to know how best they can manage the everyday workings of an organization. So how can a single person, be both, a leader as well as a manager?
Managers should strive to lead by example and aim to set the benchmarks of professionalism whereas leaders should invest time and effort in their subordinates, both at the professional as well as at a personal level. A manager has the opportunity to set best practices for the organization through self-practice. A leader has the opportunity to mentor employees to follow best practices. 
Managers should be compassionate and empathize with their team about any uncomfortable situation and act as a mentor by guiding them to the best possible solution, whereas leaders should be adept listeners and be open to creative ideas or employees' concerns. An employee is likely to be influenced by a manager who is approachable and provides a listening ear. 
Managers and leaders should both be effective communicators. It is imperative that they make themselves heard and understood while succinctly putting across critical information. 
Managers should acknowledge the success of their employees and appreciate their efforts with due recognition. Leaders should establish processes and procedures to reward their subordinates - this helps motivate employees and increases productivity. 
Great managers and leaders always have the innate desire to continually learn and improve themselves – either by taking up a new skill or developing a new hobby.
While there is no definitive answer whether it is a manager or a leader who will contribute to an organization's success, here is a guide for organizations who wants to groom future-ready leaders. 
There is a vast difference between 'getting the job done' and 'getting the job done right' - an average performance is not a sustainable performance
Success is not an end goal, but a process is – it is a series of challenges that must be met and conquered. It is an opportunity to do better than before
In a world of ruthless competition, change is the only constant - the sooner we adapt to new ways and new technology, the faster our progress
There is no work below anyone's dignity 
It is crucial to the success of any organization that employees love what they do - work environment needs to be light, healthy and most importantly fun
There is a new challenge to overcome and there is something new to be learnt every day - a positive and optimistic attitude is a must
You will only know your limits when you push them - the need to know the nitty-gritty of operations that will help employees learn better and explore better solutions
There's no point in having a ten-year plan if we don't have a 'right now' plan which ensures that the customer needs are met 
Delegation ensures even the biggest of problems are resolvable and that every employee is handed a share of work to keep the wheels turning