Leadership
Startup India: Modi's 10 initiatives to drive new business
Tax exemptions for 3 years, Rs 10,000 crore corpus, a mobile App for easy registration -- are few of the initiatives that the Government announced on Saturday as its Startup Action Plan
A promise that has been well delivered. Addressing the nation on the 69th Independence Day on August 15, 2015, PM Modi had said, "We are looking at systems for enabling start-ups. We must be number one in start-ups... Start-up India; Stand up India." PM Narendra Modi on Saturday delivered on that promise he made last year by announcing a number of initiatives to promote the culture of entrepreneurship – Startup Action Plan.
"We have millions of problems. There is no denying that. But we also have a billion minds. And these billion minds will easily find the solutions to the millions of problems," Modi said in an hour-long address at the Vigyan Bhavan plenary hall in New Delhi.
Modi announced a cluster of 10 initiatives to boost the startup business in India.
A Rs 10,000 crore to bank startups – the initial corpus will be Rs 2,500 crore, along with a credit guarantee fund for startups.

Tax exemptions for 3 years and concessions on capital gains tax


Atal Innovation Mission (AIM) for promotion of research and development including 500 tinkering labs, 35 public-private sector incubators, 31 innovation centres at national insititutes, 7 research parks, 5 new bio clusters. Also new policies to help women entrepreneurs.


Compliance regime based on self-certification and no regulatory inspection for 3 years.


Easy exit option would be provided under the Bankruptcy Act so that startups can exit within 90 day.


A mobile app to be launched by April 1 to help startups register in one day.


A startup India hub – a single point of contact for interactions with the government.


Fast-track mechanism for startup patent applications with 80% reduction in patent filing fee. Also a panel of legal facilitators for startups to file Intellectual Property (IP) rights with costs borne by the Government.


5 lakh schools and about 10 lakh students to be involved in core innovation programmes. National and International startup festivals to provide visibility.


Relaxed norms of public-procurement for startups, no requirement of turnover or experience, but there will be no relaxation in quality.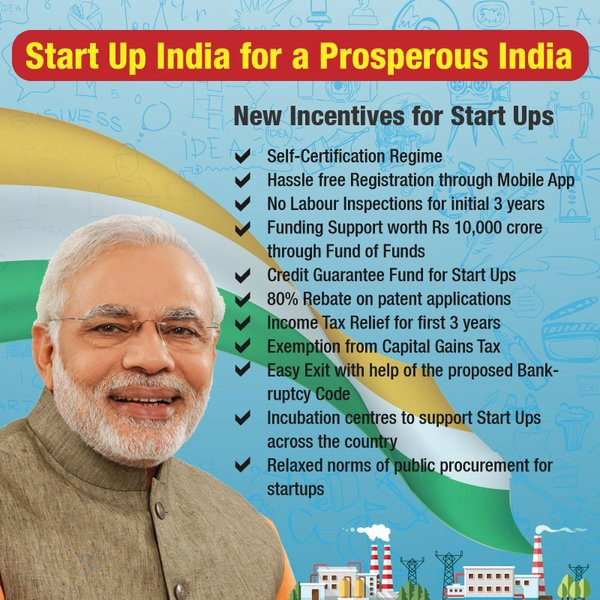 International corporate personalities such as Masayoshi Son of Japan's Softbank, Travis Kalanick, founder Uber and Adam Neumann founder of WeWork were at the conference to inspire new entrepreneurs. Indian business leaders who imparted their advice to the enthusiastic youngsters included Flipkart's Sachin Bansal, Snapdeal's Kunal Bahl and Zomato's Deepinder Goyal. Softbank's Masayoshi Son promised to seriously accelerate investment in India, while pointing out that the 21st century belongs to this country. Deepinder Goyal, CEO of Zomato tweeted on Saturday, "With today's startup policy reform, @narendramodi has given wings to our startups of tomorrow." Uber founder Travis Kalanick also mentioned India as part of the important narrative of the company. WeWork's Adam Neumann is also looking at India for investment.
Asking the entrepreneurs to look beyond IT, PM Modi invited them to partner the government in their development process. He said, "Start-up is not just about mobiles and laptops… Start-up does not only mean a company with billions of dollars of money and 2,000 employees. If it is able to provide employment to even five people, it would help in taking the country forward. Young people have to change their mindsets from being job seekers to try and become job creators. Once you become a job creator, you will realise that you are transforming lives." Emphasising the need to take risk for a business to thrive, Modi said it was because Columbus set out in 1423 to explore uncharted territory that he was able to give the Spice Route to the world.
Finance Minister Arun Jaitley who was also present there said, "There are some steps which can be taken by notifications, which would be taken forthwith. Others require legislative provisions which can only come as part of the Finance Bill when the next Budget is presented."
There were about 1000 entrepreneurs gathered at the Startup India meet up organised by the government. Modi said the government has decided to step back and minimise interference of the government. "We are here today to find out from you what the government should not do," PM Modi, who has often repeated the slogan 'minimum government, maximum governance,' said, "If the government pulls back, a lot can happen."
Under the Modi government, India jumped 12 places on the World Bank's Ease of Doing Business Rankings that ranks nations, from 142 last year to position 130.
PeopleStrong CEO Pankaj Bansal applauded the new initiative and said in his statement to People Matters, "India has seen a tremendous growth in 2015, with a 1000 new startups. As per reports, India is amongst the top five fastest growing startup communities in the world. If the landscape continues to evolve at this pace, then by the end of 2020 more than 11,500 start-ups are expected to get established in India, generating employment opportunities for more than 250,000 people. It was heartening to see that the government understands that they need to do something different from what they had been doing for past years. The PM is helping in building a eco system for entrepreneurs and helping them to aggregate ICE (investors, clients & employees). With this mindset focused on bringing change , Startup India looks much more feasible. Coming to jobs, as per the data shared this year alone 80,000 jobs were created through startups. If the startup wave catches up , we should have approximately 1,50,000 new jobs. This initiative will truly be the game changer."
Paytm founder Vijay Shekhar Sharma said, "This is policy on steroids. The PM has addressed every problem which we as a sector talked about. For me, the key takeaway from the whole announcement was compliance regime based on self-certification. The tax holiday for three years is just cherry on the cake."
People Matters' Editor-in-Chief Ester Martinez said, "The HR Industry has seen an emergence of start-ups, specially trying to bridge the gap between demand and supply of talent in areas like recruitment, capability building, engagement and productivity. The HR Industry in India is estimated by People Matters to be upwards of Rs 40,000 crores. We have seen a tremendous increase in participation in our TechHR Awards from 21 start-ups in our launch year to over 100 in last year applications. While it is a small segment among the overall start-up landscape is a very relevant space as HR has the ability to impact business tremendously and these HR start up players are supporting HR to move to the next level. The need of the hours for promoters and young CEOs is to understand how to leverage the potential of the talent, from building a winning culture to provide career and learning opportunities for employees. The new incentive from the government scheme around hassle free registration, no labor inspections for first 3 years, access to funds will create the right foundation to take India up the rank of best countries to do business with."
Sean Blagsvedt, Co-Founder & CEO, Babajob.com, said to an Indian publication, "We are incredibly excited about the Startup India Action Plan announcement, which literally has dozens of policy innovations to foster more creative startups. At Babajob, we can't wait to help connect India's aspiring millions with jobs at the next generation of startups; I only wish the plan was in place when we started."
Rajesh Gandhi, partner, Deloitte Haskins & Sells, said narrowing the gap between tax treatment of listed and unlisted shares will be beneficial to investors wanting to invest in start-ups. "This will certainly help to boost investments including foreign investment in start-ups," he said.
The year 2016 has started in a very positive note for startups. Post Budget, it will be interesting to see how the Government and the new ventures ensure India to be the best country for doing business.