Recruitment
How Zappyhire Became a Global Hiring Solution by Combining Talent Intelligence, Recruitment Automation, and Candidate Ex
Known for delivering the best hiring experience to 1,600+ recruiters across the globe, Zappyhire empowers you to win on talent. Integrating talent intelligence, recruitment automation and candidate experience into a singular solution, you can now stay one step ahead of the competition.
The world of recruitment is rapidly evolving, with new-age technologies on the scene designed to address the burning talent needs of high-growth organisations today. Absolute Market Insights has reported that the global AI recruitment market is expected to grow at a CAGR of 7.6% by 2027, projected to reach just under $50 billion. This is a clear testament to how increasingly digitally driven hiring today has become. However, with several solutions in the market, finding the right fit for your hiring needs can often get challenging. 
Still, one thing is certain: what becomes a critical differentiator between organisations that thrive in today's disruptive business landscape and the ones that do not is the talent they bring into the company.
This is where Zappyhire comes in, an AI-powered recruitment automation platform founded in 2018 by Jyothis KS and Deepu Xavier that helps companies of all sizes to screen, engage, hire, and onboard the best talent quicker while providing a seamless experience for users from all ends, including recruiters, HR Managers, employers, and candidates. 
With a far-sighted focus on transforming talent management through intelligent automation and unmatched stakeholder experience, Zappyhire has already marked its presence as a global leader in sustainable talent management. Not only have they been recognised as one of the leading AI-based startups in India, but they have also earned 15 G2 badges in five months of joining G2 - including Easiest to do Business With, Best Support, Best Recruiting Automation Tool for Small Businesses across the Asia Pacific region, among others. In addition, the company was also recently awarded the Global Startup Excellence Award 2021 by HR Success Talk. 
An Internal Consultant in Electrical/Electronic Manufacturing from a mid-sized company writes, "Zappyhire is a wholesome product as it combines all the features of an ATS with the added benefit of intelligent scoring systems that help to create candidate summaries that are helpful to decide whether or not a candidate is suited for the company. Hence, the whole candidate screening process is very easy. The feedback from our candidates has also been positive. That's not an easy task to achieve and Zappyhire has nailed it!"
A leading player in a global, hyper-connected world
Having boasted a high-growth year, the platform is easing itself into the US talent market. However, it has witnessed global expansion early on in its journey with 1600+ recruiters across the globe and working with clients in MENA, Southeast Asia, including Singapore, Europe, Dominican Republic, France, and Germany. Last quarter, they released the Spanish version of the product.
In the first half of this year, this booming Talent Acquisition Suite has achieved these impressive milestones: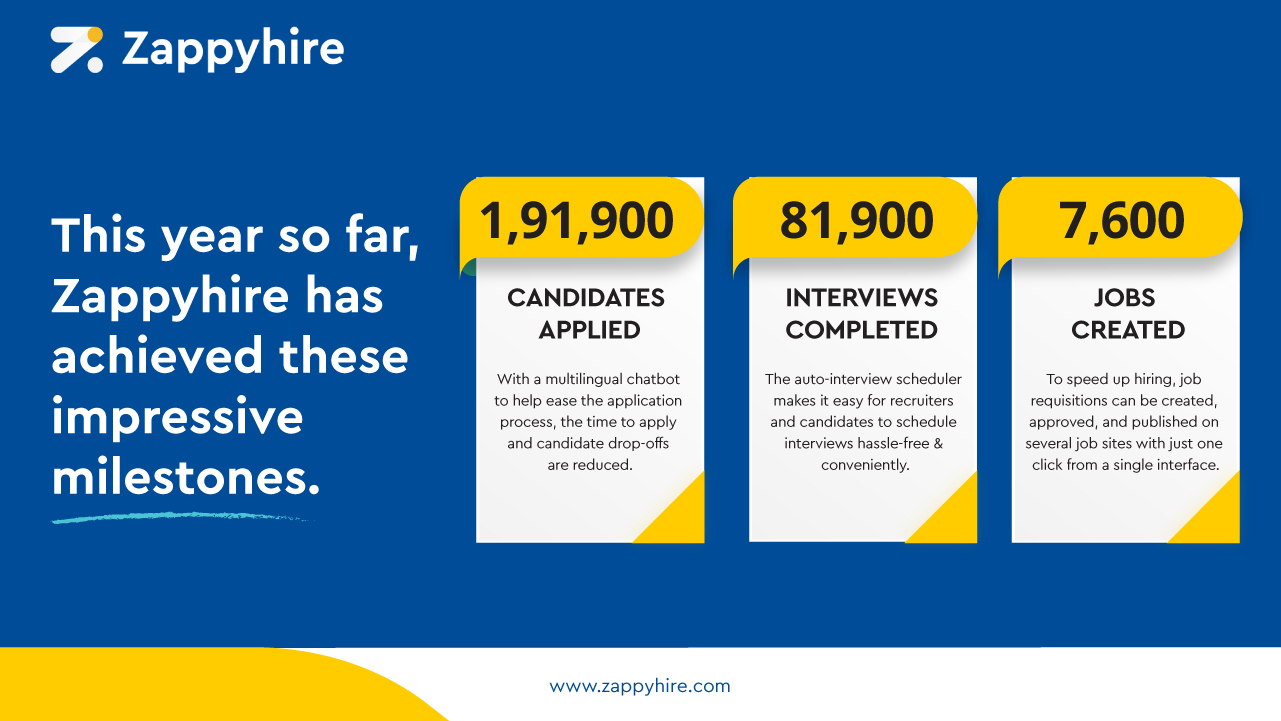 Dedicated to addressing the very different hiring needs of both major enterprises and SMEs, what makes Zappyhire indeed a talent acquisition solution to watch out for is the massive impact it has had on both these different sets of businesses, each on a vastly different growth journey.
Moreover, it sets itself apart from its competitors by combining the three elements of Talent Intelligence, Recruitment Automation, and Candidate Experience seamlessly and efficiently in one singular platform, thereby revolutionizing the recruitment game in innovative and impactful ways. 
In a highly disruptive business landscape and an incredibly competitive talent market, winning on talent can get challenging. In the midst of a number of AI recruitment solutions, what makes Zappyhire the partner to win the game is how it empowers your companies to achieve hiring success. From screening candidates up to 10x faster to speeding up hiring 7x faster to reducing candidate drop-offs by up to 5x, this talent acquisition software is designed for growing businesses. 
Till the beginning of this year, it has saved 32K+ recruitment hours and conducted 28K+ robotic video interviews, which is truly a feat for organizations that are at a growing stage and require effective solutions to make achieving their recruitment goals easier and onboard high-impact talent. 
Zappyhire's booming clientele include global companies such as ESAF Bank, SurveySparrow, NeST Digital, CareStack, Wuerth, Jiffy, and iSOCRATES. Not only is their comprehensive software attuned to meet the expanding recruitment needs of enterprises today by increasing their employee count, but their scalability also ensures that their Talent Acquisition Suite can be easily and effectively implemented across industries. 
Achieving hiring success by becoming the "Siri-for-recruiters" 
Starting as a small team of only three members, Zappyhire has set itself apart from others in the market by constantly keeping a pulse on the changing recruiter needs and challenges. One incredible story that attests to this is how 4 of their customers have turned into investors, having recognised the company's highly scalable model and potential for meeting the recruitment requirements of enterprises of all sizes. 
Zappyhire is an all-in-one platform that functions as an intelligent hiring assistant for recruiters by simultaneously accomplishing the job of an Applicant Tracking System (ATS) and Candidate Engagement Management (CEM) tool on a singular platform with an additional layer of artificial as well as augmented intelligence. Furthermore, the platform is flexible to recruiter needs by offering solutions that cater to the automation of the end-to-end hiring process and offer predictive hiring analytics with an unmatched user experience.
It comes with the added advantage of being used either as standalone software or integrated as "Talent Intelligence APIs," with organisations having the choice to opt for a specific component or feature, which includes AI robotic video interviews, semantic resume parser, recruitment chatbots and several others into any current HRMS/ATS or third-party systems. After all, seamless experience and seamless integration are key to the success of any digital HR platform, and Zappyhire comes with both these offerings. 
Win on high-impact talent and unleash your business potential with Zappyhire
As the world of people and work gets hit by new waves of disruptive business trends, hiring will continue to be challenging but critical. Moreover, the talent you recruit defines the company's growth trajectory in the months ahead as skill needs evolve, competition rises, and the economy continues to be unstable. In such a scenario, having the right partner by your side and investing in an optimal solution to lead your recruitment game plan will become fundamental. 
With Zapphyhire, a feature-rich and affordable platform dedicated to helping companies screen, engage and hire the best talent faster, your worries can be put to rest, whether you're an HR leader from a big corporation or a growing SME. The biggest testament to this is the trust placed in them to ensure the best hiring experience by 1600+ recruiters globally.
It is the one-stop solution to deliver all your crucial recruitment needs from Talent Intelligence to Recruitment Automation to Candidate Experience. If you're looking to win in the market, here's your opportunity to explore one of the best recruitment solutions and transform not just your talent management practices but also your potential for growth and innovation with high-impact talent at your fingertips. Click here to know more and get started on your talent transformation journey!