A Brand Reachout Initiative
Recruitment
It is not just about micro-inequities, it is about inclusion: Seema Nair, Reliance Industries Limited
In the third episode of LinkedIn's "Diversity Series: Many Lives, Many Stories", Seema Nair, Senior EVP and Member of Chairman's Office at Reliance Industries highlighted the 5E framework of the DNI charter at Reliance and shed light on the metrics to measure the effectiveness of inclusion initiatives.
Insights from LinkedIn data have found that women are less likely to apply for jobs, even though they are more likely to get them. Additionally, 26 percent of women are less likely to ask for referrals. Women feel they need to meet 100 percent of the criteria while men usually apply after meeting about 60 percent. As organizations bring back the focus on diversity and inclusion amid a rather disruptive period, it becomes critical to rethink diversity at the very entry point - recruitment.
As per LinkedIn's latest report on The Future of Recruiting: How COVID-19 is transforming recruiting, a prediction of how recruiting will help keep the business accountable on diversity stood out. Interestingly, while 73 percent of Asia-Pacific talent professionals said diversity will be very important to the future of recruiting, 54 percent of Asia-Pacific talent professionals said that hiring managers are held accountable for interviewing a diverse slate of candidates.
Despite the above statistics and focus on (DNI), several reports have surfaced highlighting the unequal impact of the pandemic across genders.
The India Workforce Confidence Index shows working women and working mothers are facing the brunt of the burden and are suffering from increased stress and anxiety. The findings showed that one in three mothers are working longer hours to provide childcare and nearly 50 per cent of working women are feeling increased stress due to the pandemic. 
After years of focused efforts and initiatives to advance womens' rights globally, the circumstances created by COVID-19 resulted in making significant dents in the progress made so far, making it even more crucial to emphasize DNI in the present global business climate. Diving into the diversity landscape, in the third episode of LinkedIn's "Diversity Series: Many Lives, Many Stories" on the theme "Women in the Workforce", Seema Nair, Senior VP and Member of Chairman's Office at Reliance Industries highlighted the 5E framework of the DNI charter of Reliance and shed light on the measures to assess the effectiveness of inclusion initiatives.
Seema Nair is responsible for leading Reliance Group's Digitally Enabled People Transformation project, transforming People Processes, Policies, Digitization and HR capability. She also supports the Group's vision for Hydrocarbons business of the future. Seema joined Reliance as Head of the People Development Group, leading Talent and Leadership, Learning and Development, Diversity and Inclusion and Employee Communications as well as Employer Branding for RIL Hydrocarbons and Allied businesses. She played an instrumental role in helping create the DNI charter for the Reliance group. 
Prior to Reliance, Seema served as the CHRO of Hindustan Coca Cola beverages, Cisco India and SAARC, and held several leadership positions during her tenures at Intel, Hughes, Microland and Crompton Greaves. While at Intel, Seema became its first ever DNI Head way back in 2005.
Read on to find out how Seema's experience and expertise shaped the DNI landscape at Reliance.
Diversity and Inclusion is a team sport
A firm believer of the need to find one's voice, Seema dived into her professional journey of diversity and inclusion that at various junctures was shaped and inspired by her personal experiences, observations and learnings. Speaking of the impact of DNI on the community and businesses, Seema said, "I personally believe that achieving diversity isn't enough, inclusion can do so much better; not just in the world of business, not just at an individual level. Pretty much every problem that is faced by society can be sorted by not just diversity, but by practicing inclusion." 
With the backing of two strong leaders: Ms Nita Ambani and Ms Isha Ambani, at Reliance, the DNI initiatives have an extremely strong sponsorship. The Reliance Foundation is a vehicle of change and drives much more than Corporate Social Responsibility. Ms Isha Ambani has been actively involved in the creation of the DNI charter and has been a direct sponsor for the initiatives. 
Finding your voice
Seema hails from a conservative family. Sharing her encounter with bias in her early years, she said, "There are cultures where children aren't supposed to speak up, especially if you are a girl, and such reinforcements at home or school may take away one's voice and confidence at a very young age, laying a foundation for hampering the abilities of women at an age where they are beginning to learn about the external world. 
While a sizable percentage of the urban population has access to schooling and education, and are brought up in more inclusive environments, the reality of women's longevity and growth vs that of men persists due to limitations imposed by bias or by societal expectations when it comes to Marriage, Motherhood and Mobility.
Irrespective of how organisations run DNI initiatives, this aspect has to be thoroughly factored into the design of initiatives."
It is unnerving to realise how one's childhood can influence their mindset about how they must behave and act, even at the cost of professional opportunities to make a mark. It was when Seema crossed paths with an inspirational HR leader from Israel, that she felt she had to find her voice, and is now successfully leveraging it to make meaningful change. "Everyone is thinking, reacting, responding to stimuli in their mind all the time. But not all of us feel equally comfortable voicing what's in our mind. And not all of us are equally comfortable having influence or showing courage in a conversation, especially, when the stakes are high. Finding my voice, being able to articulate my thoughts over just doing the work and being the silent spectator became extremely important and fueled my leadership journey."
The DNI Charter and inclusion practices at Reliance
Reliance follows the 5E Framework in its DNI charter: 
Educate: Sensitise and develop capabilities to foster an inclusive environment
Encourage: Visibly increase support of internal and external stakeholders
Enable: Support through infrastructure, practices and policies
Experience: Provide an inclusive experience to all employees
Effectiveness: Create, measure, monitor, report and benchmark
"In terms of experience, it is about micro-inequities, it is about inclusion and the experiences that each one of our employees, or extended workforce goes through on an everyday basis," noted Seema.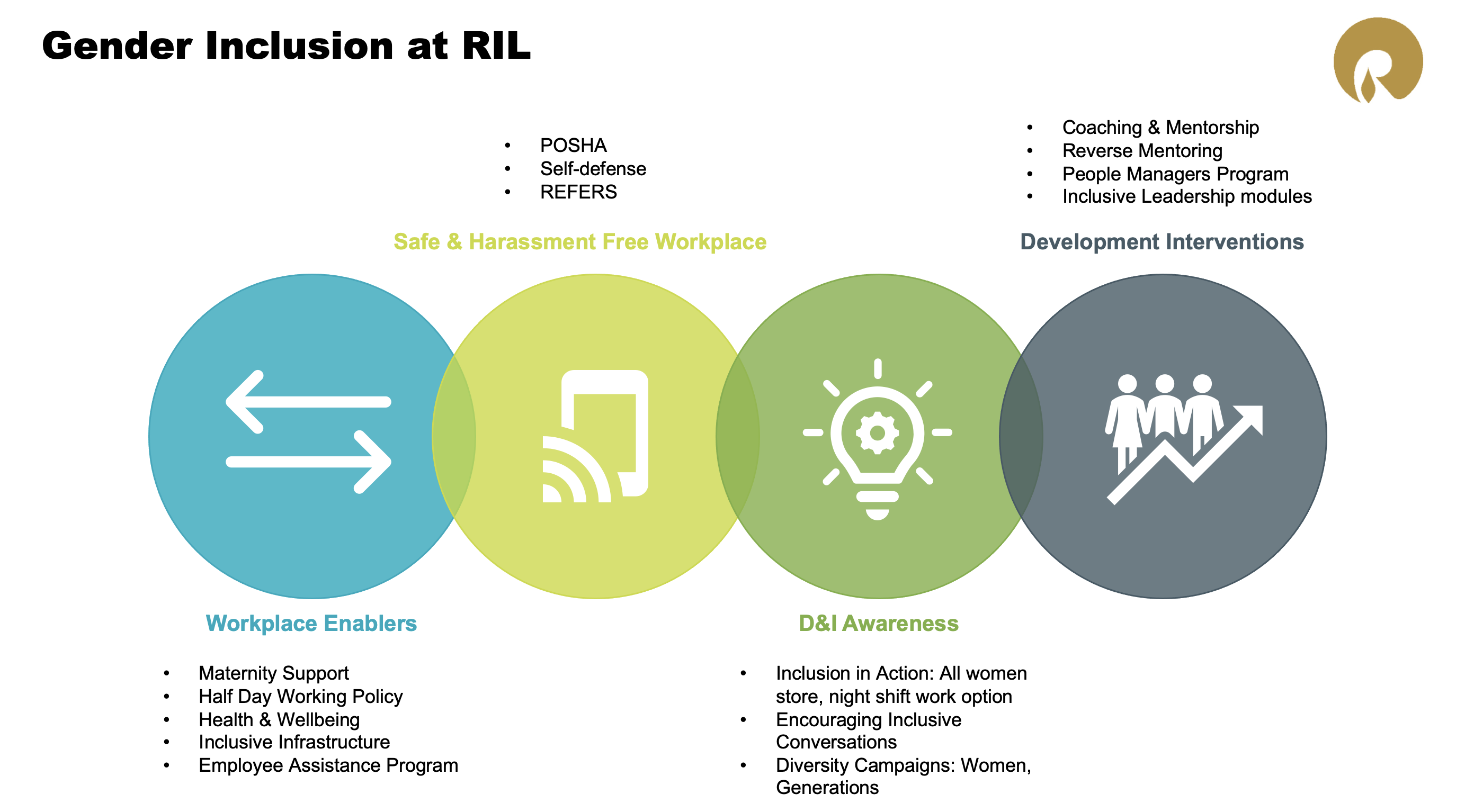 To foster gender inclusion at RIL, the organisation has created a host of programs to make the workplace more inclusive and productive for women. "Apart from the 26 weeks of maternity leave, for the next six months, a woman can take half a day off until the child is about a year old."
Diving into building inclusive infrastructures in a brownfield setup where unlike a greenfield setup, things have been set up decades ago, Seema said, "Interestingly, Jamnagar is home to our largest manufacturing site, more than 25 years old. In line with prevailing industry norms, it was originally designed for men, as an all-male site. That has strongly transitioned, with women panel officers and our first woman plant leader. So it's a complete turnaround achieved over the years."  
The organisation is also working towards required approvals from state authorities to allow night shifts for women. "We are partnering with state governments all across the country, especially in Maharashtra, Gujarat and Telangana, to see how far we can extend this. As soon as we get the permissions, this will be an option that's provided to all team members across our sites."
Reliance has a special initiative called REFERS, which as Seema shares, is completely exclusive to the organisation. It is a 24*7 emergency helpline, similar to the concept of 911 in the United States, which employees or their families can access from any corner of the world for a variety of emergencies and support.
Measuring Gender inclusion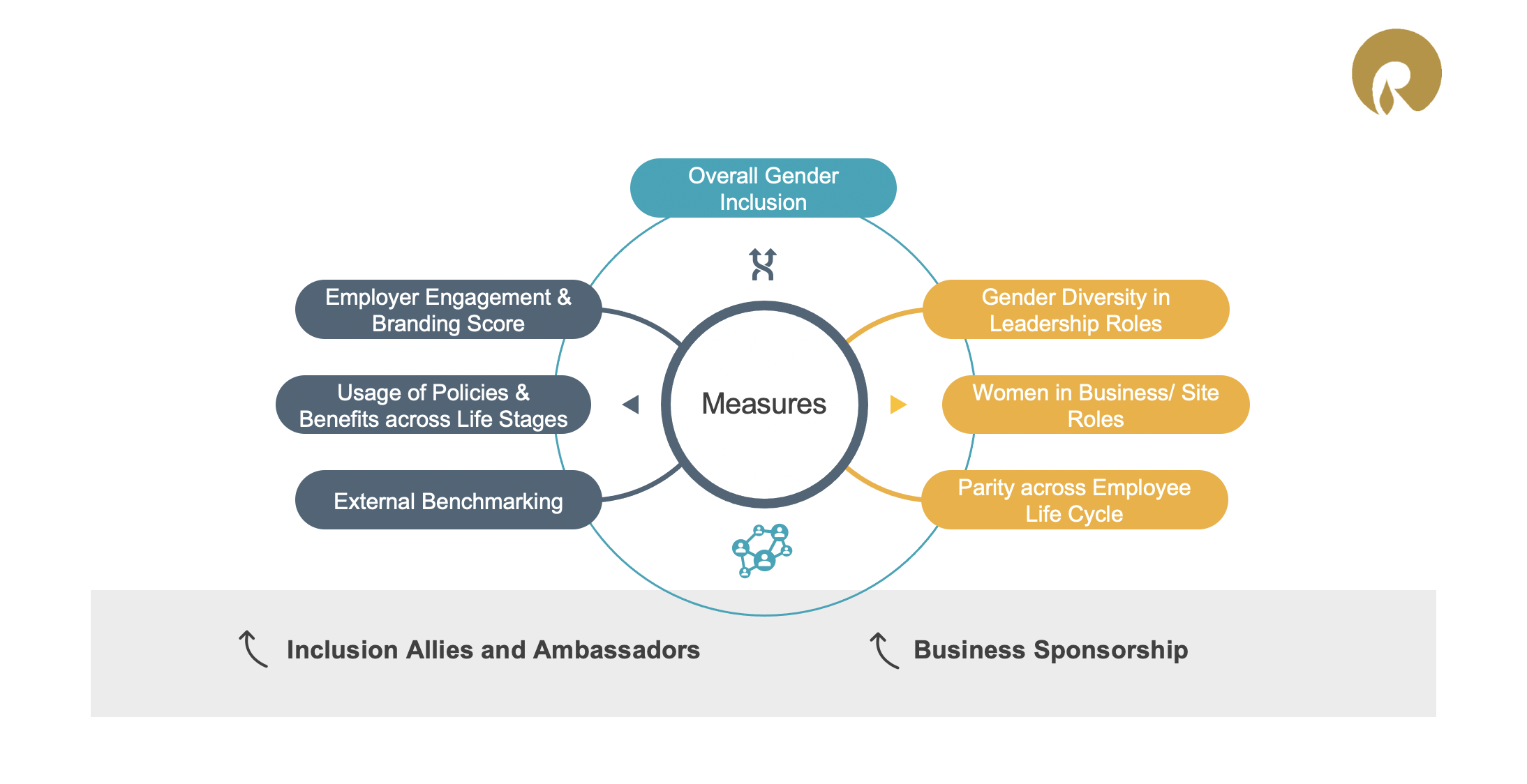 Suggesting external benchmarking as a key metric, Seema urged leaders to try to understand what's happening in the market and how they can learn from that and enhance themselves.
To ensure effective utilisation of internal policies and benefits, she recommended customising them as per employee life stage.
"An employee in their 20s is likely to have very different needs, from an employee in their 40s versus let's say, somebody who's at 55, or 60. That will impact their utilisation of benefits."
Speaking about leadership diversity, Seema said, "Gender diversity in leadership roles is something that we track very closely. Given the nature of our business, several women are in what organisations call the 'pink ghetto', ie, support functions. But we are striving to bring more gender representation across the core of the business, especially in leadership roles, and that's where it's very powerful, if you're able to get more women to take on those roles." 
She also emphasised the need to review parity across the employee lifecycle – be it pay, performance, promotion, as well as learning parity. "Look at data in terms of learning hours of diverse groups, and figure out if there is a story to tell, and if some work needs to be done in that space." 
Growing inclusion allies and ambassadors, as well as business sponsorship is critical to long-term health and effectiveness of inclusion programs, noted Seema. 
Beyond looking at metrics to assess effectiveness of DNI programs, Seema insisted, "It's the little things that matter. It's not always number-led, while it is tempting to look at it in the form of metrics and of course we do, but it's also getting the experience right in many different forms."
As every conversation around diversity and inclusion is a learning opportunity, it requires one to approach the conversation with a mindset of – as LinkedIn described it – cultural humility: "It is about learning and growing together. It is about constantly staying curious. It is really recognizing that this is a lifelong learning process and it requires commitment, humility, and dedication. And the most important thing about constructive discomfort, it is about moving out of our comfort zones to learn and experience something unfamiliar."
Here's a peek into the discussion pointers from the episode that also saw participation from industry leaders Feon Ang, Vice President - APAC Talent And Learning Solutions, LinkedIn and Abhishek Ranjan, Director and Global Head of Sustainability, CSR and D&I, Brillio.