A Brand Reachout Initiative
Recruitment
Tweetchat verdict: Remote Hiring Week 2020
Breaking the monotony of video calls and meetings, People Matters and Authbridge brought together talent and business leaders for an engaging Tweetchat, as part of the Remote Hiring Week 2020.
A new hiring strategy requires for everyone to brainstorm and explore the potential opportunities and threats that lie ahead. In that direction, as part of the Remote Hiring Week 2020, brought to you in partnership by People Matters and Authbridge, an interactive tweetchat witnessed business and talent thought leaders and change champions brainstorm and discuss the various elements of remote hiring as organizations build their talent capabilities to make the shift from sustenance to recovery.
The unprecedented pace at which organizations are accelerating digital adoption across processes is unlike ever before. Especially for the HR domain, which is experiencing a transformation in all its facets, be it hiring, learning, engagement or even onboarding, among others. Despite prevailing uncertainties on how the future of work shapes up, one thing is clear - technology is no longer about survival, it is about building sustainable processes for an uncertain future. 
There is a need to marry technology with mindset and create meaningful experiences in the workspace. Speaking of hiring in particular, the entire process from preliminary conversations to interviews, from assessment to negotiation, from onboarding to background verification, and from joining to orientation, every aspect needs to move from what it used to be to one that can be carried out in a virtual, or hybrid workplace, in effect in a remote working environment. How are talent leaders approaching remote hiring? What are some key points to consider in designing remote onboarding? 
The tweetchat gave an opportunity to talent leaders across industries to find answers to such questions and also share their priorities and perspective on the way forward for remote hiring and onboarding. Here's a glimpse of what they had to say:
What are the cornerstones of effective remote hiring?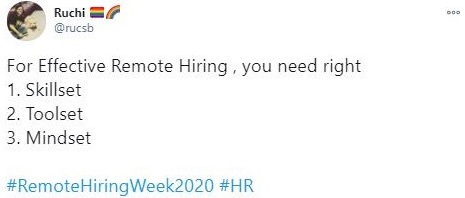 What is the most crucial aspect of a face-to-face hiring strategy that must be replicated in remote hiring?



What is your priority as you architect a contactless seamless remote onboarding experience?




With a geographically distributed remote workforce, do you see greater emphasis on plugging-in more effective background check processes?



How can technology help risk-proof the threats of remote onboarding?




In your opinion, what are the top three non-negotiables in crafting a remote hiring strategy?