Skilling
How Tata Communications is 'Doing Agile' by democratizing learning
At the recently concluded Aon Best Employers India 2018 learning conference, Pallavi Bakshi, HR, Tata Communications, shared how the organization democratizes learning to be agile.
While there is a lot of talk about thinking agile, being agile and doing agile, many organizations are still baffled as to what parts of agility can they being into their systems. At the recently concluded Aon Best Employers India 2018 learning conference and awards ceremony in Mumbai, few organizations shared how they are able to look at the concepts around agility and bring them into their organization.
One such organization is Tata Communications, whose focus has been on empowering and enabling employees to independently tread their careers within the organization by democratizing education. The organization believes that this ensures that skill availability matches up to the rapid transformation in the business.
In this direction, the company has launched Tata Communications Academy (TCA), a learning academy that customizes learning programs in real-time for employees who have identified the need to develop a skill. Also, 'Project Marketplace', an internal platform at Tata Communications enables all employees across the business to register their skills and seek assistance on projects from other employees around the world.
Pallavi Bakshi, VP HR, Tata Communications in a conversation with Anandorup Ghose, Partner, Aon Consulting, shed light on how the organization is democratizing learning.
Enabling the choice to learn
When questioned as to what does democratizing the concept of learning and opportunities mean at Tata Communications, Pallavi revealed that what is really means is that the organization is ensuring that any and every employee no matter where they are in the world should have the power to choose what they want to learn, when they want to learn, what type of a learning method they want to choose, and from there on practice those learnings to develop it into a full-blown capability to help them evolve in the role they are playing.
The whole idea is to allow them the choice to look at what role they are in currently, look at where their aspirations are, look at where redundancies can come from, and move around within all of that, and choose what really matters to them, and progress from there on.
Pallavi stated, "We want to make sure that across the entire spectrum of talent management, there is one common language and that is of skill."
At the core of this program is the intention to encourage people who actually have the learning spirit. As an organization, Tata Communications is open to anyone picking any kind of learning at any point.
The platform allows them to choose what they want to do, get inputs based on their performance, to feeding back into the Tata Communications Academy and giving them an AI-based output of what kind of learning should they take up.
But how does the company drive ROI from enabling learning?
While enabling learning is a noble intention, but how much of a business sense does it make? Pallavi revealed that last year, the 10,000 people strong organization completed some 62,000 days of personal training.
"If you ask about relevance, perhaps 80% of it is relevant; perhaps 20% people went and studied a course on Buddhism. And that's perfectly alright, which we as an organization will support. Because what we are trying to encourage is that people actually take learning upon themselves," explains Pallavi.
In a world where one is being fed so much information from all angles, the company believes it is important one has the right to choose. This empowerment has enabled the organization to ensure that more than 70% of all learning happens digitally. Around 72% of all its employees are actively engaged on all its platforms, pointing to the program's success.
This focus on learning has also enabled the organization to help its managers move from the entire rating and traditional performance management system to being a coach. The manager thus ends playing a leading role to understand where his employee wants to go to from his current role. Thus it also becomes a line manager's responsibility to ensure that his team is evolving and adapting to what's coming next.
From learning to practice through Project Marketplace
So while the organization thought that it is fantastic enabling people to upskill through the Tata Communications Academy, but it also questioned if that is where it should stop. Would this learning allow them to take on new jobs?
"Perhaps what we need to enable in one more way is to practice that skill, to develop it. That's where we realized something like a Project Marketplace could help," says Pallavi.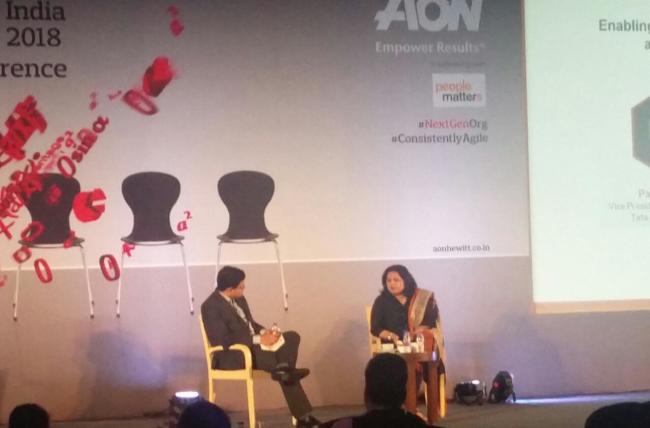 The concept for marketplace started about 18 months ago, again stemming from the debate around buying skills or developing skills. The company realized that as it changes dynamically, it needs talent which is contemporary, more agile and more in sync with what's happening in the market. That's when it came up with the concept of the marketplace.
Essentially, it's a kind of gig economy, where on the platform, anyone from anywhere in the world can put up interesting pieces of work wherein they feel that their current team does not have the skill or knowledge to do it. All of this is gamified, so whoever has put up the project gets an update about who has picked it up as well as when it is completed. Additionally, it also feeds back into IJP that this particular employee has completed this project.
So what happens to your day job?
That still remains core. Pallavi believes that at the end of the day, to succeed in any organization one's day job is at the core of what one does. And there is no taking away from that. However, the company believes that there are enough opportunities for line managers to have a conversation with their team to create a bit of space and try and experiment their hands at something new. And as an organization, Tata Communications is open to these conversations, which is what has helped it in making these platforms work.
Build your practices just like your products
Sharing on what were the challenges faced by the organization in its pursuit to democratize learning, Pallavi revealed they had their fair share of naysayers. But what helped was the fact that the organization employed design thinking to evolve its practices just like its products.
"Within HR, we are expected to be mini product managers. When we design any product or service, we build prototypes and pilots very early on. We would rather fail in a small audience first than announce a big policy and have no takers for it," says Pallavi.
Hence the organization involves users very early on, address the objections, and build them in their design. Thus by designing its practices like its products, it is able to have a quick ability to turnaround to have a phase one and a phase two just like any product you see in the product.
And this is what Pallavi's advice to HR managers is-they need to start thinking like a product manager and think design thinking at all points of time, getting their average user and extreme user into the discussion early on.
Pallavi aptly concluded, "Stop thinking like an HR manager and think like a business manager. That's when you will be able to shake hands with business on a lot of the things you do."