Learning & Development
Learning & Development in Sustainable Energy Skills at Tata Power
In order to prepare the young engineers for their roles in sustainability energy sector, Tata Power Skill Development Institute (TPSDI) offers skilling courses for both fresher and experienced level Engineers. Here is an overview.
Tata Power has made a presence in the renewable energy sector, which is India's focus to offload its traditional energy usage onto the renewable energy sector. In order to prepare the young engineers for their roles in sustainability energy sector, Tata Power Skill Development Institute (TPSDI) offers skilling courses for both fresher and experienced level Engineers. This endeavor is an important step, as we have seen earlier that there is a scarcity of enough skilled talent in the sustainable energy sector across the world.
TPSDI has recently received dual ISO quality certification from Bureau Veritas, a certification body accredited by the National Accreditation Board. In the following passages, we present a short case study of Tata Power and its skilling program.
This is a welcome effort, as the energy sector across the world lacks sustainability skills, as discussed in a previous post.
Renewable Energy Projects of Tata Power
Tata Power is serving more than 2.6 million distribution consumers in India and has developed the country's first 4000 MW Ultra Mega Power Project at Mundra (Gujarat) based on super-critical technology. It is also one of the largest renewable energy players in India with a clean energy portfolio of 3417 MW. It is India's largest integrated power company with a growing international presence. The company, together with its subsidiaries and jointly controlled entities has an installed gross generation capacity of 10757 MW and a presence in all the segments of the power sector viz. Fuel Security and Logistics, Generation (thermal, hydro, solar and wind), Transmission, Distribution, and Trading.
Its international presence includes:
Strategic investments in Indonesia through a 30% stake in the leading coal company PT Kaltim Prima Coal (KPC), 26% stake in mines at PT Baramulti Suksessarana Tbk ("BSSR");


In Singapore through Trust Energy Resources to securitize coal supply and the shipping of coal for its thermal power generation operations;


In South Africa through a joint venture called 'Cennergi' to develop projects in sub-Sahara Africa;


In Zambia through 50:50 joint venture with ZESCO for 120 MW Hydro which has become operational in 2016;


In Georgia through AGL which is a joint venture with Clean Energy;


In Norway & IFC for development of 187 MW hydro project and


In Bhutan through a hydro project in partnership with The Royal Government of Bhutan.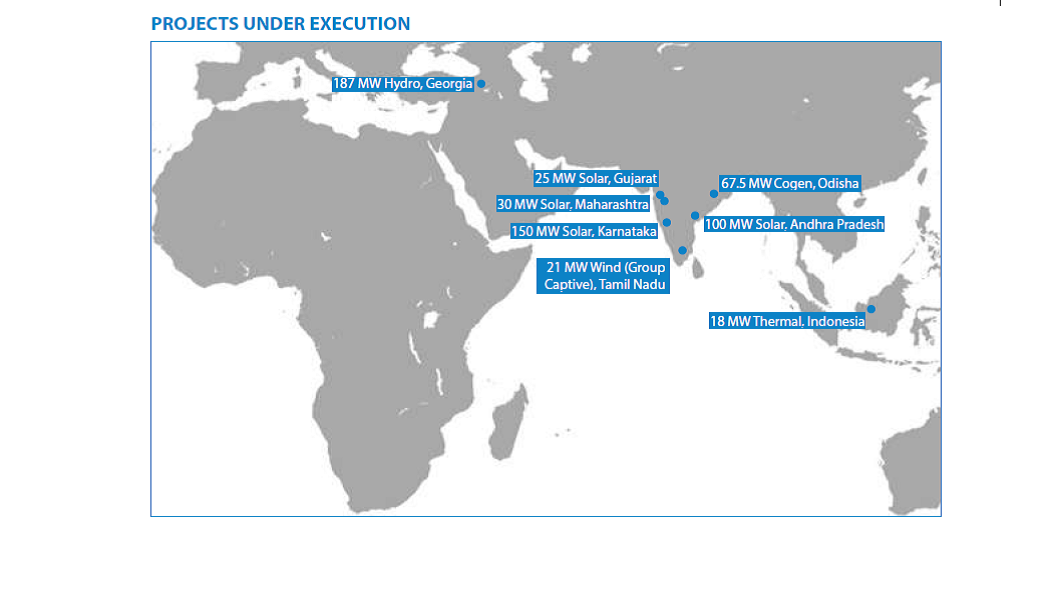 Spread of Tata Power
Tata Power's primary investment vehicle for clean and renewable energy based power generation, TPREL's present operating capacity is 1,457 MW comprising 530 MW wind and 927 MW solar located in the states of Maharashtra, Gujarat, Madhya Pradesh, Andhra Pradesh, Telangana, Punjab, Bihar, Tamil Nadu and Rajasthan. The Company is also in the process of implementing nearly 326 MW of renewable power projects at various locations on Greenfield basis.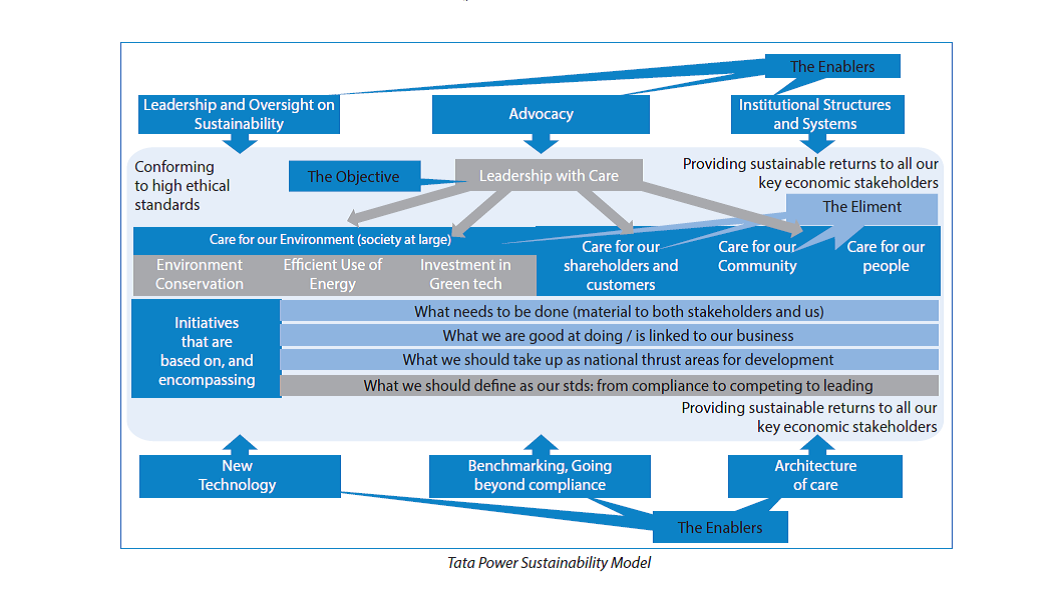 Care for the employees at Tata Power
Safety: Safety has been adopted as a core value by this Company and is hence the first priority. Safety performance of the Company has been reported in Board's Report Section 11. Safety and 5S programs of Company have been given a lot of thrust during the year. Training and awareness programs and safety drills were carried out across various locations of the organization.


Employee Engagement: The employee engagement score conducted for officers of the company determined through Aon Hewitt survey in FY17 was 74%. This is above the industry average of 68% and is a sector benchmark in India.


Industrial Relations: The Company has, since its inception, supported working collaboratively with all stakeholders to maintain a cordial industrial relationship at all locations. The activities at all locations progressed peacefully and cordially during the year.


Sexual Harassment: The Company has zero tolerance for sexual harassment at the workplace and has adopted a policy on prevention, prohibition and redressal of sexual harassment in line with the provisions of the Sexual Harassment of Women at Workplace (Prevention, Prohibition and Redressal) Act, 2013 and the Rules thereunder

for prevention and redressal of complaints of sexual harassment at workplace. An Internal Complaints Committee (ICC) has been set up for all administrative units or offices of Tata Power to redress complaints received regarding sexual harassment. The policy has set guidelines on the redressal and

inquiry

process that is to be followed by complainants and the ICC whilst dealing with issues related to sexual harassment at the

workplace towards any woman associates. All women associates (permanent, temporary, contractual and trainees), as well as any woman visiting the Company's office premises or women service providers, are covered under this policy.


The following is a summary of sexual harassment issues raised, attended and dispensed during FY17:
No. of complaints received: 1


No. of complaints disposed off: 1


No. of cases pending for more than 90 days: Nil


No. of workshops on awareness program against sexual harassment carried out: 8


Tata Power Skill Development Institute (TPSDI) caters to all types of learners in the power sector - from experienced technocrats to unemployed youth look for employable skills. The Institute also imparts training to students of ITIs, Polytechnics and Graduate Engineering Colleges to bridge the gap between what the industry demands and what the academia pursues. Its training hubs are located at Shahad, Trombay, Maithon, Mundra, and Jojobera.
Following are the courses being offered by TPSDI –
Solar PV System - Design, Installation, and Maintenance

Eligibility – Engineering Degree Pass or Pursuing

What the Course Covers:



Solar Fundamentals — PV and Thermal
Earthing in Solar PV
Components of a Typical PV System — PV module, connectors, Batteries, Charge Controller, Inverter, Meters, ACDB & DCDB, Cables etc.
Solar Industry tools
Solar PV system Design — Rooftop & Microgrid systems
Planning and Erection of a solar PV project
Operation, maintenance practices and

troubleshooting

Rules, Regulations and

incentives (state wise)

Safety in Solar PV installations



Solar PV Planning & Installation

Eligibility – Technical Diploma Pass or Pursuing

What the Course Covers:



Solar Fundamentals — PV and Thermal
Earthing in Solar PV
Components of a Typical PV System — PV module, connectors, Batteries, Charge Controller, Inverter, Meters, ACDB & DCDB, Cables etc.
Solar Industry tools
Planning and Erection of a solar PV project
Installation of Solar PV System



Solar PV Technician Lev II

Eligibility – Std. X to XII

What the Course Covers:



Introduction to Solar Terminology, Solar Power Calculations, and Measurements
Introduction to PV Systems: Solar photovoltaic effect, PV Systems, Components of a PV system, Types of PV systems
Solar Cell and Module
Working with the PV Batteries
Solar Collectors: Role and types of Solar charge collectors
Inverters for PV Systems
PV Connectors: MC4 connector, Types and features of PV connectors, Selecting the appropriate PV connector
Safety: Personal protective equipment (PPE), Material handling, Electrical safety hazards, Lifting of heavy items, Working safely at heights
Site Survey: Shadow-mapping tool, Estimate solar energy at a site, Identify shadow-free area, Analyse effect of sun movement, Identify south direction, Parameters affecting incident energy
Installing a PV system: Identify area and Installation Sequence, Effects of improper mounting, Test connections, Effect of dust on energy generation, Installation errors
Troubleshooting PV Installation
Cleaning of PV Systems and Preventive Maintenance
Solar Home and Street Lighting - Installation, Maintenance and Troubleshooting
Dr. Jayant Kumar, Chief Human Resources Officer, speaks about the L&D training at Tata Power
Can you discuss your employees' training for sustainability roles at Tata Power?



Sustainability as part of the organization design is one of the most important mainstream functions at Tata Power. Over a long period, differentiated and niche talent has been

developed to lead and manage sustainability-related

aspects. As part of continuing efforts, focused Capability Development Programs are imparted to

the executive

talent at every level. Mid and

entry-level

managers who lead Sustainability related roles are imparted training in 2 broad categories viz. functional programs &

behavioral

programs. Other managers at senior levels apart from domain related exposure are also put through leadership development programs. Functional and domain programs aim to build skills and competencies in diverse areas like Environment (and related laws), Community Relations, Biodiversity, Integrated Reporting etc. while the duration of training programs vary from 2 to 5 days there are also awareness programs are imparted to all employees across functions. These programs are aimed at developing sensitivity towards

the environment

and ecological issues among them and to promote volunteering towards community and environment imperatives. Awareness and functional programs have been quite impactful in meeting the purpose

of success measured in excess of 4.5 on 5 point scale.



Where do you think India stands in terms of employees' sustainability skills in the power sector and Tata Power's role in it?

While enhanced efforts have been made to develop related skills and competencies by various organizations of Power sector in last 10 years or so, there is a long journey ahead wherein the commitment and competence are developed beyond statutory norms and concerted executive action is put in to conserve and promote a sustainable

environment. Tata Power has been playing its role of going beyond the provisions during project implementation and involving communities in various sustainability programs. Various mass education initiatives and

action-oriented programs have positively impacted the communities and their environment.


To what extent would it be possible to offload the power demand to the sustainable power sector in the next 5 years and Tata Power's present and future projected share in it?

Share of demand in future will tilt towards sustainable power. The changeover

in

favor

of green will accelerate now due to price equilibrium and change of focus by environmentally responsible and sensitive organizations. Government is also creating a framework for accelerated growth of green power. Tata Power has been committed to sustainability and as part of

the strategy is already pursuing 30-40% power generation from non-fossil fuel sources.


Tata Power has centers in many different locations and has employees from diverse cultures. Is the L&D training flexible and customizable for different locations and cultures, or are there different L&D training formats for diverse groups of employees? How does Tata Power manage its L&D training for its widespread and diverse employee's profiles?

Guided by policy architecture, Tata Power is committed to growing talent from within. Executive mobility is an integral part of career growth and hence significant proportion of the the workforce is transferred across locations and roles every year. This has led to creating a truly uniform culture with a high diversity of the workforce in every respect across locations. Capability building programs are tailored to meet the identified needs of a different segment of employees across grades and functions. Due to culture amalgamation being high, customization is not required around ethnicity or any other identification beyond the training needs. The format of training programs has also changed from traditional in-person classroom programs to technology-enabled digital platforms wherein the restrictions of location & distances get eliminated and virtual classrooms bring large numbers of employees together into learning pursuits with interactive and cohort support features.
The relevant details in this case study have been taken from Tata Power Annual Report 2016-2017, with due permission from Tata Power.