Recruitment
Radically simplifying recruitment - By HR for HR
A few years ago, I set about hiring a marketing director for my company. Six months later, after doing everything I could have possibly done, I was still struggling to fill the position, and not even close to finding the right person for the role.You probably know this feeling all too well.
Hiring has never been easy, and in today's competitive world it has become increasingly complex, agonisingly slow and, more often than not, doles out short-lived success.
We can spend weeks, sometimes months in our attempt to find the right candidate, often depending on a range of channels that come with their own set of pros and cons. Some of these channels can be fairly expensive, but it doesn't look like we have much choice.
To top it off, after all the time and money we invest in the process, we're often left with candidates who leave soon after starting, who don't fit our needs as well as we'd hoped, or sometimes, don't even turn up for the interview! Add to this the fact that we're battling it out with others for the same, limited talent pool – and we've got ourselves a very, very frustrating process on our hands.
For every good hire we make, there are numerous hard fought battle scars.
I've spent all my professional life in HR and it's one of the things I'm most passionate about. However, nothing has drained and frustrated me quite like the hiring process has.
So much so that, after a while, I decided that enough was enough and, with a team of like-minded HR leaders and technologists, set out to build my dream – a practical solution for HR, that looks at antiquated processes with a new lens.
I'm thrilled to be introducing PiAmmo – the world's first, end-to-end people management and organisational performance platform – built by HR, for HR.
With our first module, we have worked to radically simplify hiring. Our team was keen on retaining the 'human' in 'human resources', so we blended technology with the human aspects of hiring – automating all the frustrating, complex parts such as sourcing and filtering, while retaining the 'human' aspects like interviewing and negotiation.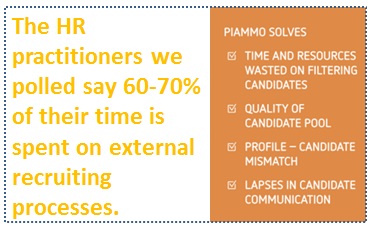 Calling on our collective experiences in hiring and HR, we have worked to simplify – make that radically simplify – the hiring process from start to finish, targeting all the key metrics like time, cost, and quality of hire.
Key benefts of PAmmo
• Effective – Radically cut the amount of time spent on recruitment and improve the probability of hiring the best candidate for the job.


• Easy to use – Streamline the complex and disparate hiring process with one secure platform - complete with tools, templates, and expert support.


• Seamless – Collaborate with colleagues and communicate with candidates throughout the hiring process.


• Scalable – Choose a pricing plan suited to your business that delivers single and volume hiring, across all levels, industries and organisation sizes.
To learn more about your free trial, Contact Sudharsan Narayanan on sudharsan.narayanan@workammo.com and at +91-7022180101