Talent Acquisition
Theme of the month: The dawn of new age talent acquisition
To keep abreast with the latest disruptions in the talent acquisition space, People Matters brings to you the theme of 'New Age Talent Acquisition' as this month's digital campaign. Here's a look at what we have in store for you.
Picture the month of June and tell us what do you see? 
Assimilation into new job roles, exits and the ever increasing search for new talent! And not to forget, the never ending war for talent!
We, the editorial team of People Matters saw a similar picture while deciding on our June's editorial theme which is New Age Talent Acquisition. 
With great excitement, People Matters in this month's rendition, brings to you "New Age Talent Acquisition" as the editorial theme to explore these new age TA practices and help professionals find answers to their questions. And this time around, we are not alone! The editorial team of People Matters for the very first time is collaborating with Suvamoy Roy Choudhury, CHRO, Vodafone Idea who as a guest editor will explore the new age practices and help the HR and TA community deep dive into the latest trends impacting the world of work today.
But, why the theme-New Age Talent Acquisition?
HR as a whole is in the middle of a pretty significant upheaval. While the influx of available data continues to expand the role of HR, talent acquisition remains a pillar of the discipline. And like the rest of the HR functions, emerging technology has given it a greater potential than ever before.
Ernst Hemingway once said, "To make war all you need is intelligence. But to win you need talent and material." 
However, winning talent in 2019 is not easy at all. Here is the proof: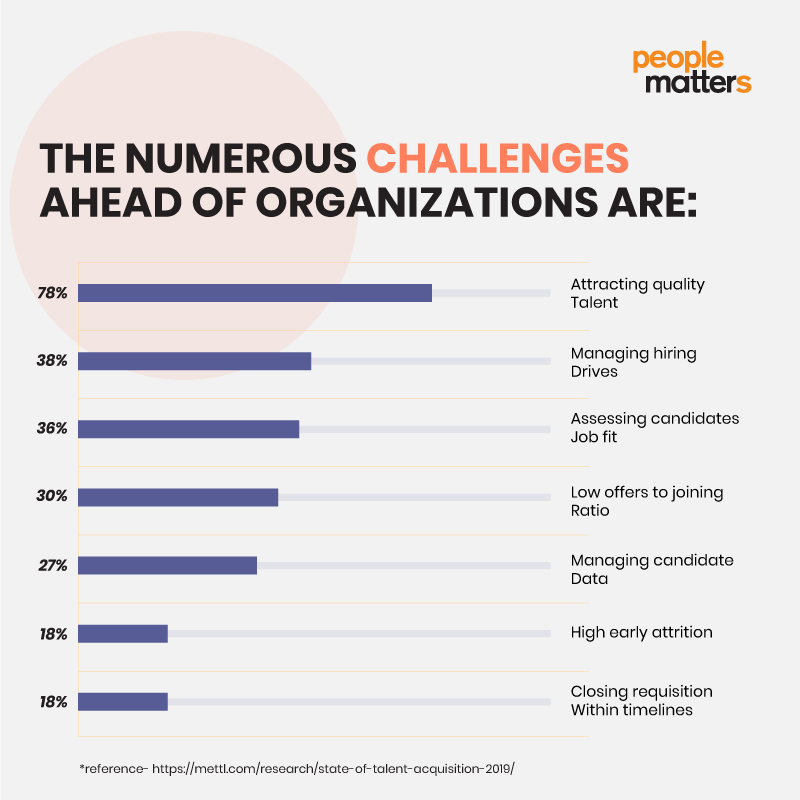 The above data is worrisome. Finding talent and right talent is of utmost importance for business success. However, the old school ways of hiring and  attracting candidates doesn't work anymore. 
The rapid pace of development, disruptions at every corner for each industry, changing demand for skill sets and the increased scarcity of talent, all of this and much more have pushed the traditional TA practices away to make way for new age approaches in TA. Diversity hiring, specialized technology like AI and Analytics, increased focus on candidate experience, leveraging online presence for boosting the employer brand are some of the trending elements redefining talent acquisition for organizations globally. It is critical that professionals across functions and hierarchies understand the new age trends - the opportunities they present and the challenges they come with.
Guest-editor of this month and the role he will play
To deep -dive into the challenges faced by the TA community and bring you the right insights and answers to your TA challenges, we felt we should be joined by a talent leader who has been exposed to the talent landscape himself. Hence joining us in this journey is Suvamoy Roy Choudhary, CHRO,Vodafone Idea. Together with Suvamoy, the editorial team of People Matters has co-created a content plan on the theme 'New-Age Talent Acquisition.' In this campaign, we will take a look at how the Talent Acquisition function has evolved over the years, why out-of-the box recruiting strategies are imperative  to win new age talent, hiring trends for 2019-20, challenges in front of the TA function and how you can accelerate your hiring by leveraging technology and much more.
Suvamoy will review articles and suggest us the articles and content that would help professionals to pause and take note of new age TA trends - the opportunities they present and the challenges they come with.
The campaign will also feature the case-studies of some forward-looking companies who have been successful in attracting the right talent at the right time. Additionally, we will feature some of the best industry influencers who will play an instrumental role in answering your top hiring challenges. 
Here are some of the articles that we have specially curated for you:
Sketchnote: Evolution of Talent Acquisition-Then & Now
A look into unique recruitment strategies
How is hiring across APAC markets set to evolve?
Trends in Talent Acquisition: E-commerce Industry
Are you making these recruitment mistakes?
Watch this space #NewAgeTalentAcquistion for more insights, conversations and best practices in the TA space!