Technology
From penniless at TechHR to $1.3 Mn ARR, inFeedo's foray into the HR tech market
HR tech firm inFeedo has grown 18x in the last two years with their engagement bot Amber, earning over $1.3 Mn as annual recurring revenue since they first attended People Matters TechHR back in 2016. Here's how the SaaS company made its presence felt with the help of TechHR Startup program.
To encourage, identify, and applaud innovative HR technologies and entrepreneurs, People Matters has been providing a platform to all HR Tech startups through its conference People Matters TechHR since 2014. 
Since then Asia's largest HR technology conference has evolved and so have the startups who were part of the conference. One such HR tech startup is the SaaS-based people predictive analytics company, inFeedo. 
From the lobby of People Matters TechHR to making a difference in 28 countries
"We came to know about TechHR in 2016 when we had just completed the prototype of a product we called Amber. It happened to be the only HR event happening at that time where we could gather prelim feedback for our solution," shares Tanmaya Jain, CEO and Founder, inFeedo. 
For any HR tech solution to be relevant, it is important that the founding members do a thorough research and take inputs from the end user; in this case, the HR professionals. And TechHR conference is one such place where you will find over 3,000 HR leaders from different geographies and industries to learn about the most pressing talent challenges they face.   
While there were many HR leaders, investors and HR tech experts Tanmaya interacted with before and at the conference, there was one conversation that stayed with him and helped him build on the idea for Amber. 
Tanmaya said, "The one interaction that fundamentally changed me was the one that I had with the ex-CEO of Great Place to Work, China Gorman. I met her at the People Matters TechHR conference in 2016. From my conversation with her, it seemed that in the last 10 years, employee engagement may have felt good but has it really made any tangible, measurable impact?"   
After meeting over 250 CHROs to understand the depth of the problem, this conversation was a decisive moment for him. 
"We knew then that this was an interesting challenge to solve because engagement is not just about celebrating birthdays in the office, it's deeper than that. Engagement had become a fad. Most companies were relying on annual engagement surveys and the fundamental flaw with these surveys was that all employees were treated in the exact same way. This was the first challenge: How do you create something that is conversational, relevant, regular, and just exciting enough to chat with?" reminisces Tanmaya. 
inFeedo's team later realized the second challenge when one of their customers, Yuvaraj Srivastava, Group Chief Human Resources Officer at MakeMyTrip, came back to them with the question: 'What can we do to track an employee's journey from the first day of joining to their last day at the organization?"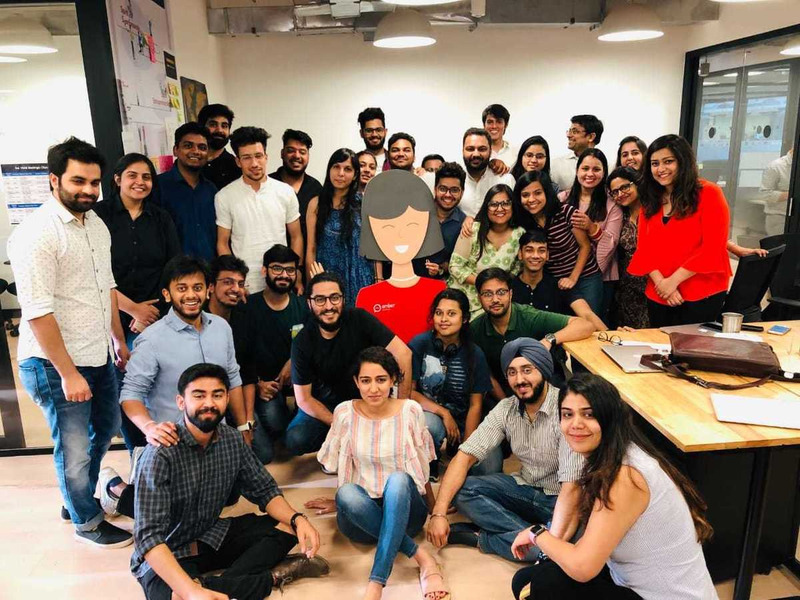 Team inFeedo
Gorman's validation boosted the morale of inFeedo's team and also encouraged them to take their solution, Amber, to more companies. Additionally, feedback from Srivastava guided them to further improve their solution and work more passionately towards helping companies in enhancing their employees' experience.
"We had an idea here. Let's suppose I was hired by an organization to speak to all the employees regularly and report to HR about which employees are unhappy or disengaged; and we thought, if a human can't do it," Tanmaya concludes with a smile, "then why don't we build a bot to do it?" 
Today, inFeedo has more than 100 customers, including GE, SocGen, Emaar, Lenovo, Puma, Times Internet, Kotak, ICICI, MakeMyTrip, Airtel. 
In a span of three years of associating with People Matters TechHR conference, inFeedo has been able to connect with at least 300 HR leaders.
Tanmaya reveals, "We had great, warm conversations with HR leaders and were able to onboard some of them as our customers. We were also able to engage and nurture existing customers from our pipeline where we saw sales acceleration with customers such as NIIT, Airtel, Fidelity, GE Healthcare."
The customers that inFeedo's team got in touch with at the conference were from diverse sectors like BFSI, telecom, FMCG and manufacturing, among others. At least 80 percent of the customers they were able to close at TechHR were enterprises with more than 10,000 employees.
From one of the Top 30 Startups to Diamond Partners
In 2017, inFeedo exhibited their AI-powered-engagement bot, Amber and within two days, piqued the interest of more than 100 HR leaders at the event.
Last year, as inFeedo grew with a portfolio of over 65 customers, their relationship with People Matters strengthened and they came on board as Category Partners. 
"Today, I get a report as the CEO on employee anniversary whether it's 1 or 3 or 6 months or a year and such amazing insights from employees, which I am sure even if I had tripled the number of HR people in my team and they had spent 4 times the number of hours with each employee, that kind of insight wouldn't have come." - Biplob Banerjee, ex-CHRO, Jubilant 
This year, inFeedo has kept its association with the conference intact and has joined hands as a Diamond Partner.
Whether it was in inFeedo's initial days or now when the company has grown 18x and to over $1.3 Mn annual recurring revenue, the SaaS company continues to leverage the platform People Matters TechHR conference to make an impact in the HR Tech market. 
Tanmaya shares, "TechHR has been a great platform that has  helped us make our presence felt in the community. Every 5 minutes, you meet someone you know. Everyone you can think of is there. It truly pulls the entire HR fraternity from across the country in one place."  
"Now, in 2019, we're coming back as a Diamond Partner, having doubled our number of customers and employees. We have more products to speak about and proprietary AI solutions to help HR leaders take more data-driven decisions in their organizations," he adds. 
The way forward
From almost shutting shop in 2016 to building a solution that measures employee engagement in real time, inFeedo has come a long way. The company's mission has since then been to make the voice of every employee feel heard and valued; and in the next five years, inFeedo will continue to work towards ensuring each employee across the world has a friend at work to confide in during moments that matter with Amber helping HR drive positive change proactively.  
As inFeedo scales and expands its scope of business in other markets like the US and the Middle East, People Matters TechHR shall remain a key facilitator for their growth. 
"By being present at every TechHR event that happens, whether in India or abroad, we want to interact with every HR leader and empower their teams to leverage Amber's artificial intelligence and predictive people analytics," says Tanmaya. 
With the global HR tech marketplace valued at $400 Bn and the employee engagement market estimated to reach $1 Bn according to Josh Bersin, it's clearly opportunities galore for inFeedo and other HR Tech startups to ride on. Many of such opportunities shall be unlocked at People Matters TechHR India 2019 at The Leela Palace Gurugram on the 1st and 2nd of August. 
Click here to know more about the conference and be part of a great learning experience.