Learning & Development
Reimagining workplace learning for COVID & beyond
As the world of work gets into a reset mode, it is time to reimagine learning. It is time to rethink the what, where & how of workplace learning.
LinkedIn's 2020 workplace learning report showed that L&D continues to garner both budget and buy-in. In fact, more than a third of L&D pros globally are expecting their budgets to grow year over year.  Further 57 percent of the talent developers plan to spend more on their online learning programs. The pandemic, like many other things, has accelerated the L&D transformation as well. It has surely emphasized on the need for learning. But most importantly it has nudged leaders to re-think: how will the talent learn? Where will they learn? And what will they learn? 
As the world of work gets into a reset mode, it is time to reimagine learning: 
Preparing the talent for unprecedented changes ahead: Focusing on human skills
Experts from Deloitte suggest that RESKILLING alone may be a strategic dead end. Instead what is required is a development approach that considers both the dynamic nature of jobs and the equally dynamic potential of people to reinvent themselves. 
Given the dramatically changing business landscape organizations are up against, leaders need to focus on building horizontal skills and competencies which shall be relevant in the long run. While digital skills also gain importance, human skills like resilience, adaptability, innovation, and empathy also become more important than ever.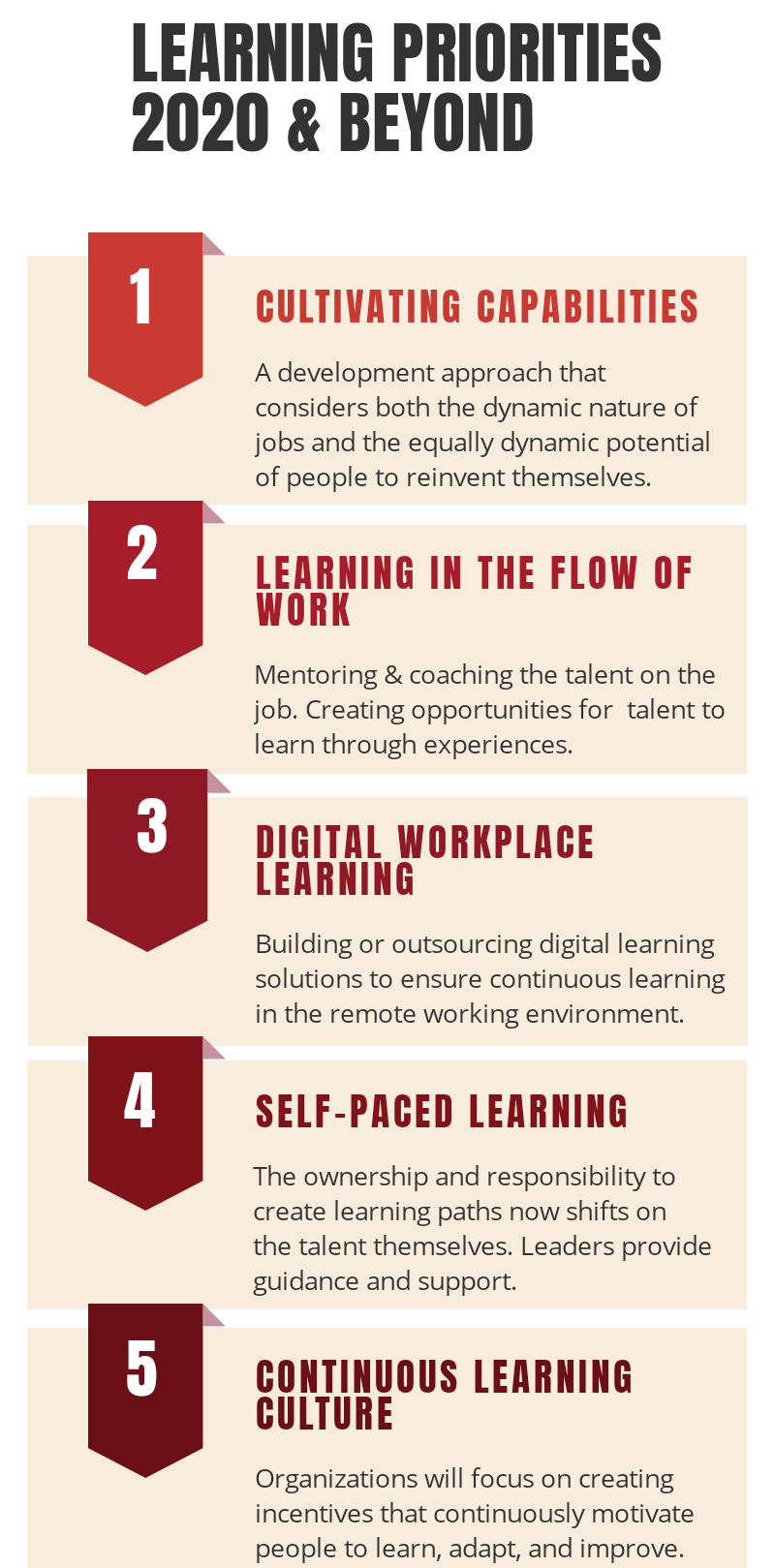 In a recent interview Dean Tong, Head, Group Human Resources, UOB had shared, "For most parts of the jobs we don't know, how it's going to change and when it's going to change. So, the only way to prepare our people is to make them more adaptable and that's why we focus more on soft skills." 
The five key skills UOB has been focusing on include: Growth mindset, digital awareness, storytelling, problem solving, and design.
Learning in a hybrid world of work
Digital organizational learning has picked up pace over the past few years. But pandemic and subsequent lockdown has increased its adoption rate. Many big companies like Microsoft, LinkedIn, and Google launched digital learning initiatives for all to help talent utilize this time to invest in themselves. 
In the remote working scenario, how learning is disseminated also becomes critical. Leaders have to continuously assess the learning needs of talent, make all the necessary resources available, and also engage the learners to reach their learning outcomes. Some organizations are building their own learning platforms and solutions to accelerate self-paced learning or/and blended learning. Others are crowdsourcing all the learning courses that may be relevant for the talent. Self-paced learning has also become prevalent. Many leaders are encouraging the talent to create their own learning paths with some guidance and then supporting them with reimbursements. 
"The way we look at L&D itself will change with new and flexible ways of learning emerging. Agile learning through real time experiences on the job or project, learning concepts from diverse industries and adapting to current context, continuous learning tools available on the go will be the norm. Both organization and employees need to be adaptive," shared Pavitra Singh, CHRO, PepsiCo India. 
The investment made today by employers in the entire reskilling initiative from assessing to training will go a long way. Companies need to equip their workforce with changing times to come out stronger with a greater competitive advantage. As experts say, companies that continue to invest in training and offer learning opportunities for their talent will emerge as winners on the other side of this crisis. 
This October, we will attempt to find answers to the new paradigms of workplace learning. How are talent professionals building resilience for enduring new L&D culture in their organizations? How is the role of L&D professionals changing? What will be the key disruptions in workplace learning? These are just some of the questions we will attempt to answer over the coming weeks. So stay tuned and follow the tag #ReimagineLearning.
Know more about the latest trends in the learning & development landscape at the People Matters L&D Conference 2020 coming to your screens from 21st-22nd October. Click here to register.