Learning & Development
Transform India Inc's bottom line: Unlock $300 billion through Communication Fitness
As we embrace the future of work, organisations must invest heavily in improving their collective communication fitness levels to reduce cost & improve productivity.
Communication fitness is critical to business growth and can cost billions of dollars when overlooked. After surveying 400 companies with 100,000 employees, David Grossman's report (2016) titled 'The Cost of Poor Communication' points out the stark reality of how companies lose $62.4 million every year as a result of inadequate communication.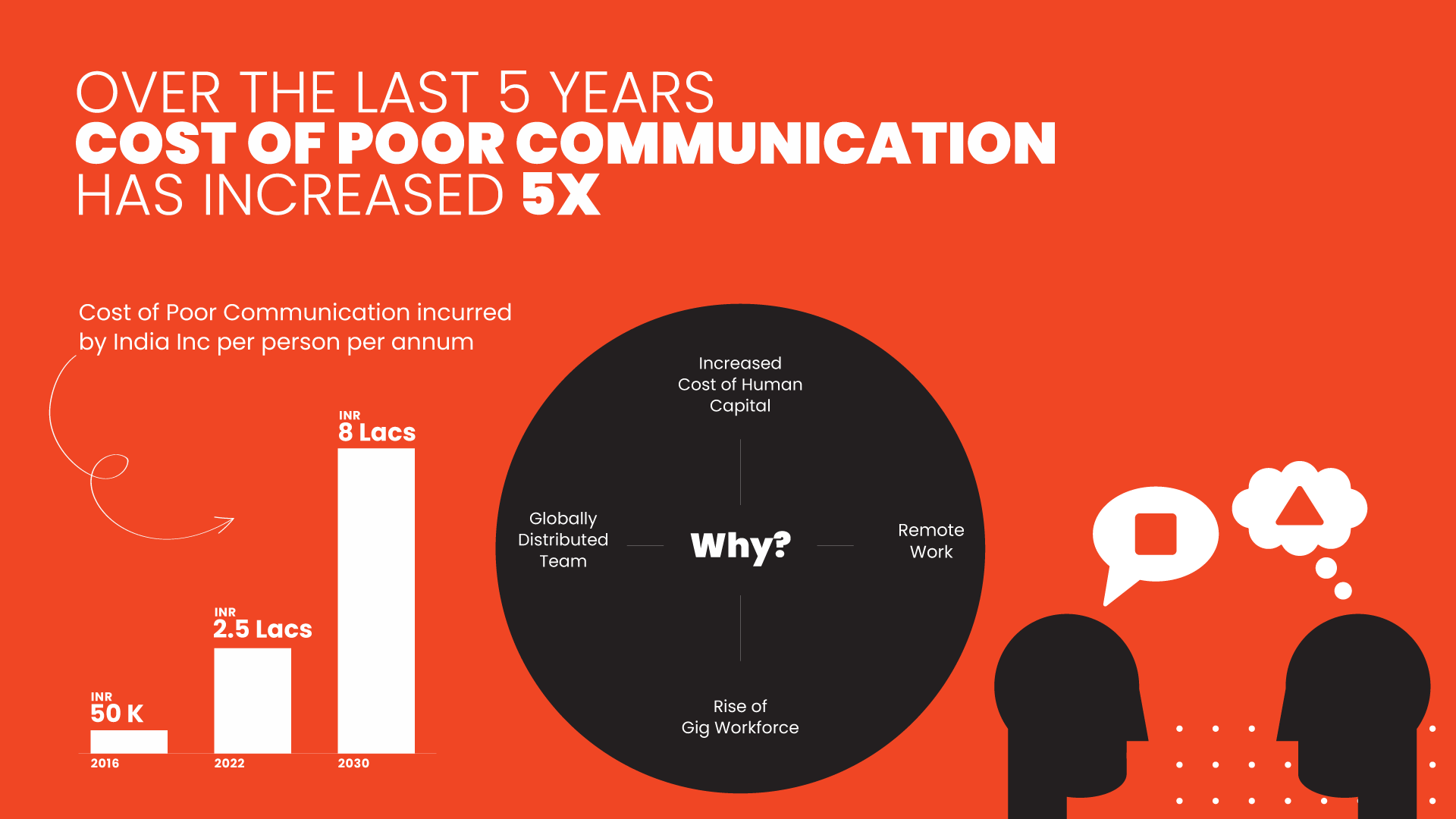 Employers, corporate executives and educators also agree to this business cost. In a report pioneered by Salesforce, 86% of the workforce in these job roles believe that ineffective communication is the underlying cause of workplace failures. In addition, a study by Economic Intelligence Unit found that poor communication fitness, as we call it, is the reason behind 44% of failed projects, 31% of low employee morale, 25% of missed performance goals and 18% of lost sales at the workplace. 
Communication fitness is vital to enhance collaboration and productivity amongst a diversified workforce while scaling up rapidly in a highly unpredictable business environment. Moreover, communication is a life skill that is urgent in rising corporations with a multi-geographic presence.  
This is only one of the many reasons why communication fitness has become a critical area of investment.  Business enterprises are increasingly facing the following six hurdles due to the lack of adequate L&D investment in communication fitness: 
Efficiency Loss
At Larsen & Toubro, business operations need to happen at scale and speed, especially when negotiating with clients and vendors, understanding their needs, and designing plans accordingly. Therefore, communicating with clarity the expected performance outcomes from clients is vital for getting buy-ins quickly, as shared by Dr Sinha. He also pointed out how it reduces turnaround time, results in better relationships at work, and improves the confidence of managers to lead and delegate tasks efficiently. 
"With the English communication program run by vani.coach, specifically targeted to our Diploma Engineers, we witnessed 90% improvement on clarity in thoughts and structured presentation, 70% improvement in understanding the listener's context and the need for information using pre-assessment, post-assessment, and manager's feedback," said Dr Sinha when asked how he undertook strategies to overcome efficiency loss.
Weak Workforce Collaboration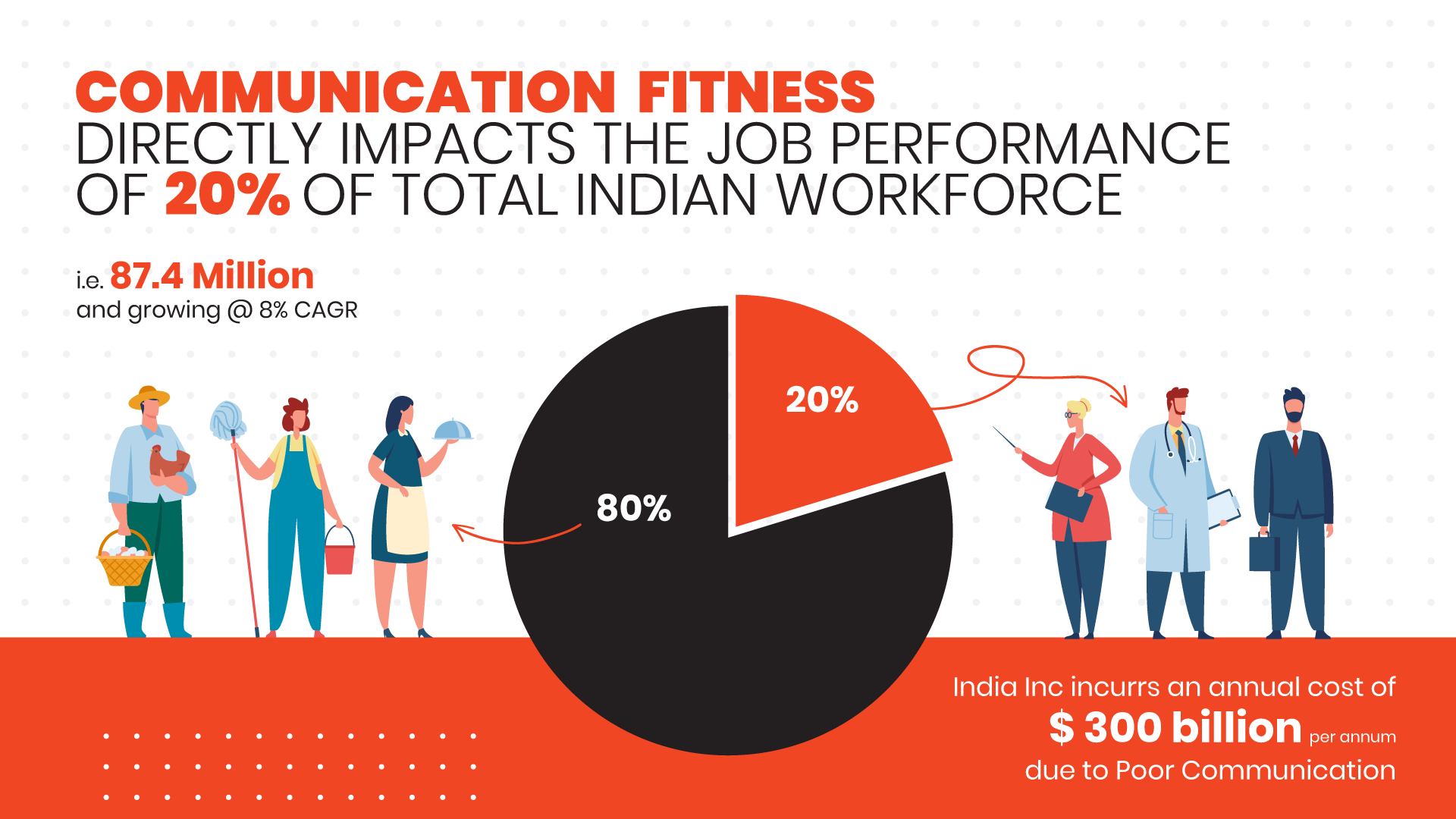 Employees working in organisations with effective communication plans have been known to be more likely to outperform their peers. This is because they minimise the silo effect and centralise communication which is key to productivity. On the flip side, organisations with low communication fitness will struggle to get work done efficiently as instruction will not get relayed with clarity. Additionally, there will be low rapport, distrust and less credibility among peers, which will hamper tasks that demand cross-functional collaboration. This takes on new dimensions in flexible working models as the work is delivered by teams in different regions. 
Stretched Management Bandwidth 
In conversation with Kashyap Thorve, Sr. VP-COE, L&D, UltraTech Cement, he highlighted the unique and critical role played by a Unit Head in managing integrated cement plants. The Unit Head role involves leading operations and negotiating essential conversations with frontline managers, the contract workforce, and external stakeholders such as representatives of government agencies. However, there can be challenges in holding these conversations and clarifying expectations as professionals rise in their ranks.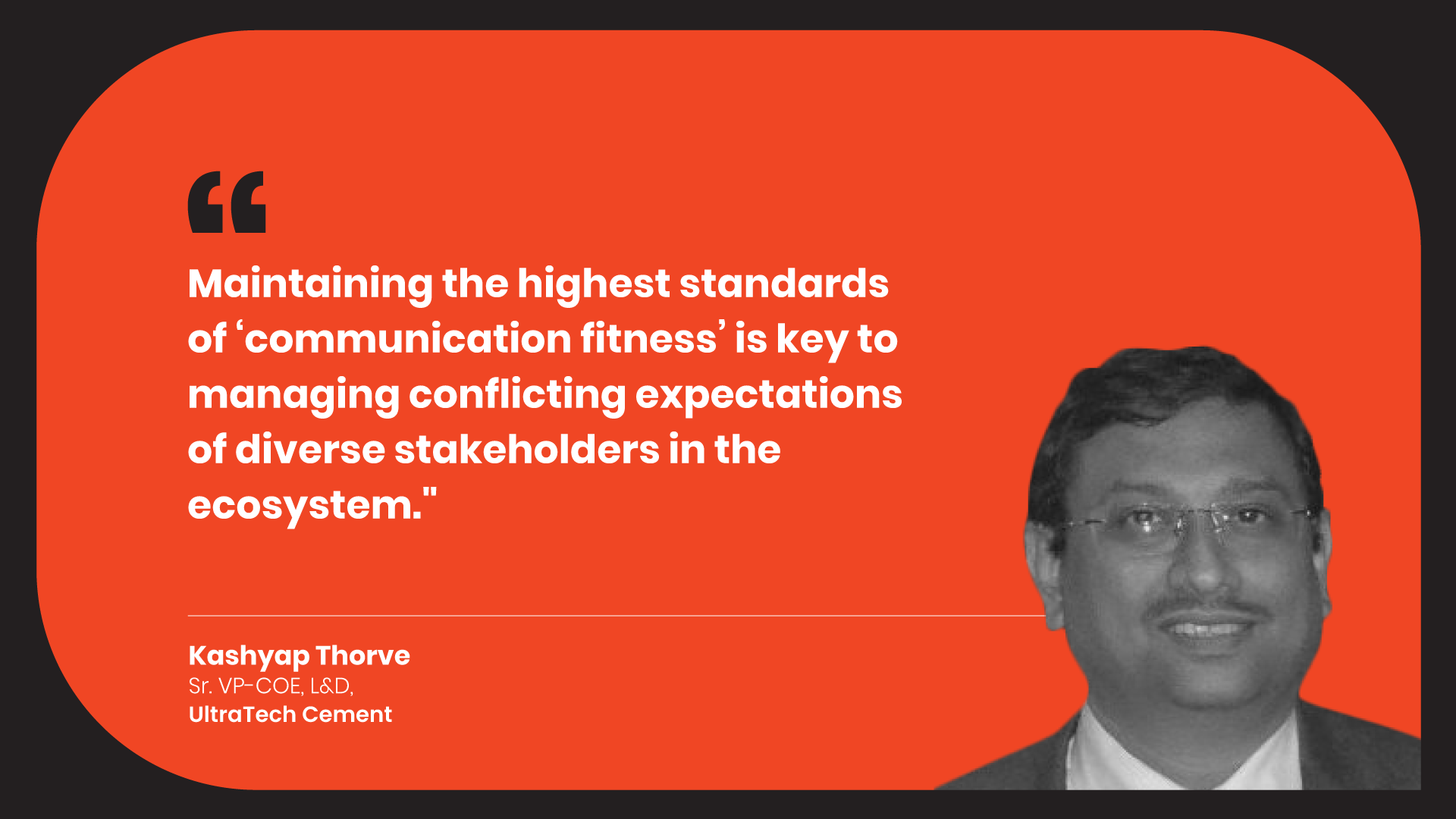 To ensure that managers can steer the ship in the right direction, organisations have to be proactive in investing in their upskilling for 'Communication Fitness'. To ensure this, UltraTech Cement is working with vani.coach for developing leadership talent in their manufacturing units by enhancing and elevating their communication skills through personalised coaching. 
Unclear Messaging on Brand Equity
Strong brand messaging is vital when hiring and building customer relationships. To recruit highly qualified candidates and retain them for the long term, the value of their contributions and the business impact they will create have to be communicated early on. Similarly, the brand image is vital for client-facing corporations to get them through the door and get customers on board. Even beyond sourcing clients, poor communication fitness will negatively impact stakeholder buy-in and partner investments, which are crucial for the company's future growth. 
Missed Opportunities for Growth
For the sales teams in large pharmaceutical companies such as Cipla, a sharp selling pitch is the key differentiator in a very competitive market.  Enhanced product portfolios and a focus on hyper-personalized customer interactions have created the need for robust communication skills across teams. Having recognised that the company's learners faced varied challenges with specific needs, personalisation by assigning a personal coach to each learner instead of a one-stop solution was fundamental. The result was a huge shift in employee engagement, with personalisation being key to getting the right solutions for empowering a skilled workforce.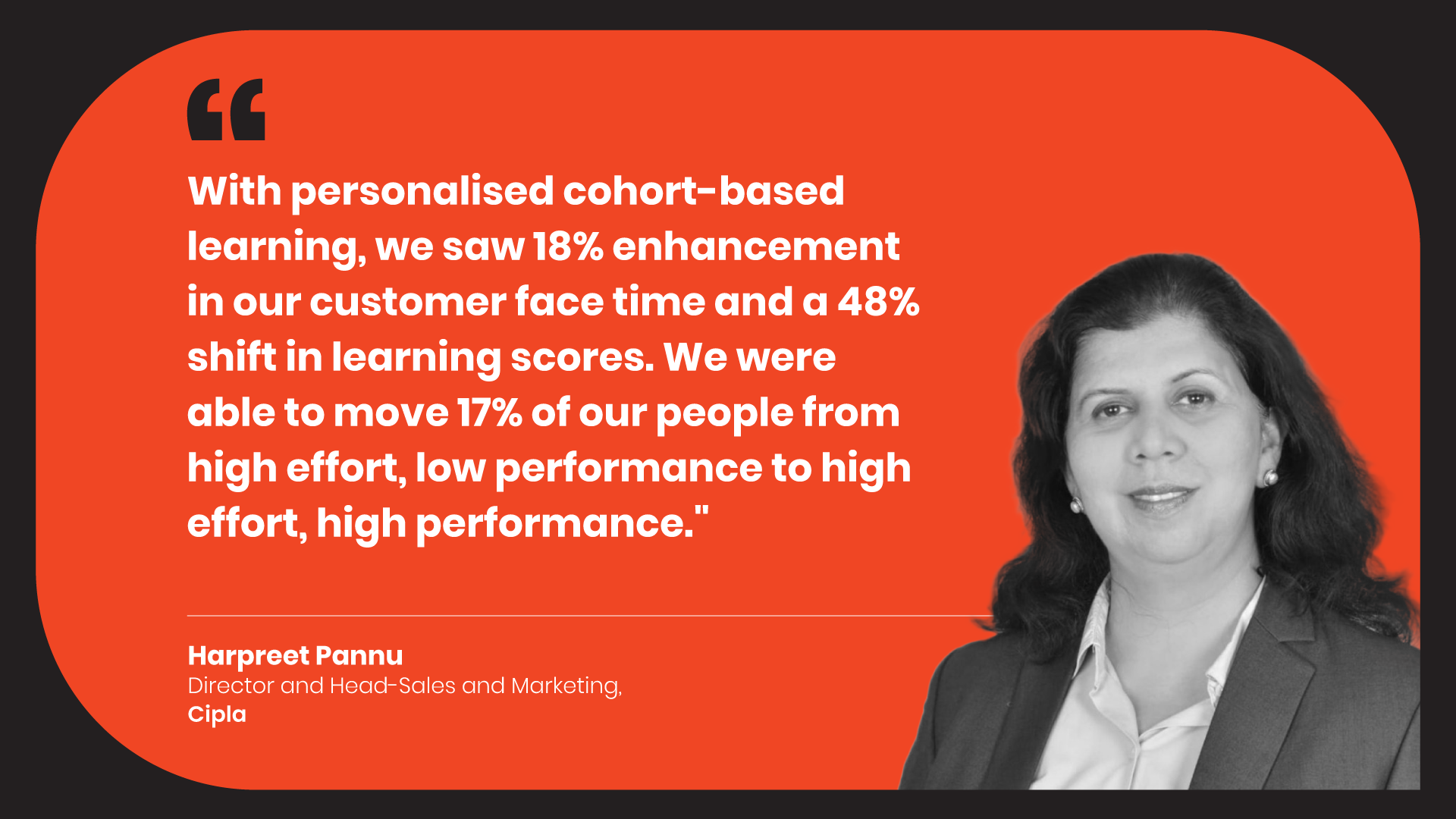 Communication skills could mean different things to different teams in the organisation. For sales teams, it could be sales pitches, for marketing teams the art of storytelling, and for leadership teams the art of influencing large teams by creating the correct vision. Having acknowledged that early on, Cipla ensured that the high performers get upskilled in collaboration with vani.coach as they take on more business-impact roles, leading future-forward products with increased customer time. 
Gap in Global Business Strategy
For enterprises which operate across geographies, poor communication fitness will reduce the power of the dent they can create in those international markets. There needs to be complete clarity in communicating the brand impact, managing remote teams and streamlining business processes. Leaders also need to be empowered to negotiate these foreign markets and lead critical conversations to deliver on the business growth they envision.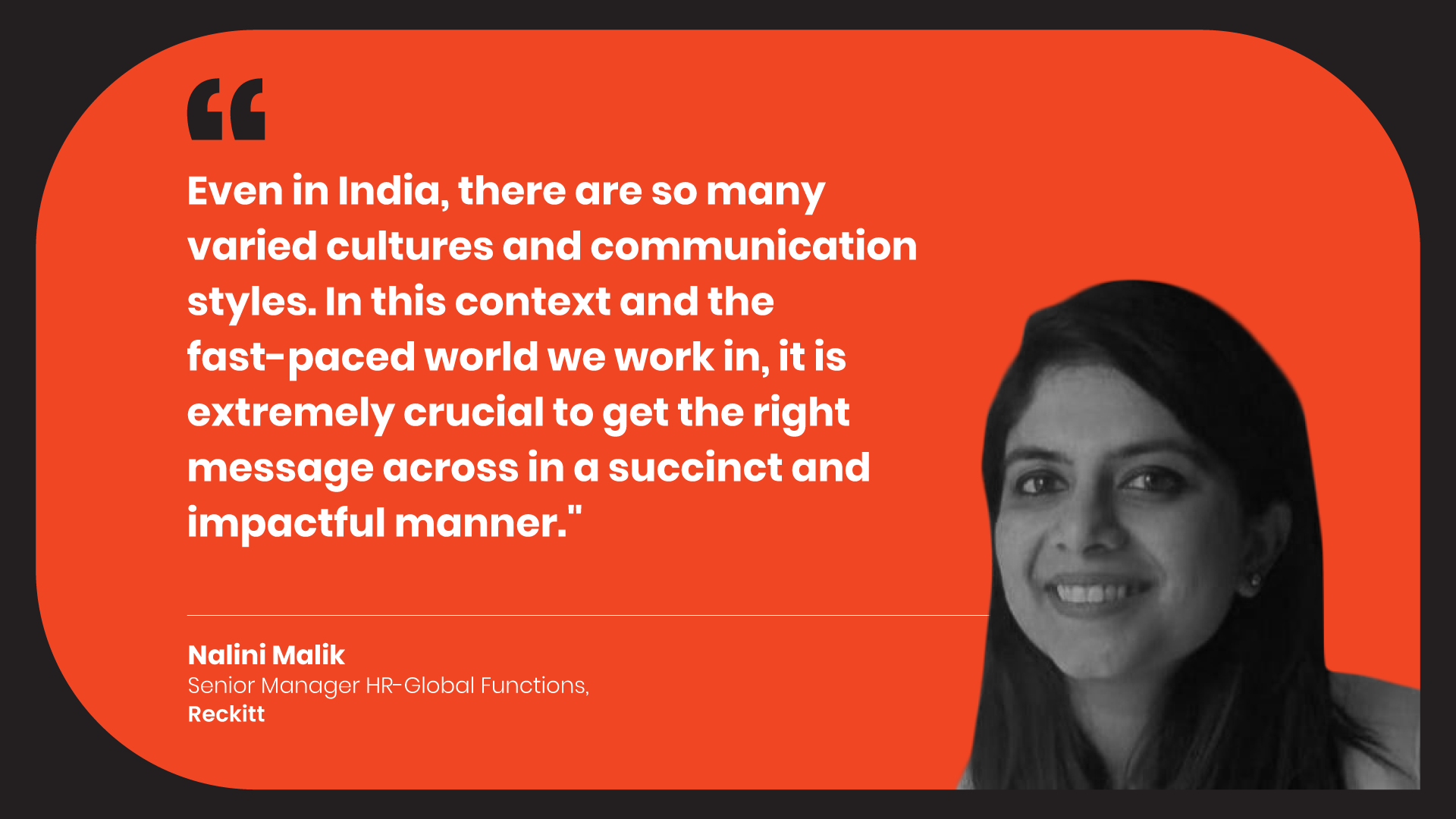 At Reckitt, a global MNC, there is a need to participate in business communication across cultures. Improving workplace communications is pivotal to overcoming misunderstandings, collaborating and working faster. Furthermore, as pointed out by Nalini, investing in these skills for their employees is correlated to their confidence, engagement and teamwork within the organisation as they embrace the future of work. 
What is the way forward for organisations to achieve communication fitness?
The answer is simple: creating opportunities for personalised coaching backed by technology. Digital solutions are critical for organisations growing at scale. As they operate with a diversified workforce, accessible learning solutions fine-tuned to the learner's needs can bridge the gap between imparting knowledge and behavioural change. Moreover, such personalised coaching opportunities are essential to unleashing the potential of your people. As HR and L&D leaders, we must empower our working professionals with one of the most critical skill sets in their career journeys: communication fitness.
Fast-growing companies with a multi-geographic presence will need to invest in communication fitness if they want to heighten efficiency and strengthen workforce collaboration and brand equity while empowering a solid leadership team. One of the greatest challenges in a disruptive business landscape is the missed opportunities for growth, which applies equally to your organisation and your people. With initiatives designed toward personalised coaching for communication fitness, organisations will truly unlock their growth potential as they operate in local and global markets with a mixed workforce and flexible working models.