C-Suite
#TechHRIN – People and Organization Resilience Osmosis
We are all privy to the quote - great minds think alike. However, do we always have an opportunity to say that these alike thoughts are great? I believe yes and that affirmation has come from logical listening and learning from five days of speaker sessions via an amazing virtual platform curated by People Matters.
What happens when a cohort of more than 30 leaders across the globe decide to put PEOPLE at the center? A wave of emotional intelligence and innovative agile best practices emerge which are the survival prerequisites for organizations of today, tomorrow and beyond. 
We are all privy to the quote - great minds think alike. However, do we always have an opportunity to say that these alike thoughts are great? I believe yes and that affirmation has come from logical listening and learning from five days of speaker sessions via an amazing virtual platform curated by People Matters. There were many great sessions and hence one is spoilt for choice when one has to focus on the few amongst best. Below are a few of them summarized.
The DataCase | John Sumser 
Healthy Food for thought -Is your data quality having quality control measures? Is your cover letter being read by a bot?
John Sumser is the principal analyst at HRExaminer. John's session was illuminating as it made us question the quality of data used and ponder upon the limitation of machine learning tools.
All AI models are based on historical data and with COVID all baseline data is unstable. Hence, he advised that data has to be looked at suspiciously as bad data will give bad answers. He was unapologetic about stating that machine learning tools do not know how to say - "I don't know!" as is inevitable due to data latency.
Critical work has to be done in data collection methodologies to mitigate bias. Asking the correct question correctly is a must as a study on data bias showcased that machines have 80% bias as against 30% in humans. Organizations have to be cognizant of data quality as a complete set of good data will go a long way in building their ability to manage. In effect leaders have to learn how to understand and read data and argue with machines. 
John recommended that recruitment can be made better by establishing profiles of people that organizations want to hire in the future and improving search capabilities using tools and internal mobility. He cited Socrates and Textio as two of the good HR tools to drive this.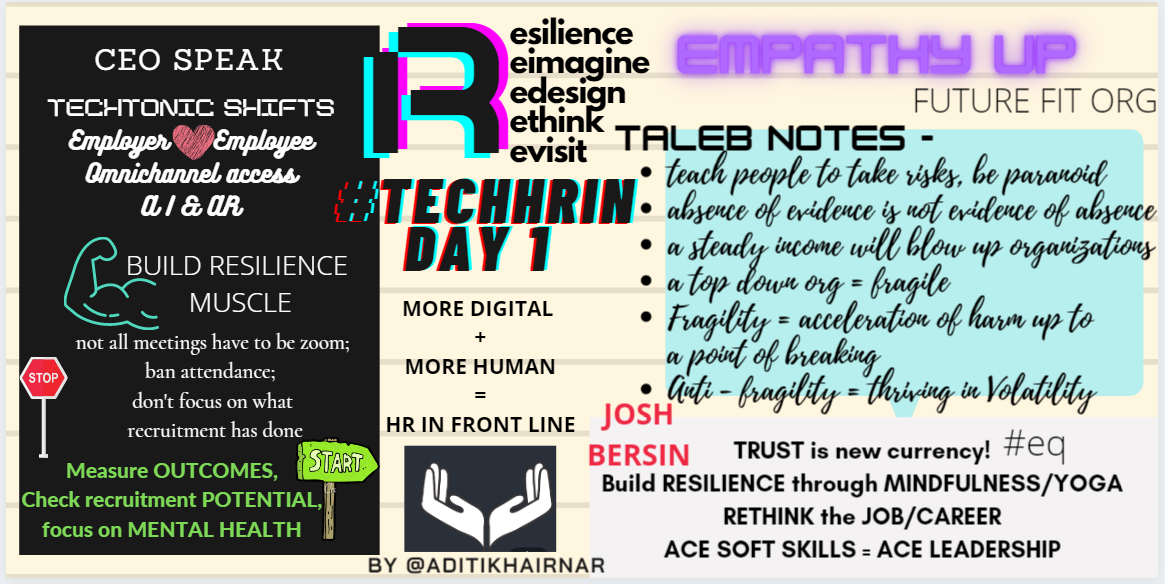 Radical Employee Experience and Life@Xiaomi | Manu Kumar Jain
Healthy Food for thought - Are you failing fast (read: succeeding fast)?
Manu Kumar Jain is the Managing Director of Xiaomi India with a zest for dynamicity and vibrancy in the organization. He started off with stating that out of the 30000 employees in Indian manufacturing hubs, more than 95% are women! Women who now have a new found confidence with their ability to care for their families. 
Great teams equals great organization success and that is what makes Xiaomi so successful. Manu mentioned how people get a (positive) culture shock upon joining Xiaomi. Manu went on to elaborate on Life@Xiaomi and how they were crisis-ready using the below strategies:
Hiring Passion People - Xiaomi hires people who have passion and do not focus on relevant background experience. This assures productivity and innovation at work as these hires come with no preconceived notions and are motivated innately by their passions.
Young and Dynamic Teams - The average age group in Xiaomi employee demographic is 30 to 35 which leads to teams that have willingness to take risks and try new things. Failing fast is key to quick success! 
Cross Functional Experience - Everyone is offered role changes that are not only vertical but also horizontal. This results in hyper personalized expertise.
Open Culture - We all know how important this is to build fluid communication and real connections and Xiaomi embodies it by having a complete ban on personal cabins and freedom to reach out to anyone.
No Emails please! - Quick decision making is encouraged through a strict albeit welcome filter on the amount of emails sent. Focus is to send only formal approval emails. All other work communication is done via chat or calls.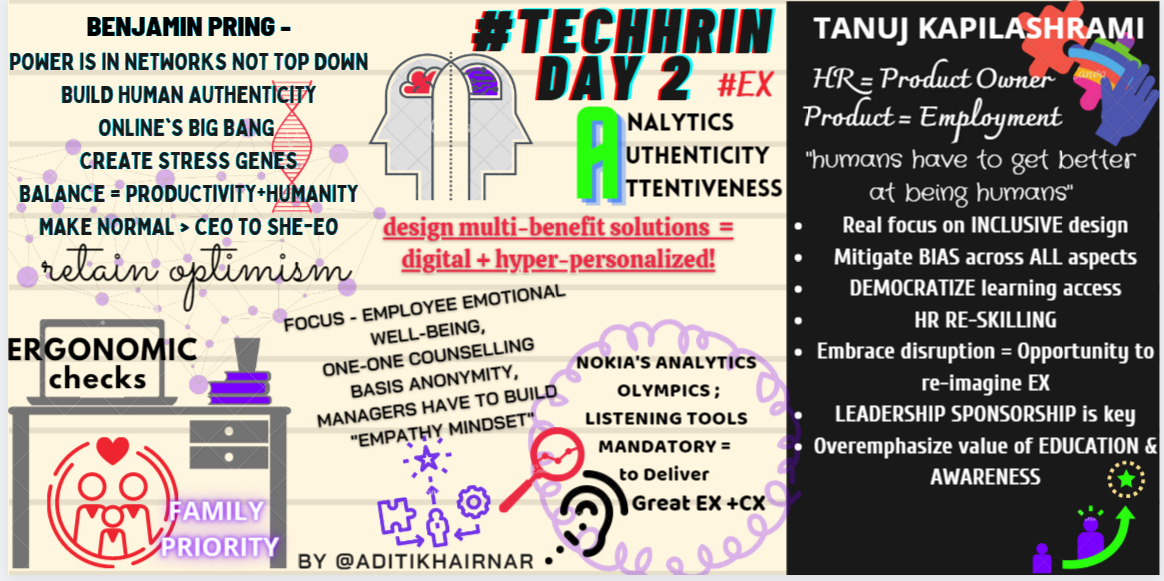 Employee Experience (EX) & Design Inclusivity | Tanuj Kapilashrami 
Healthy Food for thought - Are you biased in including inclusivity across the organization spectrum?
Tanuj is the Group Head Human Resources at Standard Chartered Bank who displayed amazing design tenacity in delivering an unparalleled EX and created a fan out of me.
A Gallup study found out that organizations focused on people engagement are 24% more profitable. Only a great EX will lead to a great CX (Client Experience). Organizations that do not compete on EX are running a race to the bottom! She radically stated that HR's role is that of a Product Owner where employment is the product and experience is the value.
Tanuj informed on how Standard Chartered has a real focus on inclusive design for any HR products. She propagated the use of Human Centered Design to mitigate bias across all aspects of EX. A deliberate focus on interactions with specific groups by asking specific questions is made to develop structured processes and learning opportunities that are unbiased. Inclusivity in design and decision is a consciousness that leaders have to be mindful of as leadership sponsorship is key to driving a growing future. 
Tanuj ended with 3 pieces of advice –
Embrace disruption as it is an opportunity to re-imagine EX
It is also HR's Imperative to Reskill or Upskill HR
Tech Agendas with clients and employees has to retain purpose and hope
Well done Wellness! | Ira Gupta
Healthy Food for thought – Are you being human enough? Are you thinking like a learner or still using the old knowledge in new reality?
Ira Gupta is the Head of HR for Microsoft India. She spoke inspiringly about the need to be more human as managers, leaders, organizations and most importantly as people.
Ira highlighted that the higher up in the hierarchy an employee is, the more they feel the need to be a hero. However, the journey from hero to human is the need of the hour as we are in an uncertain new reality.
Model-Coach-Care is an initiative by Microsoft (even before COVID) for leadership development that encompasses everything including vulnerability. When leaders role model, it has an immediate cascading effect. Leaders are thus encouraged to showcase mental well-being priority and normalize an environment of "okay-to-not-be-okay." 
Microsoft's anonymous wellness platform is extremely popular and registrations increased 6 times once lockdowns began. Anonymity is key to offering a safe haven for people to share and for Microsoft to care. Ira reinstated the value of purposeful leadership which positively impacts managerial productivity. She continued that managers have to build an empathy mindset. Ira recommended people managers to listen to what is unsaid and think about reaching out to people which will have a deeper impact on engagement in trying times.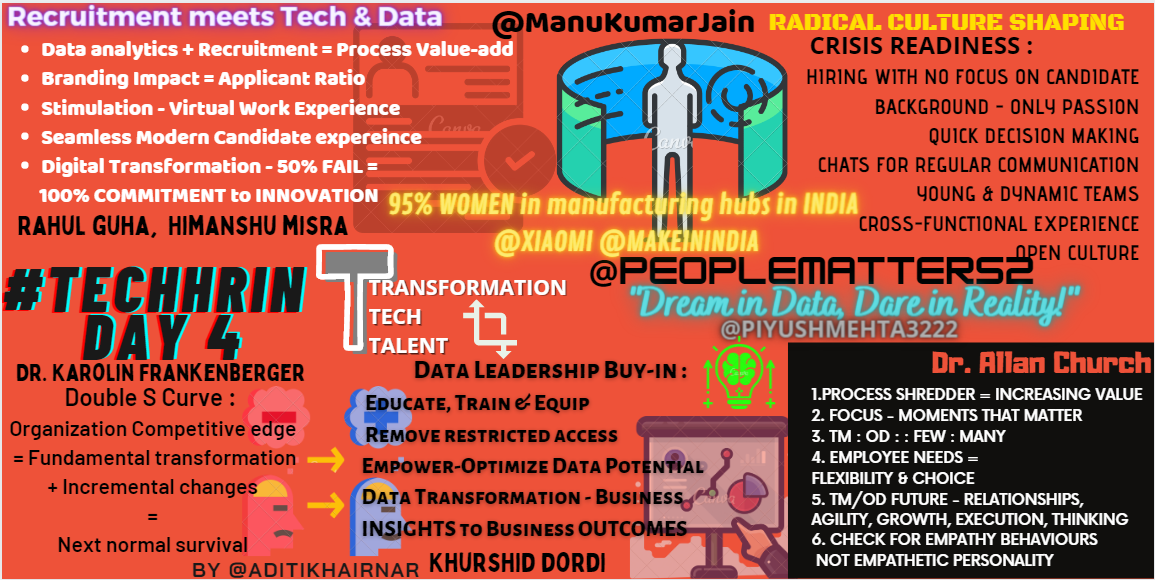 Process Shredder | Allan Church
Healthy Food for thought – Are you thinking for short and long term simultaneously?
Dr. Church is the Senior Vice President of Global Talent Assessment and Development at PepsiCo.
Dr. Allan delivered a powerful session on increasing value for employees by using the process shredder. Process Shredder is a process improvement initiative rolled out via a simple employee voice application which encourages employees to share a single thing that would make life easier at work. Pepsico used these crowd sourced ideas to shred out processes that were not useful. Dr. Allan enunciated on organization development as well. He clarified the difference between organization and talent development as the former being done for many and the latter for only a few. Allan cautiously recommended a tolerant culture has to be worked upon and organizations have to check for and build empathy behavioral traits. Pepsico's research showcased that current employee needs are flexibility and choice while the future of organization development is based on relationships and execution agility. Companies that embrace autonomy and make continuous efforts to improve customer and employee productivity always outperform. 
An osmosis of knowledge and practical insights was gained by everyone who attended the People Matters Tech HR India virtual conference along with a feeling of hope that even virtually we can all still feel connected. These speakers have significantly contributed to a brain cell blast! New ideas and practical implementations are few of the many takeaways. The peer interactions have expanded the network of people I learn from. The conference has positively impacted my ability to see things differently by seeing different things done by resilient organizations who have faced the pandemic with full heart and have shown sheer strength in their humane actions.