Strategic HR
'We don't want you because you are a Muslim'
Hare Krishna Exports is in trouble after one of its HR 'trainees' rejected a candidate because he is Muslim; candidate sues firm
Employees in Hare Krishna Exports became the envy of many last year when the company doled out brand new cars, flats, gold jewellery to its employees based in Surat and Mumbai as part of their bumper Diwali bonus.
But, today the company is embroiled in a controversy that is now snowballing into a major issue involving the Mumbai police. The company, a leading diamond export company, is in the news because it rejected the job application of an MBA graduate as he is a Muslim. It is headquartered in Mumbai and has a global presence.
Zeshan Ali Khan had completed his MBA in International Business and was searching for a job. Along with his other friends, he sent this resume to Hare Krishna Exports Pvt. Ltd. on Tuesday.
"Along with a bunch of friends, I forwarded my resume to the company. Almost half of them were immediately placed. I got a reply within 20 minutes of my application. I was shocked when I read it," Khan told The Hindu. "Initially, I thought it was a joke. Had they wanted to reject my application they could have given other excuses…," he added.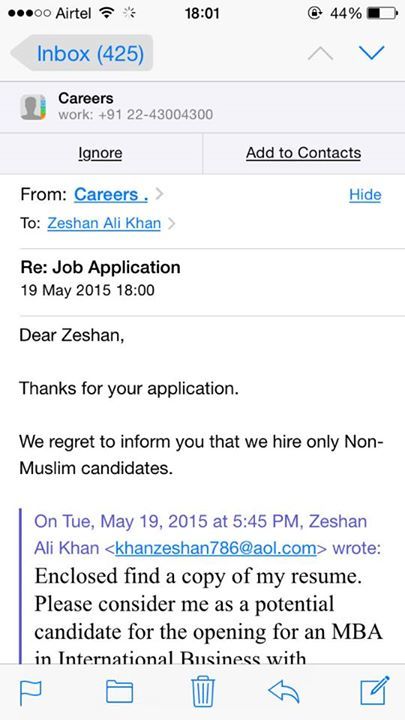 Khan posted his experience on Facebook and it soon led to public outrage. On Wednesday, Khan received a "regret" e-mail by Mahendra S. Deshmukh, Associate VP & Head-HR of the company. "We would like to clarify that the company does not discriminate against candidates based on gender, caste, religion, etc. Any hurt caused in the matter is deeply regretted. This erroneous email was sent by my colleague Mrs. Dipika Tike who has joined recently and is still on training."
However, that has not cut ice with Khan. On Thursday, he lodged a police complaint against the company accusing them of religious discrimination. The firm has been booked under IPC sections, which deal with hurting religious sentiments, denying or depriving a person his rights and causing disharmony. The offence is punishable with up to three-year imprisonment.
In a sign of further trouble for the company, it has appeared that contrary to what the company has portrayed, Dipika Tike is not a trainee.
Tike graduated from the University of Mumbai in 2010 with Human Resources Management as her specialty, according to a report in Hindustan Times. According to her LinkedIn profile, which has been deactivated post the controversy, worked with the Gammon group as an 'HR executive' and 'Manager-HR and admin' with Muez-Hest India Pvt Ltd. Tike had joined Hai Krishna Exports as Human Resources Generalist, with four years of experience. If this is true, then it would appear that prima facie the HR head has lied about Tike's profile at the company. Even more so considering that Khan had sent the email to the official company email id.
Following the public outrage, the government soon swung into action. Maharashtra Minority Minister Eknath Khadse on Thursday condemned the incident and said the government would conduct an inquiry. "We will see that there is strongest punishment possible under available laws," Khadse said.
Savji Dholakia, founder and chairman of HKE, has been at pains to clear the controversy over the past few days.
"She did not realise the gravity of her blunder," Dholakia told The Hindu. "There is no official policy or rule in the company that prevents people of a particular caste or religion from getting employment. We had no intention of appearing biased or hurting sentiments," he said. But, he said that Tike had joined "firm's HR team only two months ago" and was not aware of the company's culture. Unconfirmed reports say that Tike has been sacked.
Two sides of the story
There are two sides to the story: One that Tike had it all wrong from the beginning. If the HT report is true, then she wrote the email with full understanding of what was being sent to Khan. Then, being an experienced HR hand, it was wrong of Tike to send that email. She came to the company with her own inherent biases and it is the company that is getting caught in the crossfire. She had replied within 20 minutes of getting the application, which shows that Tike did not really think twice about sending it out. This would imply that this is deliberate.
The second part of the story, if one were to go by the HR Head's and CEO's statements are that Tike was a trainee and she committed a grave mistake. She had no knowledge of the company's culture and hence the employee is to blame, but not the company.
But the question remains to be asked: If the 'HR trainee' had sent out the reply in 20 minutes, then it was pretty clear that she was following the company's (unspoken) stand (which may not be on paper). Secondly, Tike's LinkedIn profile has mysteriously disappeared and that too after the controversy. Now, why would that happen? Thirdly, granted that Tike had been a new employee at Hare Krishna Exports, but two months (or is it four months according to her LinkedIn profile) is enough time to understand what works in the company and what doesn't. Fourthly, it wasn't until the public outrage played out that the company actually actioned the response to the discriminatory email. This puts a question mark on whether the company is actually an equal opportunity player.
So far, the debate has raised the shackles on social media. However, it remains to be seen whether it will mark a change at the ground level and if the law & order machinery will take serious cognizance of the issue.