Compensation & Benefits
Singapore & Hong Kong among the most expensive cities in the world: Report
Singapore, Hong Kong and Paris leave cities like New York and Zurich behind with a cost of living index of 107, while Bengaluru is one the cheapest cities in the world, as per a latest survey.
The first time in the history of Economist Intelligence Unit's Worldwide Cost of Living Survey three cities have shared the top spot. As per the latest survey, Singapore, Hong Kong, and Paris are the most expensive cities in the world with an index of 170. Last year, Hong Kong and Paris were ranked fourth and second respectively. However, Singapore has been ranking first, as the world's most expensive city consecutively for the last five years. 
The survey that compares the prices of more than 400 items across 160 products and services, helps companies calculate cost-of-living allowances and build compensation packages for expatriates and business travelers. 
While all three of these cities top the list, Zurich and Geneva rank as second and third most expensive cities with index 106 and 101 respectively.  Osaka, a city in Japan also scored an index of 101. Followed by, Seoul in South Korea, Copenhagen, Denmark, and New York, the United States which have an index of 100.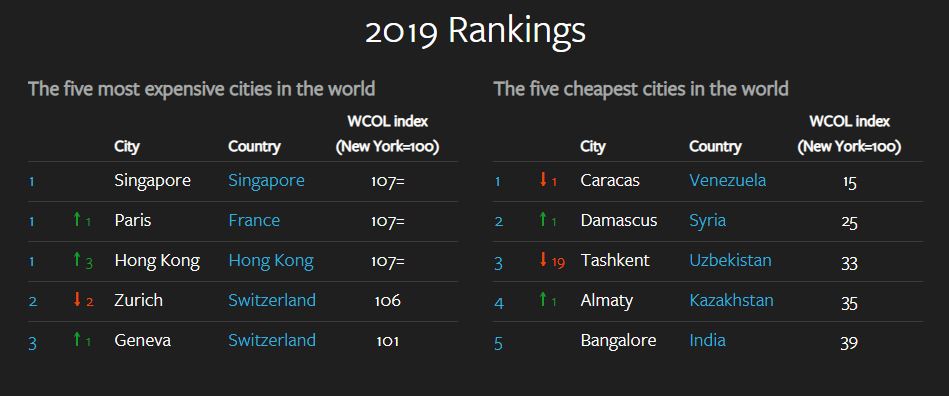 Economist Intelligence Unit's Worldwide Cost of Living Survey
Another city in the U.S, Los Angeles is also not far behind and is among the top ten most expensive cities in the world with an index of 99. 
Further, a city like Bengaluru which is most expensive in India is cheapest in the world and got an index of 39 in the Worldwide Cost of Living Survey. 
Singapore leading the list of most expensive cities: What does it signify? 
The increased cost of living index reflects how the Singapore Dollar has been strengthening.  The city has been rapidly growing with many global businesses expanding and opening their branches in the city. Singapore has also in recent years witnessed an emergence of a lot of homegrown companies and startups, who are both bringing new technologies and innovative solutions and creating new opportunities for talent. 
The swiftly developing city has been an attractive hub for talent across the world as well. As more and more local people enter the job market along with more people from other countries looking for jobs in the city, businesses have to relook at their compensation strategies to make more reasonable job offers. 
Compensation is a strong attracting and deciding factor for a candidate to choose from a variety of job opportunities. To be able to attract this top-notch talent from across the globe, businesses in Singapore have to hence make the salary packages keeping the high cost of living index in mind. 
Earlier in December, according to the Julius Baer lifestyle index, 2018 as well, Singapore ranked second among the costliest cities to live in Asia. These indexes could urge companies to revisit their compensation strategies and may lead to a hike in average salary packages in the city.