Other employee benefits
Lockdown4.0 : Govt reduces EPFO to 10%, extends ITR deadline
The FM has reduced the TDS rates by 25 percent. This is applicable on all payments - interest, rent, brokerage, supply, etc. This will be enforced from tomorrow till March 31, 2021.
Finance Minister Nirmala Sitharaman addressed the media today and shared the details of India's Rs 20 lakh crore fiscal stimulus announced by Prime Minister Narendra Modi on May 12th, 2020. The financial stimulus announced by PM Modi is almost 10 percent of India's gross domestic product (GDP) and comes as the country battles the economic effects of the coronavirus pandemic. 
The Prime Minister highlighted that the economic package is aimed to spur growth and make India self-reliant. He added that 'Self-reliant India' is based on five key pillars- economy, infrastructure, system, demography, demand. 
EPF 
The Finance Minister announced EPF relief for all establishments with Rs 2,500 crore liquidity support. The government will provide both employer and employee - 12% contributions. Extending support for another three months from March-May 2020 to June-August 2020 as well. Nearly 3.6 lakh establishments will benefit with this extended support, covering 72.22 lakh employees. 
The FM also shared that in order to increase take-home salaries for those not covered in EPF benefit, the statutory PF contribution is being reduced from 12 percent to 10 percent. For state PSUs - the employers will continue to pay 12 percent, employees will get the option to pay 10 percent for the next three months.
Taxation
The FM has reduced the TDS rates by 25 percent. This is applicable to all payments - interest, rent, brokerage, supply, etc. This will be enforced from tomorrow till March 31, 2021.This reduction will release Rs 50,000 crore in the hands of people. 
The Minister announced that all the pending refunds of the charitable trust, non-profit business, cooperatives, and small partnerships, shall be issued immediately.
Due date of all I-T returns for FY19-20 from July 31, 2020, and October 31, 2020, extended till November 30, 2020. 
Tax audits have been extended from September 30, 2020, till October 31, 2020. The date of assessments getting barred as of September 2020 is extended till December 2020. Those getting barred on March 31, 2021, are being extended till September 31,  2021.
MSMEs
The government has changed the definition of MSMEs in its benefits plan so that they can grow in size and get benefits. The investment limit which defined MSMEs has been revised upwards. Additional criteria being brought in is turnover size - earlier differentiation between manufacturing and service MSMEs will be categorized similarly shared by the Finance Minister.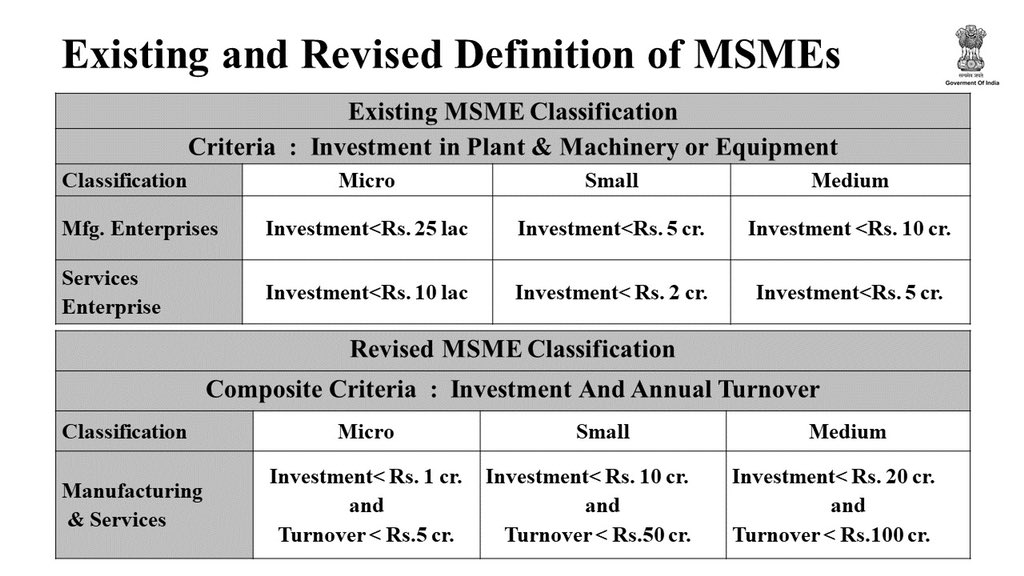 The government has announced a collateral-free, automatic loan that will give facilities up to Rs 3 lakh crore for businesses including SMEs. 
Next step for MSMEs, global tenders in government procurement will be disallowed for up to Rs 200 crore or less. This will allow MSMEs a chance to supply for these big projects.
The government is also infusing a fund of  Rs 50,000 crore equity for those MSMEs who have potential and are viable. Corpus of Rs 10,000 crore - through mother fund and daughter fund we will provide support. This will help expand capacities and help them get listed in markets of choosing. 
Rs 20,000 crore will be infused through subordinate debt for stressed MSMEs who have equity problems. This liquidity line will benefit 2 lakh MSMEs. All NPA' or stressed MSMEs are eligible for the scheme. The government will provide Rs 4,000 crore to CGTMSE who will provide a partial guarantee to banks who will then give benefit to stressed MSMEs. 
There will be new rules and regulations under Lockdown 4.0. This will be purely based on the suggestions by the states, the details of which are expected to be informed before 18th May.