Staffing Recruitment
Over 50,000 positions in Data Science and Machine Learning vacant in India
The market has twice the number of jobs than job seekers, says a report by ed-tech platform, Great Learning
According to Gartner, out of 10 lakh registered companies in India, 75% have invested or are going to invest in Machine Learning and Data Science
In India over 50,000 jobs in the Data Science and Machine Learning space are vacant, for want of skilled professionals, finds a state of the industry report by ed-tech platform, Great Learning. This is despite the rapidly growing demand for Data Science professionals in India; with the number of job postings and job seeker interest for 'Data Scientist' reaching an all-time high in 2017. The job market in this space is heavily tilted towards job seekers, with twice the number of jobs, than available talent. The report is based on a study of 28000 participants across 3000 organizations in India. 
According to Gartner, out of 10 lakh registered companies in India, 75% have invested or are going to invest in Machine Learning and Data Science.  When it comes to the demand for professionals in this space, banking and financial services lead the pack having created almost 44% of jobs in the domain. 
| | | |
| --- | --- | --- |
| Industry | No. of Jobs | Demand drivers |
| Healthcare | 15000 | Driven largely by demand for analyzing complex data of clinical applications. |
| Driverless transportation | 7000 | Self-driving requires a confluence of machine learning, deep learning, IOT and AI. |
| Agriculture | 5500 | Data Science, ML and AI are being used to improve farm output, better demand forecasting and pricing. |
| Cyber security | 5000 | All global companies are adopting data engineering  for anomaly and intrusion detection use cases. |
| Aviation | 4500 | Aviation and airline companies are using data for pricing, route optimization and preventive maintenance |
| Genomics | 2000 | Big Data has helped in studying the sequences of genomes and is now being used to detect anomalies and identify diseases. |

E-commerce has also emerged as a large market for Data Science professionals having created 12% of all analytics jobs in 2017. Healthcare (12%), energy (8%), telecom (6%) and media (6%) along with others like retail, automobile, and travel are the other sectors powering the demand for data science professionals.
According to the report, skills in Cloud, Big Data Analytics, Machine Learning, and AI are going to be critical for data science professionals to land the available jobs. When it comes to tools, while the highest number of job searches are observed in SQL, Python is the fastest growing, owing to the greater support of Machine Learning libraries. On the other hand, jobs in SAS have declined recently. Data Scientist, Data Analyst, Data Architect, Data Statistician, ML engineer, ML specialist, Technical Architect, Data Engineer are some of the most popular roles available.
The graph below shows job postings for data science roles.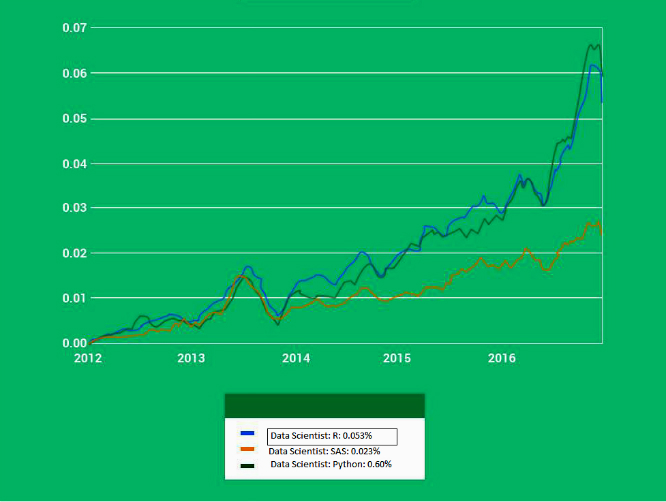 Hari Krishnan Nair, Co-founder, Great Learning said, "India lacks massively when it comes to talent in Data Science, Machine Learning and Artificial Intelligence. With more and more jobs increasingly becoming data-driven, the need of the hour is for professionals to upskill themselves to stay relevant. Over the past one year, we have seen heightened interest from companies across IT, BFSI and telecom for professionals in data science."
The report also analyses the growing scope of data science in non-traditional sectors like agriculture, aviation, healthcare, genomics research, and robotics. By 2020, below Data Science jobs will be created in India in these sectors: