Strategic HR
Hired to fired: LinkedIn's pre-joining layoff leaves woman disheartened
An affected individual claims that LinkedIn made the announcement of layoffs on its 20th anniversary, revealing plans to terminate the employment of more than 700 employees.
After LinkedIn, the job platform owned by Microsoft, announced layoffs in its sales, operations, and support departments, some employees have begun receiving termination letters. Furthermore, there are indications that the company is retracting offer letters that had been extended to new hires several months ago.
One affected individual, Lea Schuhmacher, who had previously worked as an intern at LinkedIn according to her profile, shared her experience. Schuhmacher was part of LinkedIn's Business Leadership Programme, which the company has reportedly discontinued. 
She claimed that she was offered a role in September 2022, but after months of waiting, LinkedIn rescinded the offer letter. To support her claim, she attached a screenshot of the email received from the LinkedIn team.
Schuhmacher emphasised that throughout these months, she turned down other job offers and opportunities due to LinkedIn's assurance of the role. While the email mentions some financial assistance, she expresses her disappointment with the overall process.
"Today, LinkedIn announced not only its 'difficult decision' to lay off hundreds of employees but also to discontinue the Business Leadership Programme that I was supposed to be a part of. A job, for which I had been reassured with a probability of 99 per cent that it will happen in a call yesterday. A job, that I had been counting on since I signed the contract in September 2022. A job, for which several people declined other job offers and master's programmes. A job, for which the whole relocation process was already set up," read her LinkedIn post.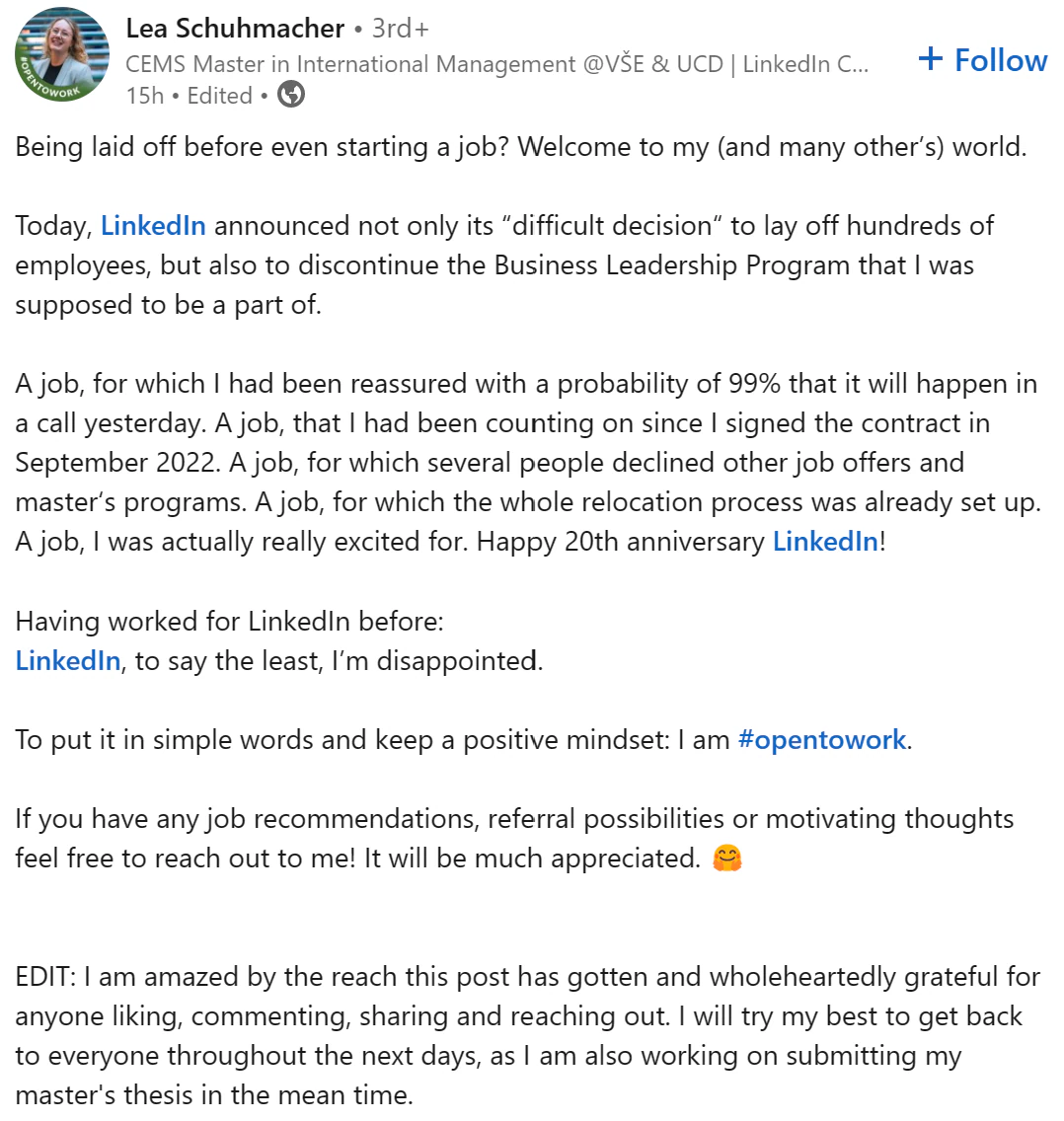 Another former employee, Connor Bernal, who was previously a member of the Business Leadership programme, finds it ironic that the company chose to announce layoffs on its 20th anniversary. Bernal, who was part of LinkedIn's strategy and product team, emphasises the following points:
"It feels funny to be posting on LinkedIn about LinkedIn giving me the boot (almost feels like I should take to Facebook to protest!), but honestly, LinkedIn is a good company with a great vision, and now I hope to see firsthand how this amazing platform can help members like me find their next play. My thoughts go out to all my colleagues that were impacted, and I wish you luck in the journey ahead," wrote Bernal.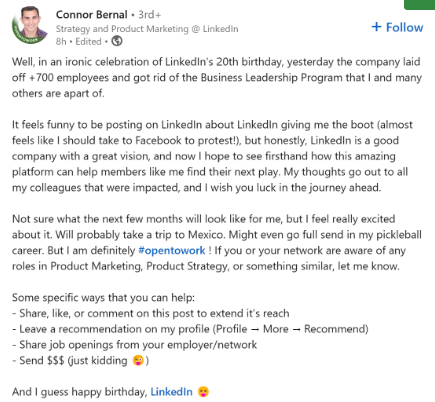 In addition to the layoffs and discontinuation of the business programme, LinkedIn has made the decision to close its China-specific app, InCareers. The company has recently updated the InCareers website, informing users that they have until August 9 to download their data.
Last year, the Microsoft-owned company initially disclosed layoffs due to unfavourable macroeconomic conditions. During that period, a former employee named Melanie Quandt publicly voiced her criticism towards the company, highlighting the provision of "limited benefits and severance." In a LinkedIn post, she expressed the belief that rebuilding trust in an employer would require significant effort.