Recruitment
How to buy recruitment technology - Part 2
The second article of three-part series on How to buy recruitment technology. We have devised a working model for recruitment technology to help in decision making from SMBs perspective.
The Background
In the previous article we saw how varied and complex the Recruitment Technology space is. As an HR leader you are supposed to navigate this space with aplomb. In our efforts to help HR leaders in general and Indian SMB HR leaders in particular, we are looking to do a detailed evaluation of most Recruitment Tech products available in the Indian market. We are aware that with the advent of SaaS based solutions products created in the US or Europe is easily accessible for Indian companies, however, we are not focusing on those solutions. We may mention some of such innovative products which are created in the US or European market and believe these "white-spaces" are covered by Indian companies sooner than later.
Recruitment Tech – Local or Global
For a global organization the heart of recruitment tech – Applicant Tracking System (ATS) will essentially be global. Some other solutions – for example – Employer Branding, Sourcing and Background verification – can be local. This naturally creates a need to integrate various other plug-ins to the central ATS solution. Thus ability to integrate easily with a variety of tools is a key component for any global Recruitment Tech solution.
However, if you are an Indian company & an SMB player then recruitment tech service provider can be a global player available locally or a local player. Our advice is to consider your needs & then do an evaluation of the specific player/s to make a final decision. It is not necessary that just because the player is Indian or global they would be able to meet all your current & future needs.
The Evaluation Process
Considering that we are largely looking at Recruitment technology product companies we identified certain parameters which we thought are critical for an initial evaluation especially given the vast data set distributed across the length & breadth of the country. We came up with a simple criterion which can be generically used for evaluation of Recruitment Tech solutions & most HR leaders should consider these parameters/questions while evaluating the solution provider/s. While these are generic parameters when applied to a specific HR Tech space – they will help you arrive at a filtered list which can then be further evaluated for your specific business need.
Our purpose here is to present generic criteria we are not considering a feature based comparison for the scope of this analysis. We recommend that you do a complete feature evaluation once you have decided your exact need considering your business context.
For a more detailed evaluation, you may refer to a more generic HR Tech evaluation framework available here
Some questions we asked ourselves before we arrived at these parameters are:
What are the typical questions one should ask while filtering from various options available in the market?


What parameters should help an HR leader separate the players based on generic criteria even before we do a feature comparison?


What should come first – the credibility, stability, domain expertise of the vendor or the product features? We have taken a stand in favour of the former here.

The table below gives you the criteria used for evaluation and the scale used to score these companies on these parameters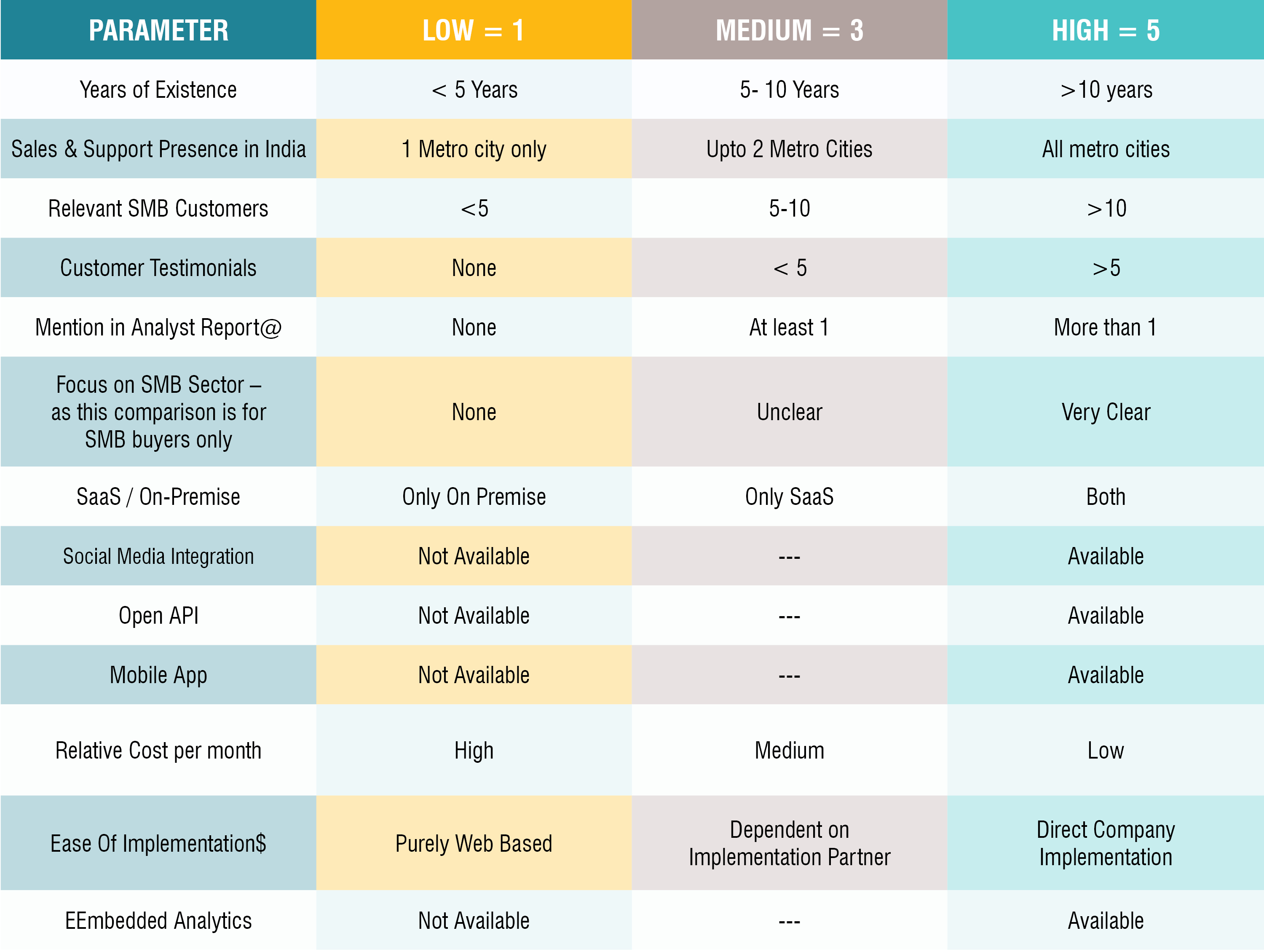 @ - Analyst reports considered are Nelson Hall, Gartner, Bersin by Deloitte, G2Crowd, TrustRadius and CB Insights.
$ - Given the context of SMB – complete self-service module is considered difficult because the implied subject matter expertise may not be available in the company.
Note: This is a working model we have devised to help in decision making form our feedback from SMB's, if any parameter is missing, we will love to hear your views. Please email us at editorial@peoplematters.in
Top companies
Based on these parameters of evaluation, we now present to you top companies that you should consider when you are evaluating recruitment technology solutions. We have only considered global companies with India presence or Indian companies in this list, thus excluding companies who do not have a presence in India currently. This is not a ranked list but a list of players to help you choose from.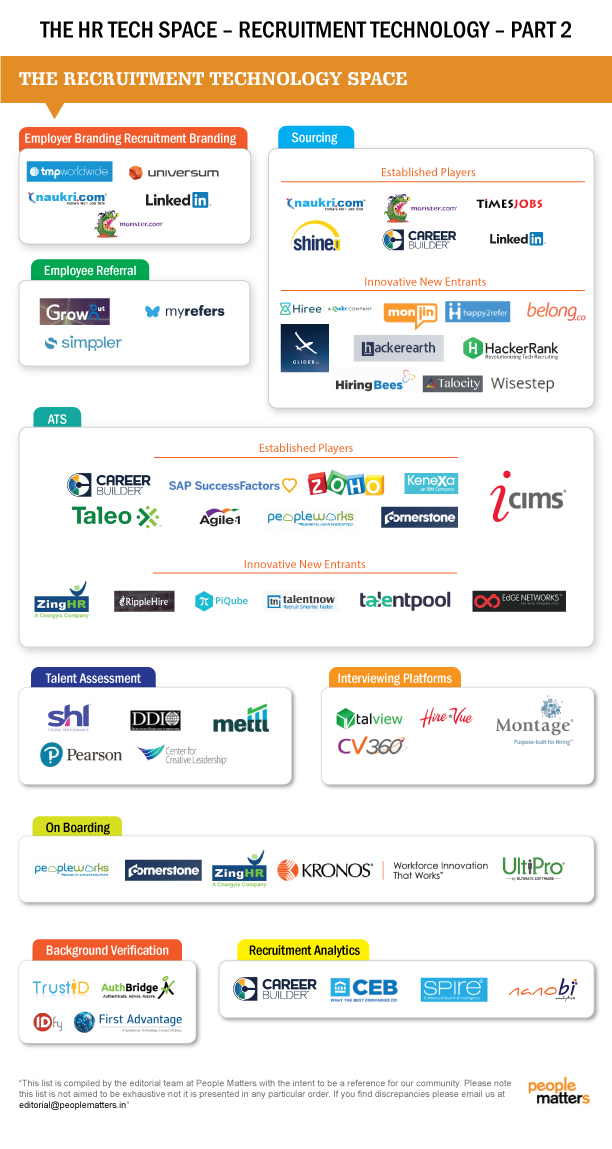 Since there are multiple players under multiple categories we will now briefly talk about few of the players who really stand out in this crowded place. These are typically global organizations with a presence in India. These organizations would have a more broad-based recruitment solution and would cater to most of the needs of mid to large organizations. Here we have focused on the "heart" of recruitment – the applicant tracking system (ATS) as this is where all the recruitment workflows come together and branch out from. In most "point solutions" in recruitment a robust ATS would matter the most since then you can integrate such "point solutions" into your ATS.
CareerBuilder
CareerBuilder is one of the most visited employment website in USA. A fairly recent entrant in the Indian market, they have entered the market not just the job board offering but a comprehensive recruitment automation solution suite. The 3 companies that we are talking about here in brief, this is that sense is the only "pure play" recruitment tech company.
As they mention on their website they have products & solutions for every step of the recruiter journey. Their solutions set include sourcing channels including job boards and job sites and ends with an analytics platform. The modular nature of the solution really makes it effective for organization of any size to pick & choose the solution. You may check more details and user reviews about CareerBuilder here.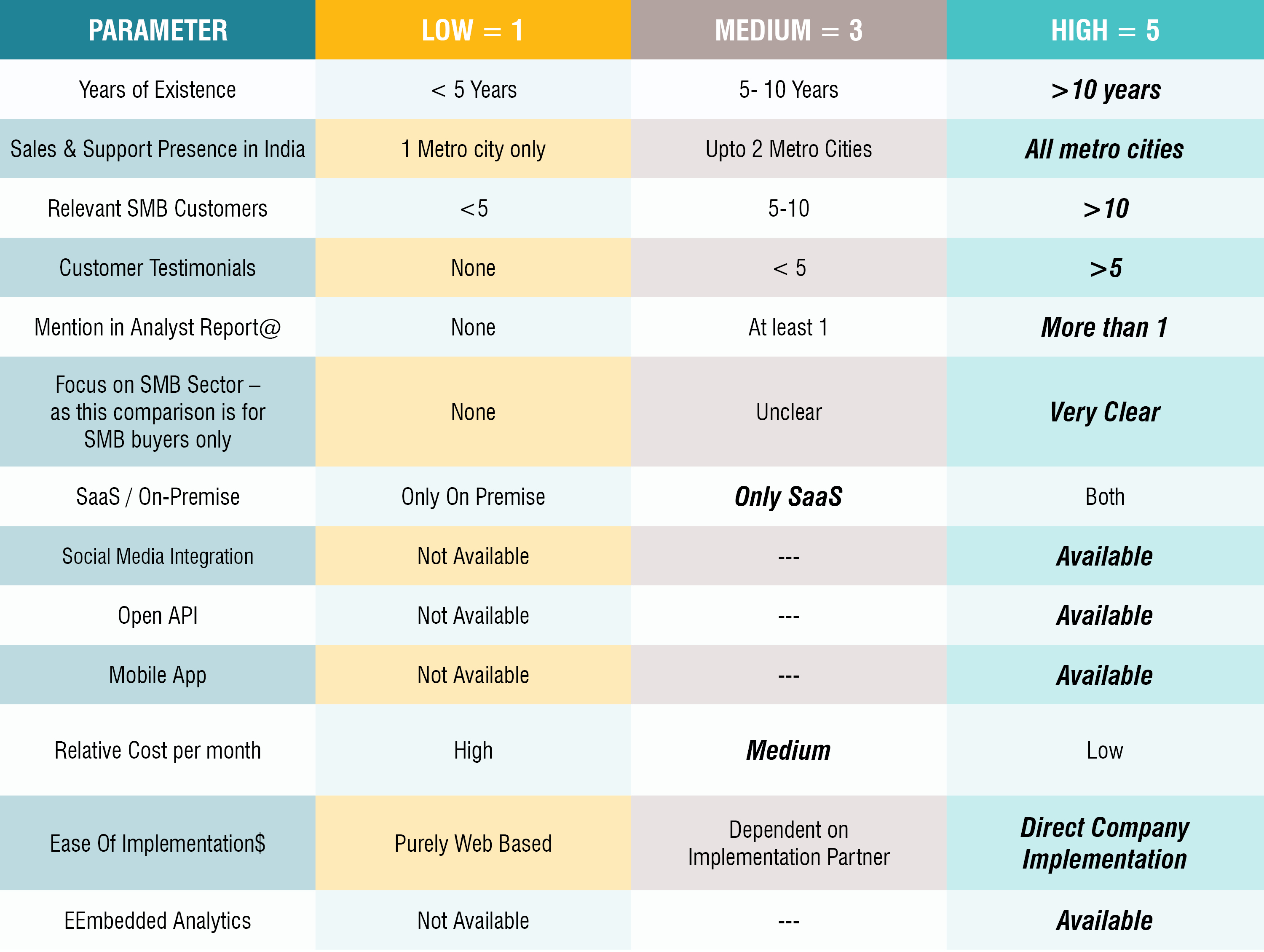 Cornerstone On Demand
Cornerstone on demand offers one of the most comprehensive talent management solutions to global organizations and SMB's alike. With the innovation fund, it is now actively investing in cloud-based start-ups in talent management space. From a recruitment tech stand point they have a fairly comprehensive solution starting with Sourcing to onboarding. What we said for Oracle Taleo is applicable for them in terms of selection of the implementation partner as that's the key to drive the best from any enterprise software.
You may check more details and user reviews about Cornerstone On Demand here.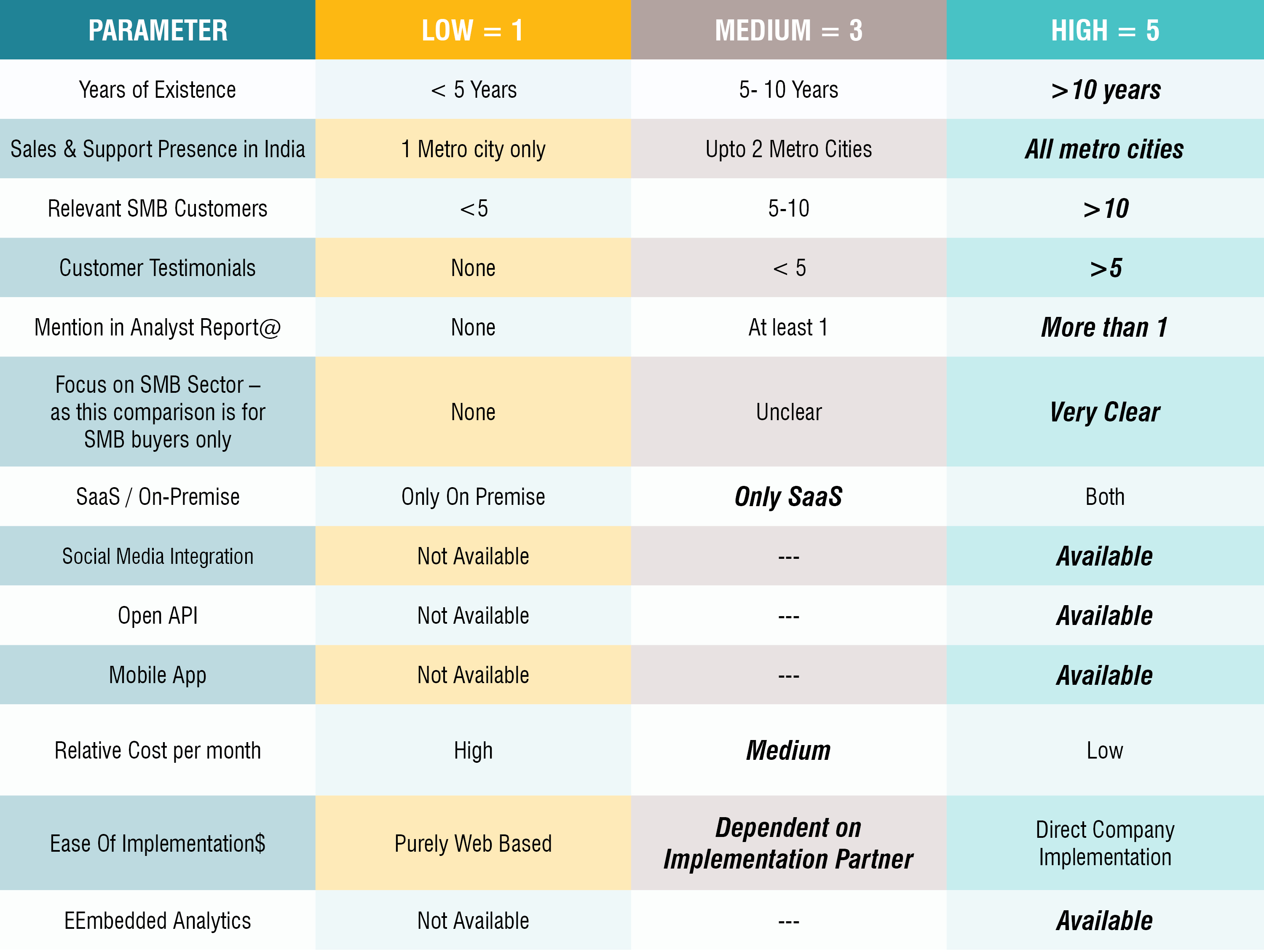 Oracle Taleo
One of the oldest and a large corporation in this space, Oracle Taleo comes with that a strong history and credentials. Since Taleo's acquisition in 2012, Oracle has since increased its HCM capabilities and have brought them in line with current market needs & trends. With focus on SMB & large enterprise alike, this solution definitely becomes worth a look for any player evaluating not only recruitment tech but HR tech in general. Its comprehensive offerings with a global presence really work in its favour. If you are an SMB buyer we would strongly recommend to critically evaluate your implementation partner for Oracle Taleo as any such application is as good as its implementation. You may check more details and user reviews about Oracle Taleo here.
In Conclusion
The recruitment tech marketplace is the most crowded and competitive space within the HR Tech space. Just like you would struggle to find the right talent it's no different and easier to find the right technology to help you in the process. Our recommendation to you is to have a clear recruitment process and objectives in mind when you are hunting for your recruitment tech solution. We hope this part of the series has helped you understand various moving parts within your recruitment process & given you a set of companies to consider for either "end-to-end" or "point" solutions that you are looking to use.
In our next and concluding part of the series on recruitment tech we will look at this space from an SMB perspective and help you identify companies that would make sense for an SMB player from cost and implementation stand-point.
How to buy recruitment technology from SMB perspective - Part 1
Download the PDF
Price: Free
No. of pages: 0
File Size: 0 KB
Register to download. It's FREE and takes few seconds
Register