A Brand Reachout Initiative
Culture
Quiet Quitting: Here's how you can design fulfilling work experiences in 6 steps!
As organisations grapple with quiet quitting, here are some key strategies that can help them retain talent by building a desirable, fulfilling and engaging employee experience for the dispersed and distributed workforce.
Quiet Quitting, a term loaded with multiple definitions and perspectives, continues to trend on the internet. And while employers perhaps view this trend with negative connotations, one cannot deny that every challenge in the workplace also presents an opportunity for growth and transformation. In this case, keeping a pulse on practices that hint at employee disengagement and quiet quitting offers organisations the opportunity to relook at their talent practices and identify employee experience gaps. Moreover, ensuring that your talent retains has become even more pertinent as the market becomes more volatile and businesses grapple with economic turmoil and slowdown. 
In conversation with leading industry experts at Central Test, People Matters dives deeper into exploring what drives quiet quitting. For Nishita Paul, an R&D Occupational Psychology Consultant at Central Test, "quiet quitting is equivalent to rejecting hustle culture and prioritising the self." This is true as talent market trends continue to highlight employees' need for work-life balance in an increasingly digital world that expects them to be available at all times. An absence of work-life balance can result in stress, exhaustion and greater dissatisfaction with life and is detrimental to employee engagement combined with other factors such as low pay, poor organisation culture, bad management and lack of career progression.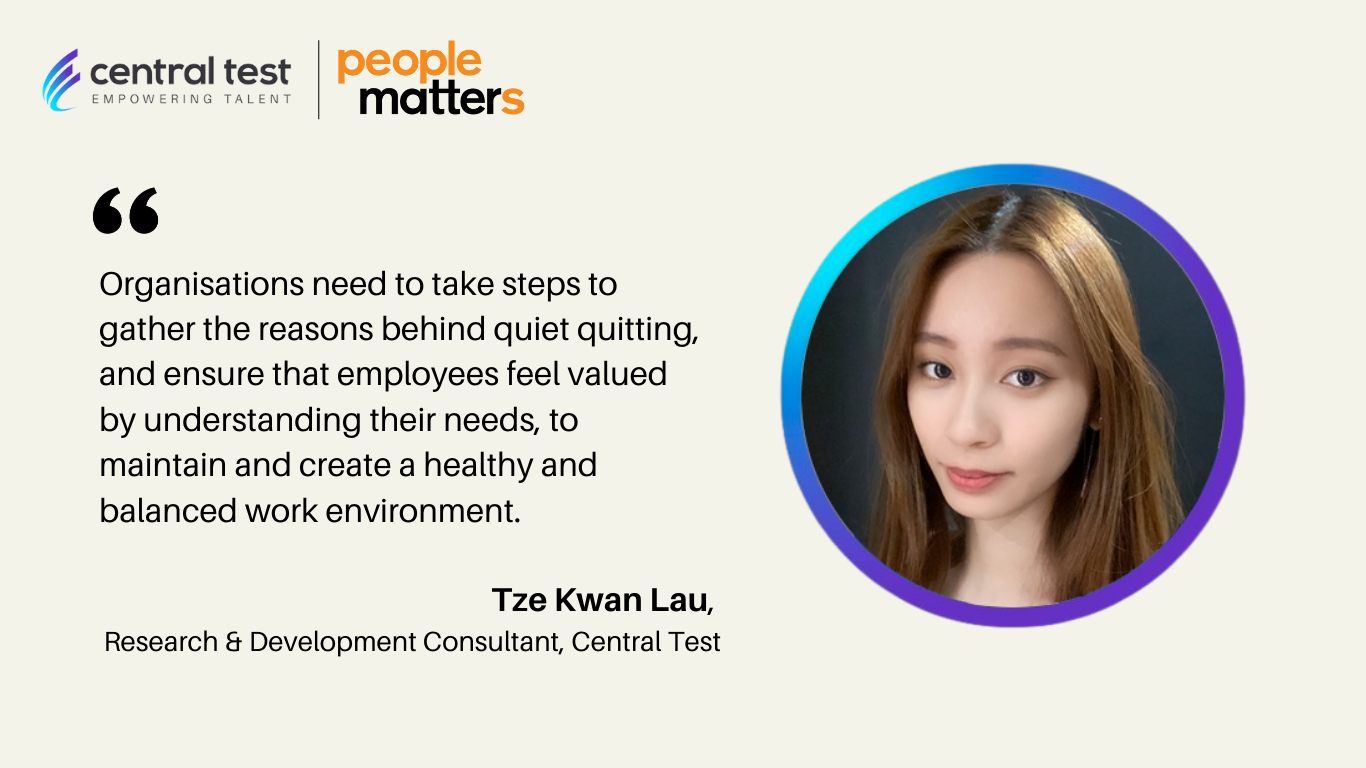 In addition, investing in the right talent management strategies will go a long way in designing an employee experience that is fulfilling and motivates your employees to continue to give their best in the long term. Here are some steps we suggest to truly make a difference: 
Strengthening a listening culture: Keeping a pulse on employee feedback
Cultivating a space for honest conversations with employees tends to positively impact employee loyalty, motivation and engagement. This is because it continuously reinforces the idea that your employees inhabit a psychologically safe work culture that thrives on trust and transparency. To achieve this, investing in intelligent listening tools and survey tools like 360 Feedback can drive employee engagement by allowing them to share their opinions regularly on the people policies and practices in play, along with meaningful discussions on their strengths and areas of development. Building a culture that makes your employees feel seen and heard is one of the fundamental steps to tackle demotivation and disconnect at the workplace. 
Becoming an accountable leader: Aligning employee-organisational goals
Managerial support becomes fundamental to driving home the benefits of a listening culture, especially when aligning employee and organisational goals in supporting career growth journeys. Supportive leadership is fundamental in creating the right work culture and driving employee engagement. Leaders at every level of the organisation need to design people strategies in line with employee feedback and ensure that it is implemented to create that desired impact. Assessments such as MOTIVATION+ can play a critical role by enabling the employer to understand the various drivers of employees and thereby set up action plans or policies that consider the factors rated as the most important motivators by the employees. 
Prioritise employee well-being for the long term
The role of leadership also becomes fundamental, especially in implementing wellness frameworks.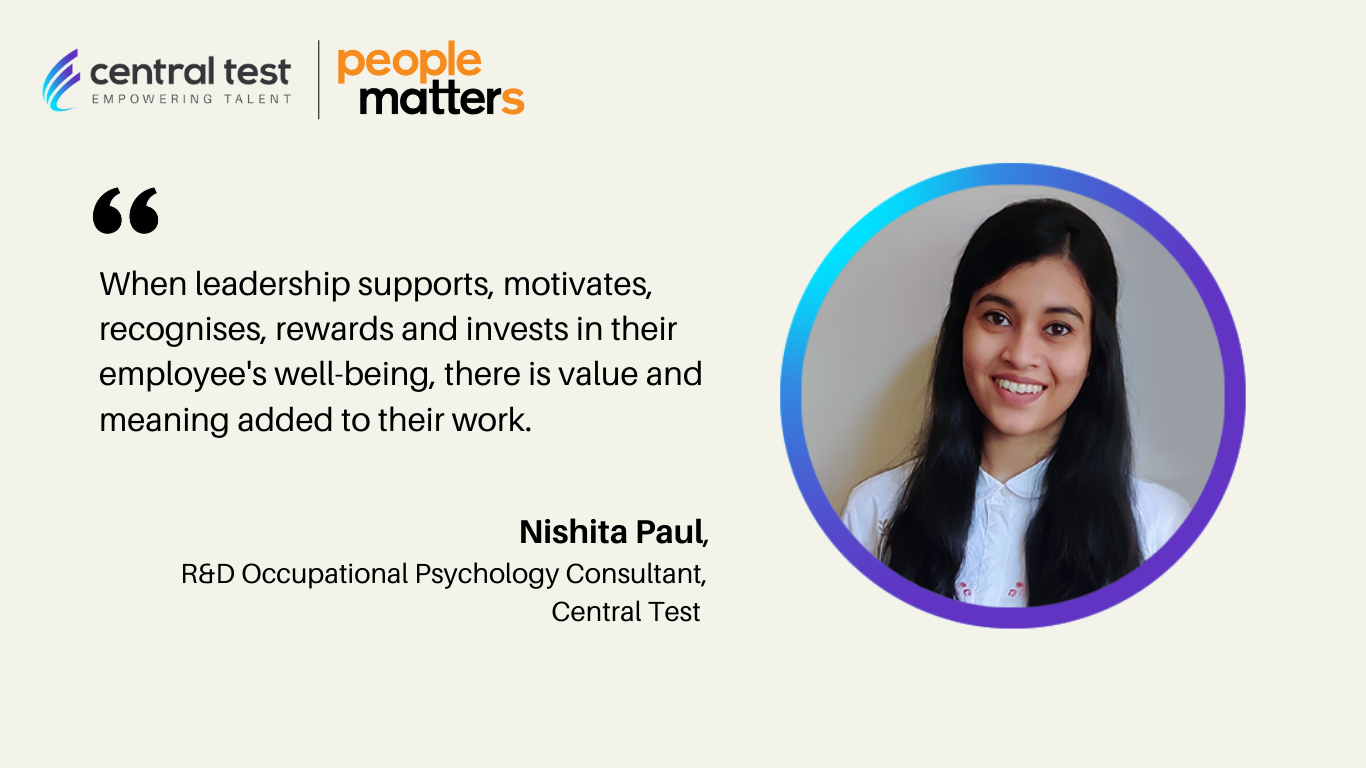 Tze Kwan Lau, R&D Consultant at Central Test, also reiterates how, with the rising prominence of mental health and well-being, employees have also started to prioritise these over work. She adds, "Employees are putting themselves first; they actively think and speak for themselves." And so organisations also need to align to this and recognise the critical value of a healthy work environment. Addressing burnout, going beyond presenteeism, and setting clear expectations for teams and individuals become key in a hybrid workplace. Days also need to be set aside for individual development and growth, along with days when employees are flexible in deciding how they work. 'No meeting days' or 'Recharge' days, for example, help employees to have a day to themselves where they can plan and prioritise their work according to their priorities. 
Championing flexibility: Making room for asynchronous working
Flexibility is one of the greatest demands of employees today as they tend to work from home or embrace hybrid working patterns. Championing asynchronous working styles and empowering employees to strike a work-life balance becomes essential, especially for a distributed workforce that tends to work across multiple time zones. Going back to traditional working styles will no longer be feasible, and the pandemic has also shown us that flexibility, in no way, hampers employee productivity and output. It is time that organisations get on board with these new-age working practices and design an experience that prioritises the value of flexibility.
Celebrate your people: Recognise their efforts, Reward their achievements
As we make way for new working styles, performance management systems and Rewards & Recognition (R&R) frameworks must be redesigned to accommodate these new-age practices. During these turbulent times, leaders have to make consistent efforts to appreciate their people's efforts, as a lack of respect and appreciation contributes tremendously to quiet quitting. Employees tend to feel undervalued due to being underpaid and overworked, and the cycle of disengagement begins. To combat this, R&R strategies must change, and employee growth journeys must be seriously invested in. 
Intelligent investments in Tech to create seamless workflows
All of these people-centric practices that address well-being, career development, rewards and recognition, and flexible working practices need to be equally championed by the leader, as well as workplace tools and technologies. Designing seamless workflows for a distributed workforce will reduce work overload, prevent burnout, and address digital fatigue. Inevitably, organisations must invest in practices that can help them build a healthier workplace that caters to employee needs and puts work-life balance at the centre. This will also counter quiet quitting by helping to reduce stress and exhaustion for your people. 
Designing fulfilling work experiences is crucial to building the right work environment and ensuring a positive employee experience. In times of crisis, talent has always been the key differentiating factor in propelling an organisation forward. So, it is high time organisations and leaders do not simply get shaken up by quiet quitting but rather use this as an opportunity to empower a people-centric workplace.