Culture
Your Brand- Different Generations Different Perceptions
Ensos World Value Index ranks companies on how their purpose is perceived by the public. In the process, the index also highlighted how variably brands are perceived
An organization's success is mostly determined by its financials such as its turnover, profitability, valuation, return on stock – basically where it features on the Fortune or the S&P lists, and rightly so because a business should be measured by how a business does. But what about an institution? Should it be judged only on the basis of its finances? Or are there other factors at play as well?
Organizations have lately started being ranked on environmental, social and governance (ESG) aspects; and also on their credentials as a workplace. A recent research, now in its second year, studies a completely new genre, i.e. the public's perception of an organization's mission. The Enso World Value Index ranks how people perceive organizations on their purpose, namely "the extent to which brands stand for something other than making money, whether they align with what people care about, and if these brands are worth publicly supporting." What is unique about this 2016-born ranking is that it also factors the parameter of 'impact on purchase' while measuring the public perception. And that is precisely why brands may need to take their perception ranking carefully – because it may end up having an impact on the purchasing behaviour of the public.
The parameters
The study looked at four parameters – 'Awareness', 'Alignment', 'Support' and 'Purchase' to make up the eventual metric of the 'World Value Index'. The 3000 respondents were asked questions about their 'awareness of the brand's purpose or mission beyond making money?'; 'whether the brand's purpose or mission aligns with what they care about?' 'whether the brand's purpose or mission something that they would openly support?'; and 'whether the brand's purpose or mission motivate them to buy products or services from the brand?'
In a nutshell, the survey studied these four aspects 'Awareness of purpose', 'Alignment with purpose', 'Active support', and 'Impact on purchase'.
The World Value Index was calculated using this formula: (Awareness of purpose + Alignment of purpose + Impact on purchase) x Active support
The key findings
The study, now in its second year, categorized the findings based on demographics to draw comparisons. One of the startling findings was the difference between how brands are perceived so variable by different generational cohorts. A millennial perceives a P&G very differently from how a Gen X or a Baby Boomer does, despite the fact that millennials form a target market of P&G as the older generations. This is not a rhetorical example – Proctor & Gamble is actually perceived very differently from the two generational cohorts. Baby boomers rank it at #12 (among the 150 studied), and millennials rank it at a lowly #103. It may be worth noting that this is a brand that has spent more than 7 billion dollars per year in advertising for six years running, also targeting millennials for some of its products like fabric softeners.
The reason brands are perceived differently is because, according to the study, millennials and baby boomers have a different world-view. 68 percent millennials believe that creating change in the world is their personal goal and they actively pursue it; while only 42 percent boomers say so (the number for the general population stands at 54 percent).
By ignoring the perception of millennials, who are reported to control $24 trillion worth of wealth by 2020, organizations may be jeopardizing the sustainability and longevity of their businesses.
A few of the biggest deviation in brand perception is seen in organisations like Newman's Own, AAA, Pfizer, and Samsung.
Newman's Own: Millennial rank # 81; Baby Boomer rank #7
AAA: Millennial rank # 92; Baby Boomer rank #26
Pfizer: Millennial rank # 136; Baby Boomer rank #65
Samsung: Millennial rank # 74; Baby Boomer rank #19
There are cultural constructs which are relevant to the perception ranking. For instance, Pfizer being a pharmaceutical company resonates more with the boomer generation; or Newman's Own's perception can be driven by its founder Paul Newman who is better known in the circles of the boomer generation than millennials. However, for brands whose target audiences are across a human lifecycle (especially consumer packaged goods companies), a stark difference in brand perception among generations may be a worrying sign. As pointed out for P&G earlier, Johnson & Johnson (J&J) also is not perceived as well as by millennials as by boomers (#40 for millennials, #11 for boomers).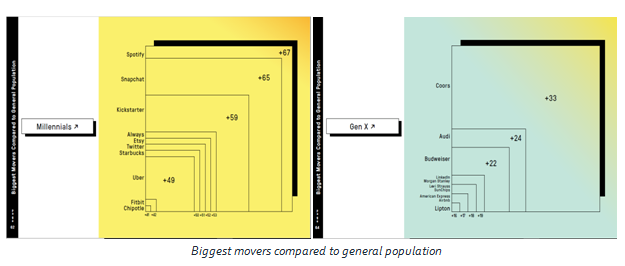 The brands which have outperformed the traditional consumer brands for the millennial generation are the new tech companies. Kickstarter, Spotify, Twitter, Snapchat, PayPal, and Uber – all have been ranked higher up on the list by the younger generation. It may be their clear articulation of the company's vision and purpose, or the fact that the user base of these tech companies comprises predominantly of the millennial generation. Either way, if they can nail down sustainable revenue and profitability streams, these companies are poised for a bright future, with their perceptions being positive for the younger generations. Uber'smission statement, for instance, reads like this, "make transportation as reliable as running water, everywhere, for everyone." Millennials associated with its purpose, and hence it is ranked higher on the list.
What the study recommends for brands to do to stay relevant to their audiences is – 'develop more meaning'. The study ends up inferring that "brands that stand in accordance with young people's values will be more likely to "win the future" than those that do not fully understand them or ignore them out of risk aversion or ambivalence."
To download the report, click here.