Leadership
What makes an 'HR Leader'?
In this article, we relook at the competencies which have been identified as the pre-requisites for HR Leaders during the 'Are You In The List' Awards process
An HR leader has to be an influencer outside the ambit of responsibilities and drive the business forward
Human capital continues to be the top most challenge of CEOs, according to the Global Leadership Forecast of Development Dimensions International (DDI) and The Conference Board. The People Matters' CEO as a Chief Talent Officer Study is another element in a repertoire of body of studies which reinforces the real picture of managing talent as the biggest challenge being faced by organizations today. It is a big challenge; but it also happens to be one of the hardest problems to solve.
93 percent CEOs recognize the need to change their talent strategies, according to the PwC CEO Study; and to achieve excellence in their endeavor to achieve business outcomes, they will need the best of talent within their people resources function to be future leaders and drivers of business.
In an endeavor to identify and recognize the future people leaders, People Matters, in partnership with DDI, has come out with the 'List' of emerging HR leaders for the fourth year running. The 'Are You In The List Awards' process, which began seven-months ago with a total of 2200 applicants mapped and assessed candidates based on the requisite future HR competencies.
So what are the competencies that are requisite in future HR leaders?
The competencies which prove HR leadership acumen were mapped and identified through various assessments, roundtables and interviews. Future HR leaders have (or need to have) the following competencies:
Cognitive Thinking: At the primary level, the ability to cognitively think determines an individual's problem-solving and decision-making approach – a competency very critical in the people function.
Leadership: Leadership capability and manager-readiness are other areas where HR leaders need to excel. If the function has to be a business accelerator, then it needs people who can not only manage the business-as-usual, but also be bold and innovative. To be a 'leader', an HR professional has to manage relationships effectively, guide interactions, coach, influence, delegate and empower, facilitate change, judge, analyze problem and opportunity, plan and organize, and focus on customers. An HR leader has to be an influencer outside the ambit of responsibilities and drive the business forward.
Business acumen: The now and the next HR leadership needs to have business acumen to drive business. HR is at the confluence of people and business; and can add real differentiation to an organization by enabling its intellectual capital.
To be an HR leader, one has to be able to alternate between specialist and generalist roles. And to be a business specialist, HR leaders need to be exposed to various business functions, starting early in the career. According to the People Matters State of the CHRO study, CEOs expect HR to have been exposed to roles outside of HR. On the contrary, the study revealed that 55 percent of the CHROs have not led a function outside the HR role, and a mere 10 percent have led a sales role. HR professionals need to know the business dialect – a dialect which is a confluence of multiple languages of finance, marketing, sales, etc. To be a master, one has to experience it. To be a leader, one has to master it.
Jacob Jacob, Chief People Officer, Apollo Hospitals, who was also a member of the jury, is confident of the future. He says, "Certainly HR professionals now have far more rigor in their role and variety in roles too have increased tremendously. The participants have had far more fruitful experiences than what was there five to seven years back. So in total you have a better encompassed HR professional who is closer to business realities."
Facilitating Change: "30 percent CEOs believe that their organizations will go under a major transformation in the coming four years, and they know they have to take their people with them," Mark Spears, Partner and Global Head, People and Change, KPMG UK, told People Matters. The void is created by the fact that organizations are unable to get a buy-in from people. That is another major competency that will define an HR leader of tomorrow. How will HR facilitate change, and continue to drive businesses forward while keeping the people engaged, will determine an organization's performance.
Trust, gaining commitment and credibility are the other three competencies which have been identified as the essentials for HR leadership.
It is a fluent mix of these competencies that makes an HR leader. And the winners of 'Are You In The List' proved they had all of those. Not only the winners, but the whole awards process reflects that HR is raising the bar. In the words of Tacy Byham, CEO, DDI, "HR is taking on the role of an anticipator and bringing insight and foresight to advise business leaders and strengthen the human aspect of HR."
These competencies were analyzed in the seven-month long awards process, done in partnership between DDI and People Matters. Here is how we picked the emerging HR leaders: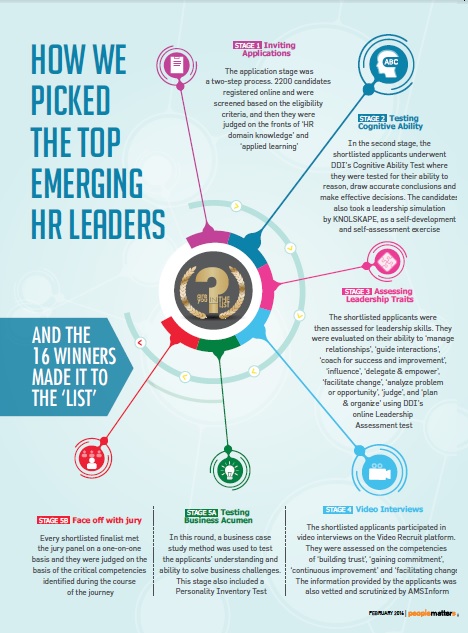 L. Prabhakar, Vice President, Human Resources, ITC, and a member of the jury has the suggestion for the winners and future HR leaders that they should realize that this is just the beginning of a new journey. He says, "They should consciously work towards gaining rich and holistic experience on all dimensions of HR. Besides working to develop and grow themselves and their organizations, they should work to strengthening the HR profession. They should take the initiative of mentoring one young HR professional (preferably from smaller organizations) and one final year HR student (again preferably not from the Top 5 institutes) for atleast two years."
Let's take a look at the winners, and their ideas to change the face of HR.


JAY THAKKAR - Head - Compensation & Benefits and HR Operations, Aditya Birla Housing Finance Limited
NEHA SHARMA - Senior Employee Relations Manager, ICICI Bank
AMIT PAPNEJA - Manager-Field Readiness, Asian Paints Ltd.
AVIJIT SHASTRI - Divisional Manager - Channel HR, Commercial Vehicle TATA Motors
NIRANJANA HARIKUMAR - Lead- Learning and Organizational Development, Piramal Group
AANCHAL BHUGRA KOTHARI - Senior HR Business Partner, Reliance Industries Ltd.
SOUMITRA ACHARYA - Head HR Analytics, Mahindra & Mahindra
KUMAR ABHIMANYU - Participant - Career Acceleration Program, Reliance Industries Ltd
ALI IMRAN SYED -Global Learning & Organization Development Manager, Avery Dennison
RICHA SINGH - Senior HR Officer, HPCL
VARUN TANDON - Associate Consultant, Salto Dee Fe Consulting
BHRIGU JOSHI - Head - Talent Management & Development, MakeMyTrip.com
SHAILY RAMPAL MISRA - Associate General Manager, HCL Technologies Ltd.
ABHINAV IYER - Senior Manager - Leadership & People Sciences, Wipro
BENJAMIN RAJKUMAR - Manager - Leadership Development, Titan Company Ltd
NEHA SAXENA - Senior HR Business Partner, Adobe.