A Brand Reachout Initiative
Recruitment
Bridging the skill gap: How can organisations hire job-ready professionals?
Sourcing high-impact, highly skilled professionals is a challenge businesses must overcome to pave their growth journeys. Here's how Sunstone brings you the talent you seek.
Today's talent landscape has become even more competitive, with businesses looking for highly skilled professionals ready to work from day one. However, the fundamental challenge that remains in sustaining the talent pipeline is finding these very skilled, job-ready candidates. 
Although the Indian economy has witnessed remarkable growth in the first quarter of the year, 56% of recruiters believe there is a shortage of skilled and experienced candidates, while another 49% must overcome the hurdle of inflated salary expectations because of the inflated talent market. Additionally, 83.5% have reported that the average time to fill open positions has increased significantly, leading to longer recruitment cycles. An increase in turn-around time inevitably results in decreased organisational productivity and high hiring costs.
To keep pace in today's dynamic business landscape, organisations must continuously invest in talent and revisit hiring practices. The skill gap is the primary problem, with the demand for digital skills rising. As per the report released by Amazon Web Services, professionals requiring digital skills for their jobs are projected to increase by 27.3 million. So how do we find highly skilled professionals ready to work from day one?
Campuses are leading the way for skill-building
As a result of the rise in fresher hiring, campuses today are up-to-date with the current skill demand as a result of the rapid digitisation of businesses.
Talent pools at a time of skill shortages have to be built to ensure that your students are ready to take on the highly competitive labour market. 
Accordingly, the curriculum has to be designed keeping in mind the technology solutions and job profiles in demand. Some of them are in fields such as Business Analytics, Blockchain, Cloud Computing, AI and Machine Learning, Digital Marketing and Full Stack Development, to name a few. However, the competencies in these digital ventures in terms of theory are only one part of the process, especially at Sunstone. Professionals have to be trained in the practical application of the skills through immersive internships and regular boot camps during the course.
Potential candidates must be well-versed in the softer skills that companies actively seek to truly become future-ready. Sunstone emphasises personal communication skills, self-development programs, and critical thinking and takes a holistic approach to competency building. 
Recruiting candidates with Sunstone's edge
The larger vision of Sunstone is to empower an industry-integrated talent pool so that your freshers are one step ahead of the game in setting up their careers with advanced in-demand industry certifications and rigorous professional training in the form of job-focused boot camps and over six months long immersive internships. Having regular interaction opportunities with pioneering industry leaders in over 50 masterclass sessions is an additional program to make Sunstone's candidates ready to work from day one. 
"The best part about hiring from Sunstone is that we get trained interns. They are ready to hit the floor on the same day of joining. Also the rollover of interns to FTEs helps us continue with the trained graduates without any disruptions of daily work flow." -Godfrey Phillips India.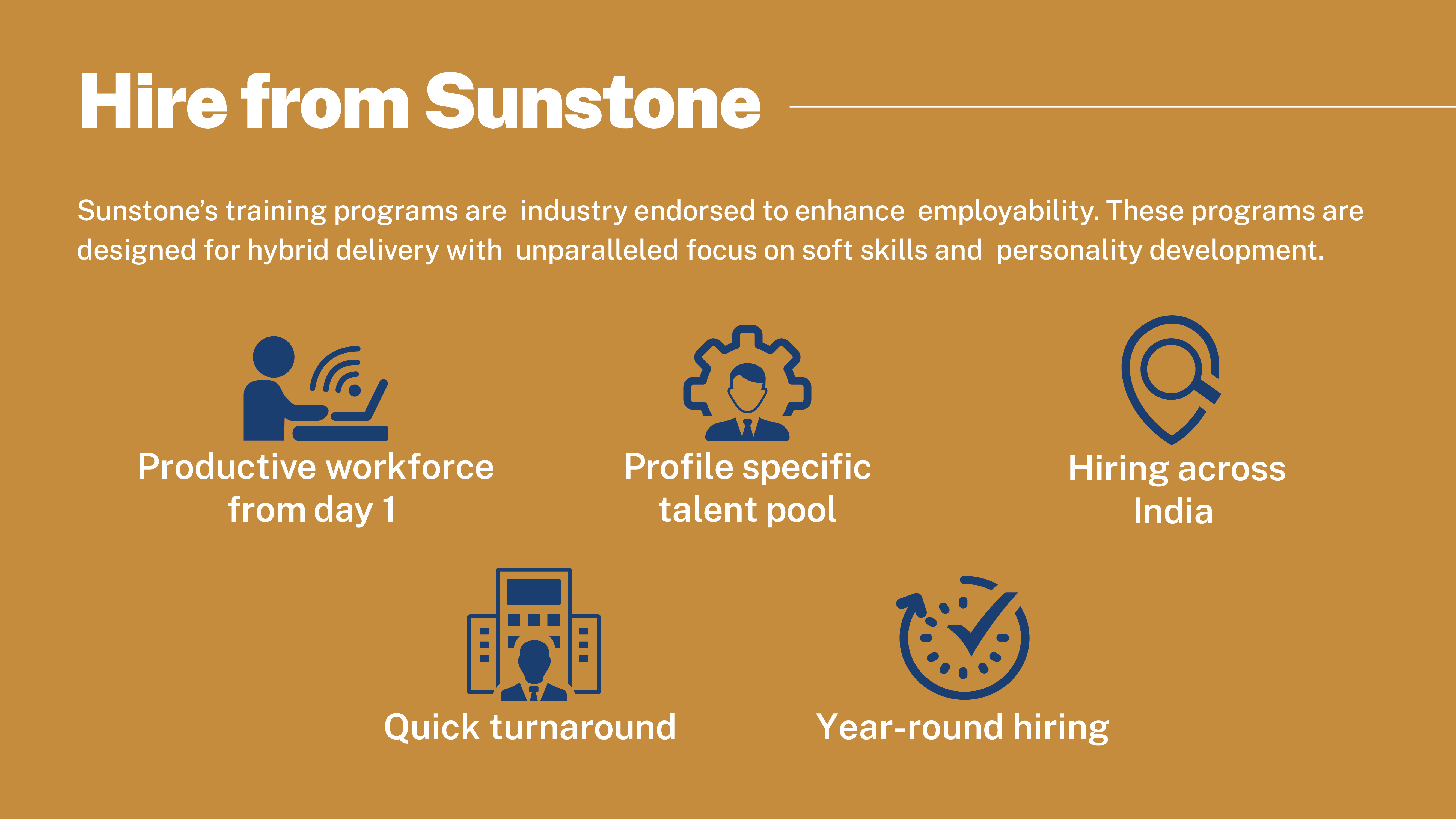 Recruiting the right talent is a game-changer for any organisational growth strategy; it raises their productivity earlier than expected and helps them advance their business targets. But when it comes to a countrywide hunt, training needs to be standardised in line with the industry demands so that recruiters can fill open positions more quickly and with greater efficiency. 
"From the various profiles I have received through Sunstone, I have seen a final selection of 1 out of every 3 students which is a great conversion rate in my view. We have been able to connect with immensely talented students who have had industry exposure before, hence, have a good understanding of it." - HDFC Life
With its Hire-Train-Deploy Model, Sunstone empowers organisations to hire across geographies by leading customised training programs with industry professionals and academics to deploy high-performing candidates for your business needs.
With a presence in over 35 institutions across 25 cities, it has partnered with over 1000 recruiters. Some of the leading companies it has worked with include Amazon, Google, Coca Cola, IBM, PepsiCo, Accenture, Genpact, HDFC Life, Swiggy, Deloitte and Flipkart. They boast a 100% final placements rate with 370 joining offers for 250 students.
For business today, talent is the currency to gain growth opportunities and deliver on your vision for business excellence. In order to do this, building and sustaining a highly qualified pipeline becomes pertinent. As organisations gear up to win the talent hunt in the midst of challenging skill shortages, having the right partner by your side will set you up for success. With Sunstone, your business is promised year-round future-ready, job-ready professionals with the expertise and the resilience to stay ahead of the competition.