Recruitment
Sneak peek into NASA's hiring process
Isn't it exhilarating to see astronauts zoom past our planet and go Zero Gravity while bouncing from Moon to Mars? How does NASA hire such rare talent? Anne Roemer, Director, Johnson Space Center Human Resources Office, NASA takes us through the process at People Matters TechHR India 2020.
NASA's civilian space program, as well as aeronautics and space research, is conclusive of cutting edge envisioning capabilities and focuses on what leads to achieving future missions to the Moon and Mars. Johnson Space Center ensures that for those skills and disciplines they bring new members on board that will act as catalysts to the broad scope of NASA's missions. 
For this they have an intensive selection process that has undergone a shift in recent times as the world of work has also transformed and become more digital. But what has remained essential are the soft skills like teamwork, communication, and other interpersonal skills. As NASA selects the right candidate, the key question is: Would I want to fly with this person?
"Ultimately we are evaluating candidates for core competencies like teamwork, interpersonal skills, problem solving and decision making, and self-management skills, along with technical skills,"  shared Anne Roemer, Director, Johnson Space Center Human Resources Office, NASA.
How does NASA hire such rare talent?
NASA uses an online government hiring portal and even in the pandemic they were able to use it to invite applications. 
It is only after initial reviews and competency based testing that they shortlist candidates for interviews. Reference check is also an integral component. 
The existing astronauts on the selection board take interviews and analyze if the candidates have the right aptitude and attitude to fly with them or not.  
What does it take to stand out?
Roemer says sometimes it's the little things that make all the difference. In the class of 2017 there were some that had the Bronze Star, someone was from the Women's Rugby Team and someone was a professor from MIT.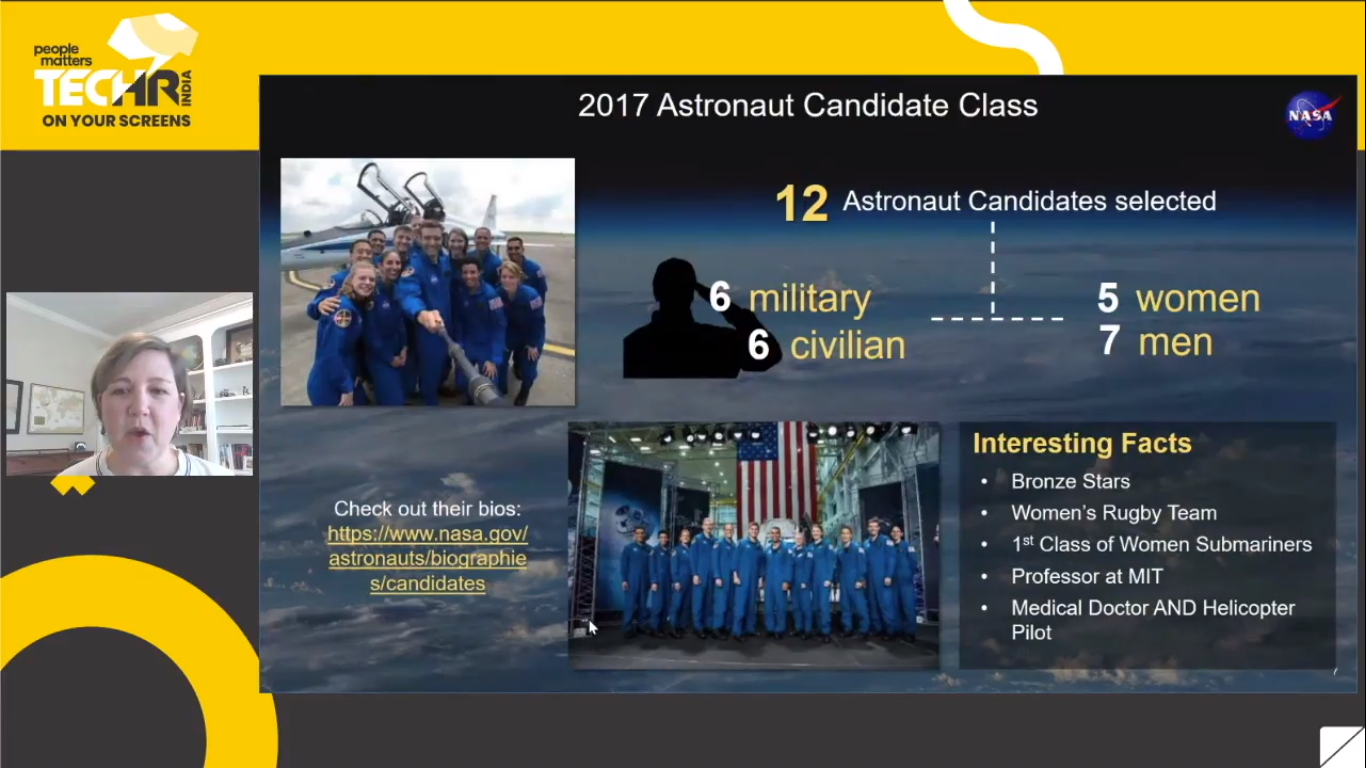 Sometimes it is the interesting hobbies and skills that make them stand out from the rest. 
What can HR & business leaders learn?
In the now of work, organizations which see the most successful growth will be those that hire based on human skills such as resilience, agility, building successful relationships, leading with vision and heart, and excellence in communication.
For many people, their working lives will be gloriously unburdened by innovative technologies, but leaders will have to make smart decisions about how to fill the gap that's left behind. Hence, while hiring or reviewing performance, leaders must focus on these human skills as they build a more future-ready workforce, as these skills are eternal and inevitable.