Watercooler
The curious case of Best Practice Syndrome
We all, in some way or the other, are smitten by best practices. But what if the best is not always the best?
The crucial factor which separates learning from blind following is the intent when you look for best practices, are you searching for quick shortcuts or profound reflections?
All best practices come with a remarkable fine print which we all choose to underplay Subject to Change!
"Good, better, best. Never let it rest. Until your good is better and your better is best." Tim Duncan
But how about being more 'smart' – let the cleverest mind in the room come up with the 'best' solution and then simply follow? At least you won't tread an unpredictable path. Your own discovery might be too long, too lost, less intelligent and worse – may throw you out of the game all together. Wouldn't world be at its optimum if all of us can successfully follow the 'best practices' around us?
We all in some way are smitten by the 'best practices'. May be it has to do with the way we grew up. We learnt by 'following' a role model, which over time changed depending on the context – from a parent, sibling, teacher, peer at work, industry leader, political or sports icon and so on. There is a sense of innate security and comfort when it comes to following a tested method – it takes lesser mind and effort and brings more predictable results arguably in one's favour. No wonder terms like a 'herd of followers' and a 'bunch of leaders' were thoughtful creations!
Why the 'Best' may not always be the best?
1) It is solution-obsessed not problem-centric
Our fascination for the best practice approach can possibly be explained by our pronounced obsession for solutions than for problems. Best practices are essentially seen as a sea of solutions rather than a primer on nailing the real problems. One of the key factors behind path-breaking inventions, technology and work cultures has been an impeccable understanding of the problem statement, which by the way, is mostly unique. This heterogeneity of our problems makes it virtually impossible to have a universally applicable – 'best' solution. Sadly, our problems when left poorly defined can look deceptively similar, making 'best practices' a virtual reality.
2) It's a herd's strategy
A follower's mind-set does have a strategic cost to pay. In a cut throat competitive economy, a follower- even of the 'best' in business is still a follower – not a leader. A 'gold' for you is out of equation even before the race has started. As they say – "You must be seen and not 'herd'". The best practice licenses do come with that inevitable 'herd' tag and that may be too lame as a strategy.
3) It can be counterproductive to innovation
Importing best practices openly encourages inside box thinking. With every 'adopted' practice you virtually move one step further away from imagination as a work culture. The best innovators and leaders from all walks of life have one thing in common – they have ruthlessly challenged the 'best practices' of their times and instead thought of the 'next' instead of the best.. Spare a thought- what if Apple would have followed 'best practices' of their times? or even worse – the Wright Brothers? We, at the best, would probably be punching some colourful buttons on brick sized devices, driving some 5 wheeled car, still dreaming of how it would be to fly and land on the moon one day! Chances of breakthroughs are very remote when traditions are followed.
4) Change can decimate you
A follower's mentality inevitably spells a colossal risk in case of any external change or disruption. If all are in same boat, you have no greater chances of being the survivor against a furious unexpected tide. In a VUCA world, how organizations and professionals prepare for the next change is a vital factor in being sustainable and relevant in future. All best practices come with a remarkable fine print which we all choose to underplay – Subject to change!
5) It is a false positive
The coining of the term 'best' in a way is self-propagating for even the crowned 'leader' and can turn out to be its biggest nemesis. Nokia is a great case study on how quickly complacency can find its way under the role model or best practice tag. It sometimes can be hard to find your feet when terms like 'best' are repeatedly thrown at you – subconsciously it can make you lower your guards and even benchmarks. You relish the follower count behind more than the goal ahead and before you know you are riding at high octane speed but sadly – downhill.
The HR Context- Culture needs 'Couture'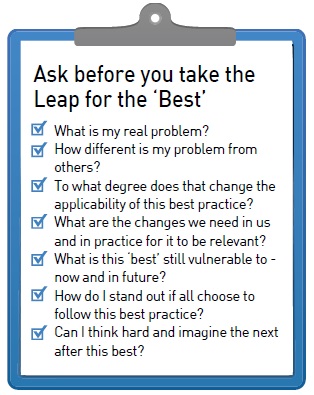 The last decade has witnessed a welcome disruption of HR space and industry propelled by a number of factors – a recessionary cycle, meteoric rise of start-ups, changing workplace preferences, social media upsurge and IT revolution. One of the resultants is a virtual HR Supermarket – with longer shelves and eye catchy displays – featuring a lavish spread of new-age HR products powered by great minds, suiting all budgets, scale and covering all possible avenues under HR's scope. Now, once you take a walk in this store, you are bound to see the 'best seller' sections or the 'dish of the day'. Ironically, it is not surprising to see the dish of the day – be it HR gamification vendor, a social recruitment tool, a seasoned training house or a 'tested' rewards strategy very soon getting under the hammer for relevance and impact after the blitz given these are serious investments. More interestingly, we often look to repeat our last 'best' performance and bring in the same vendor or product we successfully implemented in our last roles. These can often turn out to be mishits in the context of the current organization and its dynamics, often leaving us perplexed!
The key here is poor awareness and definition of the problem statement by HR – a virtually blind 'solution-crazy' approach with limited or no deep-dive to understand the nuances of your organization's culture, history, people, regions and businesses. Attending industry conferences with this attitude can be further counterproductive if the attendee walks in searching for a product than a perspective. Your culture deserves a couture and that need not be the week's bestseller.
Tech is a no multivitamin HR pill
The fascination of HR with technology as a best practice is understandable given the visible bandwidth and avenues it has opened for HR practices – significantly contributing to its scale, transparency and efficiency. However, it is hard to deny its halo effect – force-fitting technology to all HR practices, be it hiring, rewards, on-boarding, assessments etc. with minimum pain taken to back a strong business case for it. Just because that new ERP technology comes as a package does not necessarily imply that all current HR practices need a big bang tech conversion right away. It is not a rarity to see a 'me too' fascination towards some fantastic HR technology products but sadly for all wrong reasons. These questions are rarely asked when adopting a 'tested' solution which brings to the final next big lesson for HR teams thinking of adopting a popular industry best practice.
Get in the Kitchen!
Ready-made, convenience-driven, smart HR technology products have a covert overuse side effect. It can often make HR lazy and less imaginative. For the reasons mentioned above, it is imperative that a popular idea still needs to be contextualized and ploughed hard by the HR with a dedicated implementation team with clear goals (not 'special projects'!). A team of chefs can start with a common ingredient from a supermarket but end up with completely different dishes on table, depending on the twist each one gives it in the kitchen! It's the imagination stamp of our HR teams that can transform a common looking practice/initiative (HR Mobile App/LMS/Social recruiting/Leadership Development Offsite ) into a breakthrough for industry.
For your products or initiatives to stand out, HR must stand in the kitchen!
Conclusion - Balancing the 'Best' Bubble
There is no doubt we can and must learn as we closely study the current leaders in our respective businesses and practices. There is no way we can otherwise personally live through all possible experiences as an individual or an organization. And moreover, there ought to be some real success for a practice to be popular for a sustained period and hence it deserves generous attention. The crucial factor however which separates learning from blind following is the intent. When you look for best practices – are you searching for quick shortcuts or profound reflections? The former is evidently tempting but honestly no less than a gamble as it bets on that striking suit or dress on the mannequin to fit you like a dream. From technology, medicine, sports to even work cultures – the bests of the past have been outwitted by their successors who chose to rather reflect and imagine than to applaud and follow. As they say, "records are meant to be broken". 'Best' in that way is a kind of a bubble. The magic is balancing and navigating through these mystery bubbles. Their see-through feature can help us form newer reflective views. But we ought to respect their temporariness – riding blindly over them can be fatal.
Aping popular practices at best can help you catch up with others. But agile organizations and leaders don't catch up – they like to steam ahead and stand out. Following the trodden road will only take you where the whole world has anyway arrived. And that's too crowded for a champion. Next will beat the best – always. We must think harder and aim for the next. The best will follow.