C-Suite
82 % of technology professionals favor CEO activism
According to CEO activism in 2018, 82 percent of tech professionals have a favorable opinion of CEO activists, and 81 percent think CEOs have a responsibility to speak up about issues that are important to society.
A survey of technology professionals – such as software/application developers and software engineers working in a variety of sectors in seven global markets – finds high levels of positivity toward CEOs who speak out on hotly debated current issues.
According to CEO Activism in 2018: The Tech Effect, commissioned by global communications and marketing services firm Weber Shandwick in partnership with KRC Research, 82 percent of tech professionals have a favorable opinion of CEO activists, and 81 percent think CEOs have a responsibility to speak up about issues that are important to society.
"With technology at the forefront of so many businesses today, tech professionals are a highly sought-after group, no matter the market or sector," said Lydia Lee, co-head of global technology, and chair, emergent China practice, Weber Shandwick. "This study provides a framework of how this select audience functions and reflects the expectations that the current workforce anticipates from their CEO on societal issues."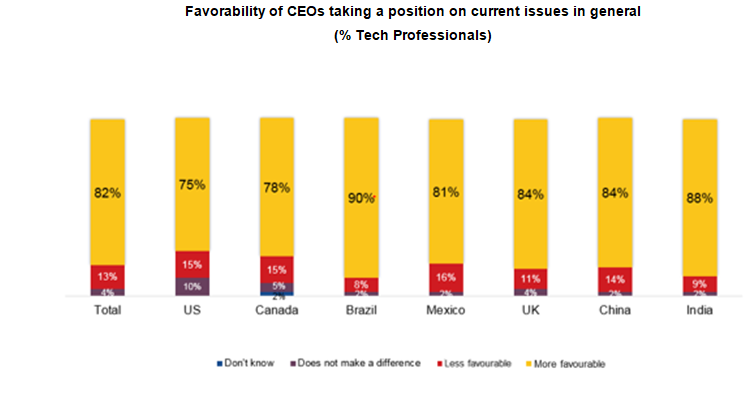 Enthusiasm for CEO activism is high in all the seven markets. Regardless of where tech professionals are geographically located, CEO activism is perceived overwhelmingly positive.
Lee continued, "It's important that companies realize, whether setting up locally or internationally, that this highly specialized group value and expect their CEO to speak up for what they believe in."
CEOs Build Technology Employee Loyalty by Standing Up for Company Values
Nearly nine in 10 tech professionals – 88 percent – agree with the statement, "CEOs need to speak out when their company's values are violated or threatened" and, when asked why CEOs take public positions on issues, 35 percent believe it is "to be open and honest about how an issue aligns with company values." There is an expectation for CEOs to represent the company culture and values in a very public and demonstrative way.
The link between company values and CEO activism among tech professionals cannot be overlooked. The stakes are high when a large 79 percent report that they would be more loyal to their employers if their CEO took public positions on current issues and events. This deep level of loyalty is remarkably high across the markets in our study and in tech and non-tech sectors alike.
Women Technology Professionals Surpass Men on Favouring CEO Activism. On many key measures of CEO activism, female tech professionals hold even more positive views of CEOs speaking out than their male peers. On a statistically significant basis, they are more likely to agree that CEOs need to defend company values, they have a more favorable opinion overall of CEO activism, and they are more likely to feel CEOs have a responsibility to speak out. Notably, 80 percent of women say their loyalty to their employers would increase if CEO activists led their organizations.

The finding that CEO activism matters so greatly to women technologists is important, with implications for attracting women to technology professions and retaining them. According to a UNESCO report, fewer than 30 percent of the world's scientists are women, so any competitive advantage should be a consideration for companies today.
The Issues Technology Professionals Want CEOs to Address
The survey presented respondents with a list of 19 current issues and asked them to identify which ones they feel CEOs and other business leaders should speak out on and express their opinion. More than two-thirds of respondents cite these issues as the most appropriate for CEOs to address publicly:
1. Jobs skills/training (74 percent)
2. Equal pay in the workplace (73 percent)
3. Privacy and personal data protection (72 percent)
4. Artificial intelligence (68 percent)
5. Globalisation (67 percent)
6. Gender equality (66 percent) and health care coverage (66 percent)
The leading issues – job training, equal pay, and data privacy – are all ranked as the top three issues by tech workers in and outside of the technology sector, suggesting that these are professional issues, not specific to any industry-specific challenges. Interestingly, gender equality is more highly ranked by non-tech sector employees, and this is directly driven by women technologists in the non-tech group.