C-Suite
Alka Mittal becomes first woman to lead ONGC as CMD
With her appointment, Mittal has become the second woman in the country to helm an oil company after Nishi Vasudeva, who was India's first woman executive to lead an oil company when she took over at HPCL in 2014
Alka Mittal, Director HR at Oil and Natural Gas Company (ONGC), has been entrusted with the additional charge of chairman and managing director, making her the first woman to head the state-run energy explorer, the company announced on its official Twitter account on Monday.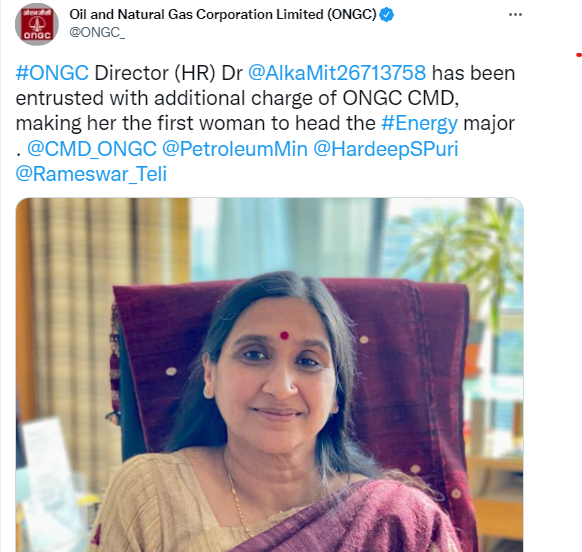 ONGC has been functioning without a full-time chairman and managing director since the former chief Shashi Shanker retired on March 31, 2021.
Mittal was assigned the additional duty, after Subhash Kumar, former director (finance) retired on December 31, 2021, leaving the top position vacant for a couple of days.
ONGC is the largest crude oil and natural gas company in India, accounting for around 71% of Indian domestic production. Crude oil is the raw material used by downstream companies like IOC, BPCL, HPCL and MRPL (Last two are subsidiaries of ONGC) to produce fuel products like petrol, diesel, kerosene, naphtha, and cooking gas.
Mittal became the first woman to hold the charge of a full-time Director in ONGC's history when she joined as Director (HR) at ONGC in November 2018. She is also on the board of ONGC Mangalore Petrochemicals Limited (OMPL) as ONGC nominee Director since August 2015.
A post graduate in Economics, an MBA (HRM) and a Doctorate in Commerce and Business Studies, Mittal joined ONGC as a Graduate Trainee in 1985.
With her appointment, Mittal has become the second woman in India to helm an oil company after Nishi Vasudeva, who was India's first woman executive to lead an oil company when she took over at HPCL in 2014.
She joins the league of other women leaders like Arundhati Bhattacharya, who became the first woman to lead State Bank of India, the country's largest bank, when she was appointed as its chairperson in 2013.