Strategic HR
After firing 90% staff for AI bot, Dukaan CEO says 'log profitability dekhte hai sympathy nahi'
After implementing an AI chatbot to handle customer support inquiries, Suumit Shah, the CEO of Dukaan, revealed that a staggering 90% of the company's support staff has been laid off.
Dukaan, a DIY platform, has joined the growing list of companies reducing their human workforce as a result of AI implementation.
Following the deployment of an AI chatbot to handle customer support inquiries, Dukaan's founder and CEO, Suumit Shah, announced that 90% of the company's support staff has been laid off. 
Shah took to Twitter on Monday to elaborate, highlighting that the introduction of Dukaan's AI assistant resulted in a significant decrease in resolution time, from an average of 2 hours and 13 minutes to an impressive 3 minutes and 12 seconds.
In a candid statement, Shah acknowledged the difficult but essential decision to lay off 90% of the support team due to the implementation of the AI chatbot. "We had to layoff 90% of our support team because of this AI chatbot," Shah wrote, adding that it's a "tough" but "necessary decision."
When asked about the support offered to the laid-off staff, Shah dismissed the query and stated that additional information regarding the layoffs would be disclosed in an upcoming LinkedIn post.
"As expected, 'someone' will get offended on behalf of 'someone else', so I had this reply ready: Assistance ke bare mein jab Linkedin pe post karunga tab dekh lena mere dost, yahaan Twitter pe log 'profitability' dekhte hai 'sympathy' nahi," he wrote.
Furthermore, he emphasised the challenging nature of the decision, stating, "It was a tough decision" and accompanying the statement with a heartbreak emoji.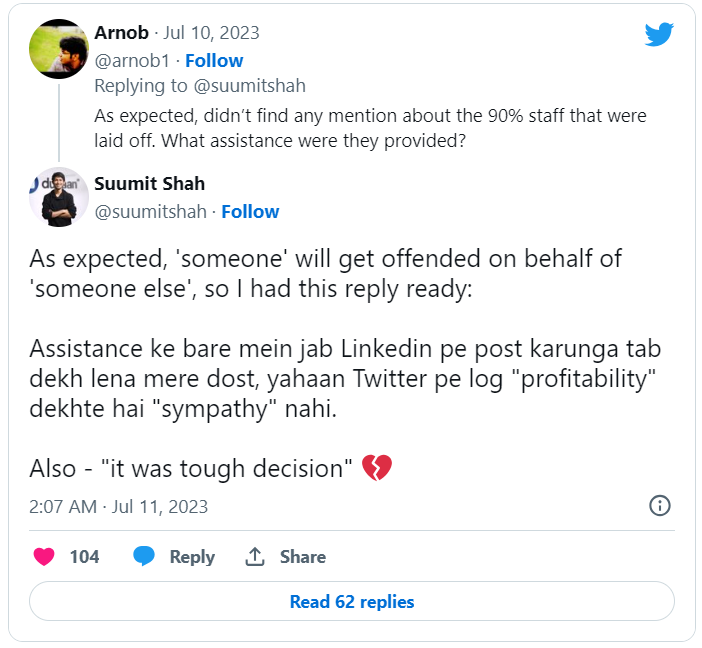 Rather than addressing inquiries regarding the layoffs, Shah opted to provide a detailed explanation of the development process behind the AI chatbot and its beneficial impact on Dukaan's customers.
According to Shah, the company had been grappling with customer support challenges for an extended period, and he viewed the AI revolution as a chance to address this issue. He shared that the concept was to develop Dukaan's own AI assistant capable of providing immediate and accurate responses to customer queries, regardless of location.
Shah highlighted that Dukaan's Lead Data Scientist, Ojasvi Yadav, developed a chatbot capable of promptly and accurately responding to nearly all general inquiries about Dukaan. However, the chatbot encountered challenges when faced with account-specific questions, such as inquiries regarding delayed payouts.
"A day later, he came up with another demo and this time bot answered both generic as well as account-specific questions, instantly," wrote the CEO of Dukaan.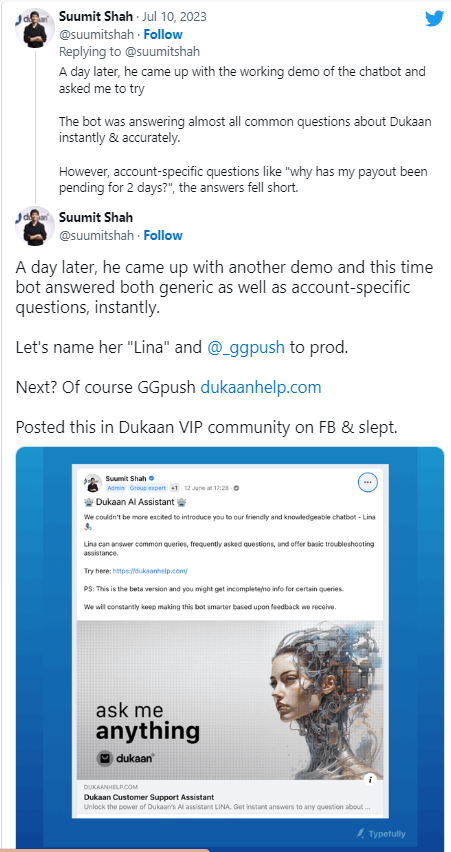 Shah expressed that the chatbot, named Lina, has already successfully resolved more than 1400 support tickets. However, he emphasized that this achievement is just the initial phase of Dukaan's AI revolution.
Since then, the company has come up with a platform that gives each users their own AI assistant. "Imagine having your own AI assistant, who knows your business inside out & can answer customer queries instantly, 24/7. And not just generic queries but queries that are user/account specific," the CEO wrote in describing this platform.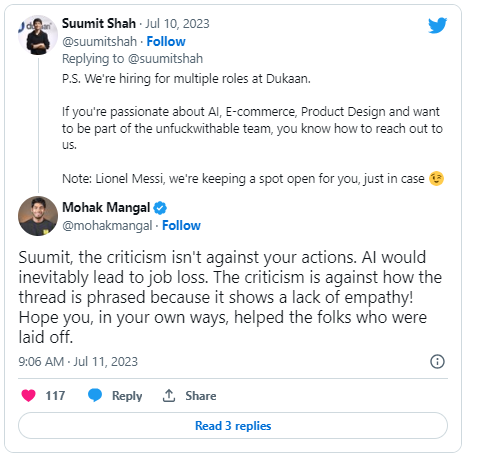 Wrapping up his thread, Shah announced that Dukaan is actively recruiting for various positions in the fields of AI, product design, and e-commerce. However, the CEO has faced considerable backlash for his thread, with many labelling it as "insensitive," particularly in response to a Twitter user's question regarding the assistance provided to the laid-off employees.
"I pity the people who work with you. Also happy for people who got fired because they no longer have to work with you," wrote one person. "Shameless. Insensitive. Toxic. Non-chalant reply," another said.