Talent Acquisition
'Work from home' popular among job seekers: Study
A recent study shows a significant increase in job searches related to digital marketing, government and technology in 2017.
"Work from home" witnessed a growth of 111 percent as a job search as per a report shared by Indeed. Other new trends and growth of searches in industries like Ayurveda were also observed. This report "Year in Job Search report 2017" shows the preferences of job seekers when it comes to job searches and the growth trends of job searches in various industries for the year 2017.
In 2017, India witnessed a lot on job market front, from technological disruptions to make in India campaigns. These activities created an impact on job searches as well. And the same is reflected in the findings of the report. Let's have a look at some of these:
'Work from Home': Top Search
The study shows an increase in search for 'Work from Home' job opportunities with a growth rate of 111 percent signifying a change in work preferences among job seekers. They now seem to be exploring flexible career opportunities that allow time for growth in personal capabilities.
Growth in job searches for Ayurveda
Early in December, Union minister Suresh Prabhu shared with media that The AYUSH industry is expected to grow in double digits and provide direct employment to 1 million people and indirect jobs to 25 million people by 2020. While the government eyes a three fold increase in this sector by 2022, it also seems to be popular among the job seekers.
Job search for Ayurveda saw a growth rate of 56 percent in 2017.
However, the pharma sector saw a huge dip in searches, a 40 percent decrease since last year in people seeking jobs in the segment.
Machine learning, Data scientist, and Data analytics jobs: Popular Searches
Digital disruptions coupled with the Indian government's aggressive focus on digital seem to have an impact on the job searches as well.
As per the report, there is a visible surge in job searches for digital marketing almost 80 percent. And keyword Machine learning, Data scientist, and Data analytics were most searched for.
Job searches: Tech vs Government
Amidst the technological transformations and plethora of job opportunities coming up, in India, public sector jobs still remain to be a favorite among the job seekers. While Tech job searches witnessed an increase with 98 percent growth rate, government job searches also saw a growth of 60 percent.
Commenting on the 2017 job trends, Sashi Kumar, Managing Director, Indeed India said "Job seeking patterns carry a wealth of insights that cast light on broader social trends. While flexibility remains a priority for most job aspirants globally and in India, the inclination of the Indian workforce towards Ayurveda and public sector jobs signify the impact of socio-economic developments on the job market and people's preferences."
The table below showcases what the Indian job market witnessed in 2017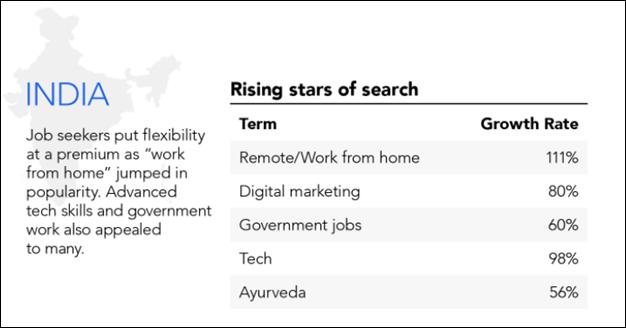 Source: Indeed
<As shared by Indeed their data science team analyzed hundreds of thousands of search terms in ten countries to identify which of them dramatically increased their share of search traffic in the year.>