Culture
The next-generation CHROs: Three-pronged focus for the future
HR must refresh and reboot to actualize culture, future-proof the business through capability, deliver on experience and aspirations, enable high performance, and influence change
Although competition is a consistent theme in business literature, the pace of change has quickened in the last several decades. Recent literature, business press, and the popular press refer to this phenomenon as hyper-competition, signifying a new paradigm of business. Traditional goals of cost and quality, timing and know-how, and deep pockets have been diluted as competitive and strategic advantages are ephemeral. The 'art of disruption' has been discussed many times over across the globe with Uberization and Netflixing as new buzz words. Given that disruption is the norm, the organizational system (ready talent cohorts in a company) need to play an active role in sustained, redesigned, and sometimes ground zero up value creation models.
As speed, agility, and innovation become a norm in a digital world, HR must refresh and reboot and arrive at 5 key outcomes: actualize culture, future-proof the business through capability, deliver on experience and aspirations, enable high performance, and influence change. Apart from focusing on HR Service Delivery Model and HR Technology, sharpening capability across the board will enable superior success in program execution in this new paradigm. As a result, almost 8 out of 10 organizations are planning to upskill competencies of HR incumbents, integrate talent management processes and implement technology to better support talent management.
The Next-Generation CHROs
Organizations have responded to these dynamics by upskilling top HR leaders; there is now recognition of the fact that the CHRO is a critical stakeholder in defining the strategy of a firm. However, there is a widening gap between the expectations of what a CHRO brings to the table and the skills and capabilities of candidates in the pipeline, especially those from within HR.
Aon Hewitt's advisory group of clients, therefore, asked the question: Is HR developing its own leaders to tackle the challenges and evolving expectations of a dynamic environment? The "Learning to Fly" study (2016) is a response to that question. The study mapped key development areas for CHROs. These included but were not limited to: data and analytics-backed decision-making, leading organizational culture change, mapping organization's capability with future strategy, emerging as an internal and external talent scout, assessing the impact of technology on HR and charting organization-specific HR strategies.
Following from this four fundamental success factors were identified:
Acquiring diverse HR experience across multiple roles in HR


Cultivating a global mindset


Amassing rich business experience to build business acumen


Gaining cross-industry exposure to expand horizons and the like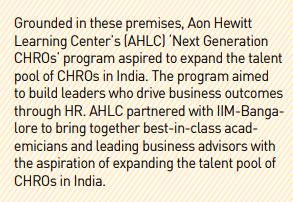 Grounded in these premises, Aon Hewitt Learning Centerís (AHLC) ëNext Generation CHROsí program aspired to expand the talent pool of CHROs in India. The program aimed to build leaders who drive business outcomes through HR. AHLC partnered with IIM-Bangalore to bring together best-in-class academicians and leading business advisors with the aspiration of expanding the talent pool of CHROs in India.
Drive talent outcomes valued by the business
This premise of adopting a more holistic approach can be applied across HR role holders. This boils down to viewing HR competencies as a two-by-two matrix of skills that facilitate role specific outcomes as well as business outcomes. The objective of talent supply links to workforce planning, sourcing, and recruitment, evaluation, and selection, onboarding and orientation, global mobility. Moving forward in 2018, HR should focus on designing a targeted and engaging candidate experience that connects to the employer brand as well.
High-performance workforce is driven by accountability for the right results, earning trust one person at a time and providing opportunities for impact and growth. Employees are increasingly acting like consumers in the workplace and will challenge HR practitioners to act like marketers and provide segmented rewards.
As nature of employment changes, building a strong connect with workforce will be critical to drive performance and productivity. Culture and leadership are more important than ever and are key enablers to enable successful digital transformation. Sharp focus on engagement and happiness while navigating change will reach rich dividends to organizations who intend to actualize culture.
By 2020, more than one-third of workers will need skills they don't now have. Therefore, a focused approach on building leadership and key talent capabilities is crucial for companies to thrive in this VUCA environment. Leadership & Key Talent Capabilities has to be driven seamless through organizational levels
Three-pronged focus for future-readiness
Research by Aon reported that CEOs and other business leaders were most frustrated by HR's lack of business acumen. An analysis of 'worst experiences' showed that poor business acumen was the root cause 56 percent of the time. HR professionals cannot look at people outcomes in isolation – they must drive execution of people strategies that are grounded in business fundamentals to be able to make a tangible impact on business outcomes.
Secondly, deep technical expertise is fundamental for role specialists to deliver optimal people outcomes within their sphere of influence. In addition, while core expertise is key, applying this knowledge to navigate different contexts and acknowledging that there isn't a cookie cutter way of approaching business problems – as the business evolves, technical expertise needs to align accordingly. An effective partnership which places emphasis on emerging as a trusted advisor to business leaders is even more critical today with increasing disruption. The idea is that HR professionals should aspire to become dependable resources that executives turn to in any shape or form when they hit a roadblock with the aim of solving challenges through people enablement.
Make the change, now
HR leaders are well-advised to review the readiness of their functions to deliver on the talent outcomes which will make the business succeed. It is critical to uncover skill-gaps. The foundation skills are best addressed by focusing on role-specific development for HR Business Partners, Rewards, Talent Acquisition, Learning and Development and the like. However, to prepare for disruptions, horizontal priorities like change management, analytics, and digital readiness will need capability development across the board. As businesses go through rapid change, game-changing is becoming a common refrain as either there are changes to current business or the entire business is being disrupted. HR needs to quickly change the technique, skills and the mindset – an armor of agile, ever-learning, and curious HR teams will define the destiny of the function and the organization — between playing catch-up or leading the game.
With inputs by Pritish Gandhi, Practice Leader, Aon Hewitt Learning Center, and Aviva Bhansali, Associate Consultant, Aon Hewitt Learning Center