Life @ Work
The world of work: Socially distant but more connected than ever before
Whether through donations or supporting the research groups with necessary technologies, many businesses have stepped up and contributed to society to help manage the COVID-19 crisis.
"Sometimes you need a major crisis to bring people together."
- Kishore Mahbubani
2020 hasn't gone as per plan for any of us. Business leaders across the globe were caught off guard by the outbreak of COVID-19. The pandemic is causing large-scale loss of life and severe human suffering. And also impacting the economy negatively. Those who have managed to stay safe and healthy from the disease also face the consequences of the global health crisis, it affects each and every individual, in one way or the other. 
The pandemic is testing our collective capacity to respond to crisis. And it is interesting to note that employers and employees all over the world are indeed coming together, in terms of their efforts and actions and supporting each other to sail through such tough times. In a recent podcast with Skillsoft, Neelam Dhawan, Head of India Advisory Board at IBM shared how the top priority for businesses has been to help the community at large and the society in dealing with the pandemic. Whether it is through donations or supporting the research groups with necessary technologies, many businesses have stepped up and contributed to society to help fight the health crisis.
"Times like this show the strength of unity and prove the importance of civilization. It becomes our utmost duty to help each other thus helping our own society," said Vimal Singh, Founder & CEO, ReadyAssist. 
The power of unity: Being there for each other
"As COVID-19 delivers a double whammy - a health crisis and the subsequent devastating economic crisis, there is increasing evidence that the largest group of people disproportionately affected by the crisis work in the informal sector," said Satish Vishwanathan, Social Change Lead, ThoughtWorks India.
To help the more vulnerable groups of the society, employees and employers hence started with the basics. Through donations, financial funds, and dedicated relief packages many organizations like Walmart, Birlasoft, and ThoughtWorks have stepped up and contributed to society to help manage the COVID-19 crisis.
Others like HGS and Maveric Systems are also supporting NGOs in providing meals and ration to the underprivileged, and HGS is also skilling and educating them through online initiatives. Mastercard has partnered with The Bill and Melinda Gates Foundation and Wellcome Trust to accelerate the development and access to treatment for COVID-19. Together, Mastercard has committed up to $125 million in funding to speed-up the identification, assessment, development, and scaling of treatments. US-headquartered, one of the leading technology solutions company, Trimble, through AID India is supplying food provisions, and has so far supported 1366 families. Apart from instant support measures, they are also gearing up for the aftermath of this pandemic through Goonj's disaster relief initiative RAHAT, and intend to address the needs of these families. "While it remains our priority to safeguard our employees, we are also duty bound to contribute to the society at large," said Sangeetha Balachandar, HR Director, Trimble, SAARC & Middle East. 
"The outbreak of COVID-19 has thrown an unusual challenge on governments and organizations world over. This uncertainty requires us to work together to navigate through this crisis and help as many as possible to support the incredible work being done at local and global levels. As businesses embrace the new realities and prepare for the time beyond COVID-19," said Sukanyya Misra, Senior Vice President, India Technology Hub, Mastercard. 
Going the extra mile: Using the skills and expertise to help others
"Crises can strike a nation anytime, and it's the moral responsibility of any organization and its employees within the nation to support the society in the best possible manner. Through a Public Private Partnership (PPP) model organizations can render their skill-sets and sector expertise for interventions required to meet out the challenges, and act as agents of societal change," said Girish Naik, Vice President, HR, Birlasoft. 
Henceforth, Birlasoft is supporting marginalized communities with basic needs and has developed Virtual Volunteering for employees to extend helping hands to serve the community.
Shilpa Sinha Harsh, SVP – Global Corporate Communication, CSR and D&I, HGS shared that the company has helped set-up two COVID-19 helpline numbers in partnership with the Department of Health and Family Welfare, Government of Karnataka along with other industry partners. While the first one is to handle any COVID-related queries from the public and is run by its volunteer employees, the recently launched Apthamitra is manned by nurses, nursing students and doctors as a telemedicine helpline.
Grundfos' production facility in Bjerringbro, Denmark is manufacturing up to 5,000 face shields a day to support frontline health workers. These visors are also delivered to other countries in areas where Grundfos has production facilities. The Poul Due Jensen Foundation (the Grundfos Foundation) has also pledged £25 Mn to support research into COVID-19.
"Our endeavor is to help our immediate community first and then move beyond that to render our support to the larger society in the best possible way," shared Mahathi Parashuram, Regional Head of Public Affairs, Communications & Engagement, Grundfos Asia Pacific Region.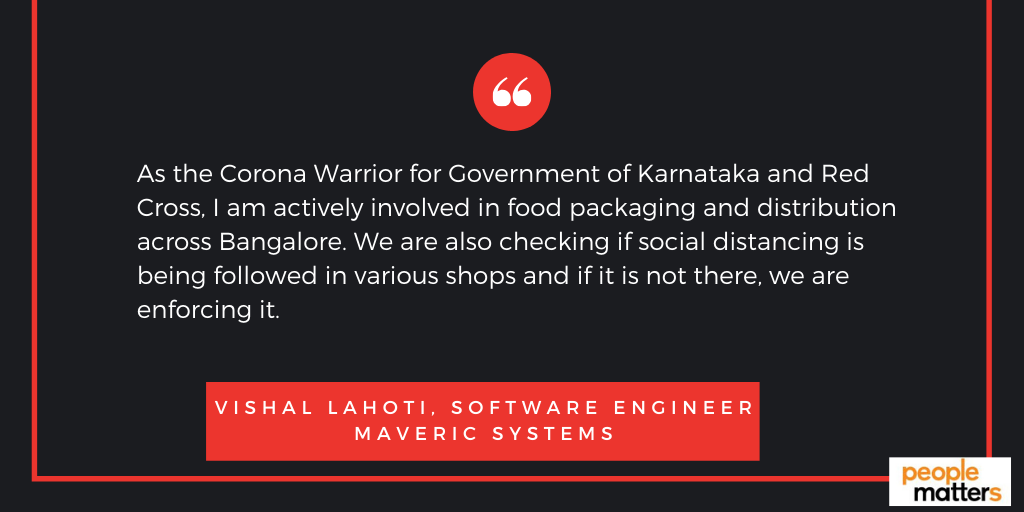 Dr Rishi Bhatnagar, President, Aeris Communications shared with People Matters some other interesting stories of how some of their employees are going the extra mile to help others during crisis. For instance, he shared, "When the news of labourers leaving Delhi started hitting the media, one of our female employees helped raise funds for two months' ration of 300 labourers working at the DDA Vasant Kunj site from flat allottees." Another male employee of Aeris Communications helped an old age home Mohini Pramila Jarashram in his hometown Bhubaneswar. He ran WhatsApp and Twitter campaigns to raise INR 40,000 within 24 hours and helped the old age home to afford essential needs for two weeks. 
"Our employees are spearheading various humanitarian initiatives and contributing towards the society in individual capacities," said Bhatnagar. 
Rajiv Rajgopal, Managing Director, AkzoNobel India shared, "In several villages near Bangalore, an existing e-health program which we helped to set up is now being used to provide initial screening for the coronavirus. Over 1,000 people had received symptomatic screening by early April." AkzoNobel has also provided essential food items to 6,000 people who are mostly daily wage earners in Gurgaon, Gwalior and Navi Mumbai, including underprivileged children studying at AkzoNobel supported education centers. Additionaly, they are also supporting over 12,000 painters by providing an out of turn pay-out through the annual loyalty program. 
SAP with UNDP India is are supplying high-quality low-cost indigenous ventilators in collaboration with All India Institute of Medical Sciences (AIIMS) and Ministry of Health & Family Welfare, Government of India. SAP is also working closely with NASSCOM, the IT industry trade body to see how effectively it can utilize the strong technology expertise that SAP has to develop solutions that will help manage the situation and make it easier to provide relief to the distressed. It is also closely working with Indian Institute of Science and Tata Institute of Fundamental Research to help scale the Predictive simulation model to infer the impact of non-pharmaceutical interventions on COVID-19. 
"Leaders around the world are working tirelessly to make the world a better place in these times of adversity. By encouraging people around us, we are not just asking them to contribute, but we are also changing the lives of people for good," shared Sindhu Gangadharan - Senior Vice President and Managing Director, SAP Labs India. 
Helping the community is no longer a good thing to do, but the right thing to do
"We are part of a social ecosystem, and unless we take care of others, this ecosystem will collapse," said Vishwanathan.
It is not only about having a CSR agenda in place as a tick in the box activity, being socially responsible requires companies to step up in such situations of crises. What matters is their presence and involvement at the need of the hour. Organizations who have gone beyond their business scope and helped the society at large have set a strong example for their employees. 
"In times of crisis, how organizations and their leaders carry themselves - their response, their treatment of their employees, and their engagement with the larger society carries a lot more significance than a dozen carefully worded corporate mission statements." exclaimed Vishwanathan. 
We live in a world of work where the employees are more purposeful and care about their society, hence, creating such opportunities for them, gives them a feeling of pride. Employees feel like they have made a difference and contributed to society and their mental well-being and productivity is also positively impacted. 
As rightly put by Shilpa, "The value of social capital that an organization builds cannot be measured but its benefits can surely be experienced, by both internal and external stakeholders of the organization and the communities at large."