Skilling
It's less expensive to reskill employees than hire new ones: Study
L&D professionals in India say their roles have become more cross-functional and they are working more closely with leaders.
83% of Learning & Development (L&D) professionals agree it's less expensive to reskill a current employee than hire a new one, according to LinkedIn's new Workplace Learning Report. 
Amidst an uncertain economic climate where cost controls have taken centre place, this is particularly relevant as more companies are leveraging skills to stay nimble and ensure their workforce is ready to optimise opportunity.
Opportunities to enhance skills have also become table stakes for professionals in response to constant change from tech disruption and a volatile job market.
This is reflected in the evolving role of L&D departments within companies; more are being tapped on by C-Suite to help boost growth by building people-centric cultures and deploying skilling programmes.
As many as 94% of L&D professionals in India agree that proactively building employee skills will help navigate the evolving future of work and 86% of L&D professionals know what skills their workforce needs now and for the future. 
Communication, software development, SQL, management and Java are amongst the top in-demand skills that are highly sought after by companies in India, reveals the report.
Learning helps retain best employees
Companies also recognise that skill-building has a positive impact on employee retention. 99% of organisations are concerned about employee retention. The report reveals that the number one way organisations are working to improve retention is "providing learning opportunities."
Upskilling employees top priority
L&D is using new influence to elevate people and their skills for business impact. The top four focus areas of L&D in India for 2023 include upskilling their employees, aligning learning programmes to business goals, creating a culture of learning and improving employee engagement
Investment in learning to grow
Nearly 71% of L&D leaders in India expect to have more spending power in 2023. Only 1% of L&D pros surveyed expect their overall budget to decrease in 2023.
Learning a cross-functional effort
L&D's partnerships across HR and their companies are getting stronger with 72% of L&D professionals saying their role became more cross-functional in the past year.
The percentage of L&D professionals working more closely with leaders has grown year over year.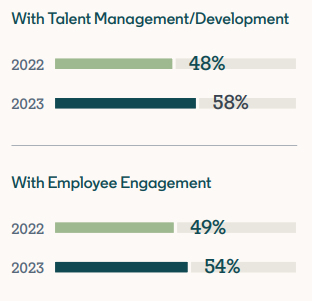 As per the report 89% of organisations want to build a more people-centric culture and 81 % of L&D departments are helping.
Skill building with career growth helps engage employees
Beyond hard and soft skills, L&D professionals agree that helping employees identify and plan paths to achieve their career goals has become more of a priority and will help engage employees and unlock their potential.
"Progress toward career goals" is employees' number one motivation to learn.
Further 85% of L&D pros in India say learner engagement has increased over the past year and 57% of L&D pros say their organisation will use more recorded on-demand learning content in 2023.
"Companies that hire for skills and cultivate a culture of internal mobility by investing in upskilling and learning opportunities will find it easier to attract and retain top talent,"  says Georgina O'Brien Director, APAC Learning and Engagement, LinkedIn.