Culture
Survey shows 84% employees against 70-hour work week
When questioned about their primary worry in the scenario of a 70-hour work week, 47% of participants identified the impact on mental and physical well-being as their foremost concern.
The conversation surrounding the prospect of a 70-hour work week gained momentum following N. R. Narayana Murthy's suggestion that Indian youth must work harder to contribute to the nation's growth. In the midst of ongoing discussions about the optimal working hours for maximising productivity, a survey conducted by Inshorts has provided valuable insights into the opinions and experiences of workers across the nation.
The survey results reveal a striking 84% of respondents expressing their disapproval of a 70-hour work week, challenging the notion that increased hours lead to increased productivity. This stance comes at a time when the balance between work and personal well-being is at the forefront of workplace discussions.
Delving deeper, when asked about potential concerns with a 70-hour work week, 47% of respondents emphasised the toll on mental and physical health. A significant 45% raised concerns about the possible imbalance between work and family or personal life, while 8% indicated that such long hours could foster a negative sentiment toward their work.
Ideal vs actual work hours
The survey also shed light on the disparity between perceived ideal work hours and the reality of participants' workweeks. While 46% consider up to 40 working hours per week as ideal, only 25% manage to adhere to this standard. A considerable 36% reported working between 41-50 hours, and 23% indicated working 51-60 hours weekly. Intriguingly, 42% find themselves working on weekends and designated work holidays at least twice a month, and 32% work every weekend.
Work-life balance perceptions
When probed about the encouragement of work-life balance within their organisations, 61% of respondents expressed dissatisfaction, suggesting room for improvement in corporate initiatives. Additionally, 56% of participants admitted feeling compelled to respond to work-related emails and messages beyond their regular working hours or during weekends.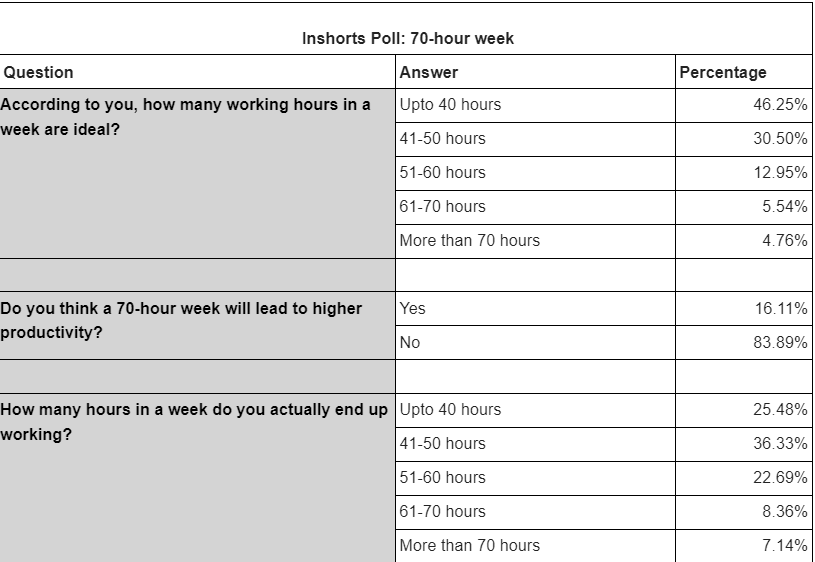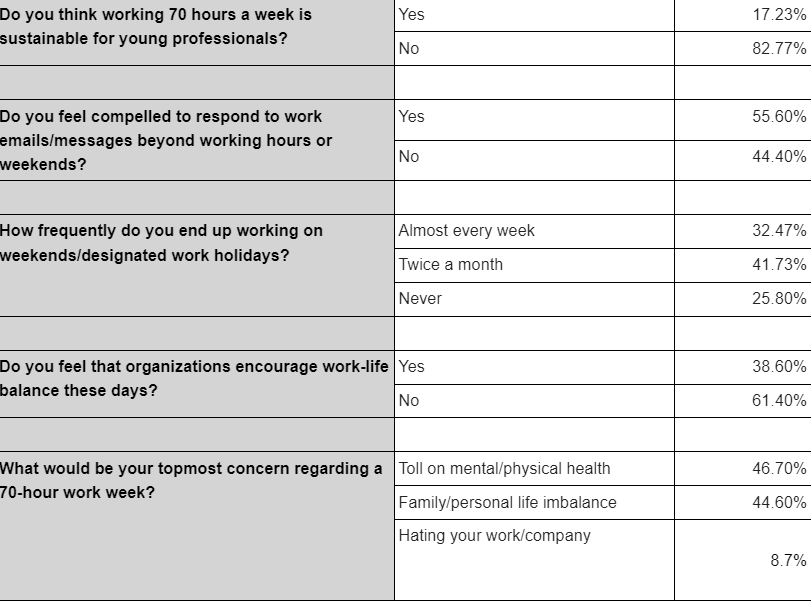 As workplaces continue to evolve, these insights can serve as a catalyst for discussions and potential reforms aimed at creating healthier and more sustainable work environments.