Life @ Work
What is the workplace of the future? - ICICI Lombard's study
70% have been working from home or partially from home since Mar'20 in metros compared to only 52% in smaller cities.
COVID-19 has changed many aspects of our life, including the workplace. In a short span of time, we have moved from physical to virtual to hybrid working. As the second wave remerges, many of us are back to the virtual ways. Adjusting to the dynamic environment by employees is a known. What is not known are the feelings and mindset that these employees hold regarding the new normal. Have employees embraced the new remote way of working? Are they satisfied with it? Has it helped them work better as they spend less time commuting? Are they open to continue this work style over the long term?  
To get an answer to such questions and more, ICICI Lombard General Insurance, India's largest private non-life insurance company, undertook a PAN India survey with over 1000 respondents recently. The sample group, hailing from a mix of metro and smaller towns, researched employees working in diverse industries such as Information Technology, Financial Services, Telecom, ecommerce, and Consumer Goods among others. 
On the survey findings, Jerry Jose, Head - Human Resources, ICICI Lombard General Insurance, said, "Our operating environment and ways of working have been disrupted since the onset of the pandemic. Even as firms continue to adapt to the new normal, the resulting individual and team issues faced by employees need to be addressed separately. As we transition to 'Flexiable' - a work culture that builds employee and team capability to adopt and promote remote working - continuous employee feedback through multiple surveys helps us appreciate the challenges and drivers that help us to build a conducive, enabling, and productive work environment, be it at office, home or from anywhere else." 
Key Insights
Work from Home (WFH)/ Hybrid working is more prevalent in metros. Work from Office (WFO) is largely driven by smaller towns. 
70% have been working from home or partially from home since Mar'20 in metros compared to only 52% in smaller cities.
Primary reason for WFO is the company's mandate and the need felt to be physically present in the office.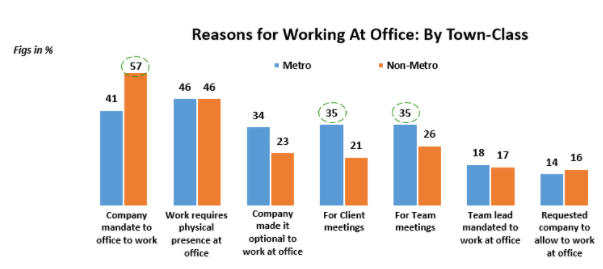 Employee Satisfaction
71% respondents in metros compared to 47% employees in smaller towns were satisfied (highly/ somewhat) with WFH.
Only 4% metro employees and 6% respondents in smaller locations were dissatisfied with work from home.
Another encouraging sign is that more than 70% of respondents believed their productivity had remained the same or improved while working from home.
In fact, 35% believed that their productivity had somewhat or significantly increased due to WFH.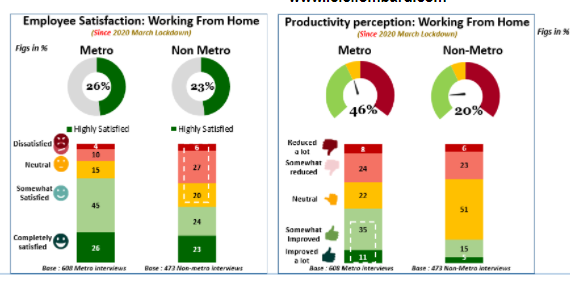 Areas that India Inc. need to address to improve WFH satisfaction.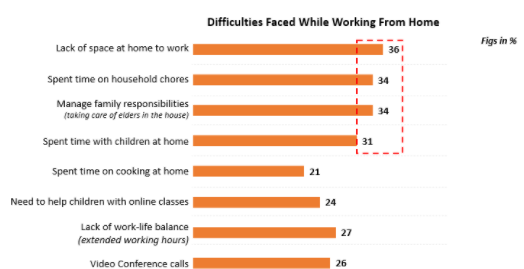 Flexi working hours – 34% respondents need to spend time on household chores, an equal number must attend to family members, especially elders. These are prime factors driving dissatisfaction in a WFH scenario.
Expectedly this issue is bigger for females (43% respondents to 29% male respondents). Companies need to work out flexible work timings for their employees, keeping in mind the gender specific aspects. 
Asynchronous working – 26% respondents were upset with too many video calls. Companies need to encourage async ways of working, wherein employees can respond to their colleagues as per their convenient time schedule. 
Ergonomic furniture, laptops – 36% respondents faced the problem of lack of space at home. Compact furniture that can fit into current scheme of things could allay this issue to a certain extent. This problem is prevalent more in the smaller towns, indicating that suitable options to procure/ purchase may be a challenge in these locations. Companies need to go the extra mile to equip their work force in the smaller towns.
The Verdict – WFH or WFO
Hybrid mode (partial WFO, partial WFO) is the clear winner here with 52% choosing this mode.
1 in 3 respondents chose 100% WFO while 16% preferred WFH at all times. 
Among those who prefer hybrid working, 41% prefer working from office 3 days a week, while 25% chose 2 days of office work.
The key reasons for choosing office work on select days was to attend meetings or accessing physical documents at the workplace. To perform in the new hybrid workplace, employees need the following:
Reduced working hours: 60%+ respondents.
Flexible working hours: 40%+ 
Medical benefits even during WFH: 40%+
Platforms to connect seamlessly with colleagues: 25%+
Fun at work (virtually): 20%+
Rewards & recognition during WFH: 20%+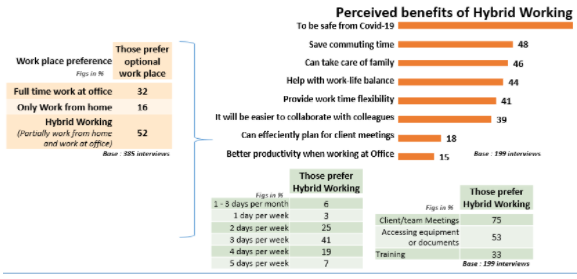 Critical aspects for firms when it comes to the future of work.
While WFH is not perceived to be low productive, 60% respondents feared job loss due to this. 
Job loss fear was more pronounced in metros (66%) compared to smaller towns (52%). This necessitates that firms create a positive environment that allays such fears to attract the best talent.
Organizations need to build trust in their employees and move away from a 'Management by Presence' way of working.
Today's digital natives are more aligned to async working and need to be given the comfort that they can thrive in a non-supervisory environment.  
Enabling infrastructure
Internet connectivity seems to be the key issue when it comes to WFH, especially so in smaller towns. 
48% respondents faced this problem in smaller towns vis-à-vis, 39% in metros.
Summing it up, Jerry Jose said, "The survey has highlighted the much-needed insights in aiding our own journey of adopting a hybrid work model wherein 50% of the employees would operate from a non-office location in the long run. This study along our employee survey insights have also helped us in shaping a future-ready workplace - providing options for remote working to all  employees, strengthening and streamlining our physical infrastructure and technology, setting new work practices for enabling work through meetings, engagements and collaboration across teams and managing performance in a hybrid working environment."