Technology
10 Technology trends that are shaping up the future of HR
Recruitment software and applicant tracking software that can streamline and standardize hiring process and reduce the burden on HR by automating manual tasks are critical to this change.
Technology is permeating into every sphere of business at breakneck speeds. The promise to make things simpler and more effective is enticing. Add to that the need to address performance issues, finding the best candidates and retaining the best ones in the organization. All of that is causing recruiters and HR managers to adopt to new technology solutions and practices in their discipline. Recruitment software and applicant tracking software that can streamline and standardize hiring process and reduce the burden on HR by automating manual tasks are critical to this change.
A study by Capterra to find the impact of recruiting software on the hiring process, managers and recruiters found that nearly 75% recruiters and talent managers were already using some software to automate the process. Nearly 94% of those believe that software has indeed improved the hiring process for them.
Those are certainly big numbers in favor of technology. Software systems like Greenhouse and Zoho that currently lead the market, offer features like Advanced Recruit Analytics that gives a rundown of all the activities processed by HR department through the recruitment process.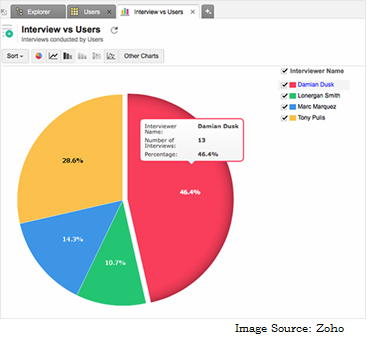 But automation cannot be the only parameter for adoption of technology in such a mission-critical part of business, where one wrong hire can cost a fortune to the business. Technology has to offer more. Luckily, according to a study by Deloitte titled "HR Technology for 2016: 10 Big Disruptions on the Horizon," there are 10 technology trends that are doing that even as we speak.
Consumerized employee tools
HR applications have evolved into tools for employees, enabling better employee management, helping in learning, and shaping careers. The new line of consumerized products that are built-for-the-cloud are inexpensive to purchase and maintain. These tools allow varied functionality right from job application through mobile devices to online video interviews and much more for the applicants, while also ensuring that the managers are making the right choice of candidate.
Managing people as individuals
Instead of a one-size-fits-all approach, HR is gearing itself towards the needs of the individual, both in the professional as well as personal spheres. This allows for better understanding of individual preferences, training and learning needs and customised incentive programs that fit into those needs.
Mobile HR platform
Mobile is surely going to lead the way in innovation as demonstrated by Commonwealth Bank of Australia's Sidekick app. The app is capable of managing the entire employment experience with minimal intervention required by the HR personnel. The app has been downloaded by more than 10,000 employees of the bank in less than a year and has resulted in a reduction of pay-slip requests by over 46%. Not only that, it gives HR team valuable data to assist them in working towards improving the employee experience.
Emergence of ERP providers as talent managers
The ERP vendors of yesteryears have evolved as credible solution providers of comprehensive talent management technologies for their clients. These services are quite extensive and cover recruitment, training, along with those that encourage work-life balance, employee engagement and assessment.
Agile organisation & HR
With the rising unpredictability, organizations that are quick to adapt to the changing environment are sure to outperform competition. The role of HR in this becomes that of the driver of this shift towards agility.
Performance and goal management
There's been a rather severe need for simplification of performance and goal management and HR has emerged as the leader in implementing these changes. Software and services providers have come up with solutions that help HR in performance management with feedback and career planning. Even the mundane task of meetings and conference calls can now avail a feedback system to enhance productivity.
Learning experience with integrated content
The growing need for skill development has pushed the training vertical to evolve into expert-led content providing platforms. These platforms bring an integrated approach to the table with content curated from different sources and shaped into learning modules that truly make a difference.
Emergence of predictive analytics
A data driven approach that offers predictive analysis of the workplace, right from the acceptability of the office layout among the employees to employee flight risks are fast becoming a favorite of HR departments. This kind of data is quite useful in ensuring a better employee experience and reducing attrition and stress, among other workplace problems, in a big way.
Demand for technology services
In spite of the advances of cloud services, organizations often experience challenges during transition. As a result, the demand for technology services has not dwindled and is not likely to do so in the near future either. However, what will change is the quality of services from such vendors, with open source programming interfaces, experience in the client's industry and a perfect fit with the client's business culture.
Employee engagement becomes even more critical
Employee engagement needs to measured on simplified metrics. As the market diverts its attention towards cloud-based services from licensed technology, it becomes even more critical to understand how the employees are engaging with the new technology and where are the gaps.
The role of technology is to act as an enabler. Software that is difficult to use, requires considerable amount of training, or is difficult to integrate into the existing system can prove to be an expensive mistake on many levels. It will need a careful evaluation by highly skilled HR professionals in your organization to ensure none of that happens, and the transition through the evolving technology trends is as smooth as possible.